PAGINA IN AGGIORNAMENTO
---
GARANTITE E REVISIONATE DELLE MARCHE MIGLIORI
Richiedere sempre la disponibilita'anche di apparecchi non in elenco a: info@newaudio.it o al tel.0174 670100
---

---
dimensioni (46 x 27 x 118 cm) Mobile smussato per ridurre le diffrazioni con i bordi anteriori che accompagnano il disegno delle griglie. Si tratta di un sistema a due reflex posizionati in corrispondenza dei due woofer da 20 cm. Il tweeter da 1" č in seta ed č inserito in configurazione d'Appolito tra due midrange da 5". Si tratta di driver personalizzati prodotti con materiali rinforzati da fibre di cellulosa. La risposta in frequenza nominale č 33Hz-27kHz, e la sensibilitŕ č di 90dB a 4 ohm. L'unitŕ tweeter-midrange č racchiusa in una camera asimmetrica, ed i woofer sono separati da rinforzi interni per ridurre le onde stazionarie. Dali utilizza MDF dello spessore di 22 millimetri applicando una impiallacciatura a entrambi i lati del pannello per "cancellare lo stress e fornire un rinforzo supplementare."

The introduction of a new component to one's hi-fi system usually entails blood, sweat, and afterwards a couple beers -- particularly if you live as I do, in a small Manhattan walk-up apartment. When Gunnar Ek, Dali's US managing director, arrived on my Greenwich Village street, he was instantly excited about the possibilities of finding his own square foot of Manhattan soilent green to inhabit. Me? I was just wondering how we were going to get the teenager-sized Dali Grands up my building's rickety 19th-Century staircase. Measuring 16 1/4"Dx11"Wx46 1/2"H with spikes, . As I wheezed around the second-floor bend, Gunnar wasn't even breaking a sweat. Must be either that hardy Danish weather or the comprehensive health-care system. Once inside my place, we unloaded the speakers and I was instantly taken with their fine cherry-brown frames. These are gorgeous speakers. The Grand's corners are "chamfered," or sculpted, 30 degrees, "reducing the level of influence from diffraction," Dali's European managing director, Lars Worre, informed me later. The Dali's front edges and accompanying foam grilles, are also sleekly contoured, making the speakers look a bit like a svelte supermodel. The visual effect recalls an hourglass sloping from 9 1/2" to 8 1/2" at its crown, then moving slightly outward to 9" at mid-cabinet, expanding gently as you go down to 9 1/2", (just like the bodacious booty of Tyra Banks!). Worre on the hourglass design: "[The chamfered front edges] are where the most important sound improvement is caused by the increased variation in distance from the driver's centers to the particular baffle edge at any vertical position." OK...these are beautiful speakers. Like those Danish women we hear so much about, the Dali Grands are regal in bearing, a majestic delight to look at. But as with the best genetic engineering, Dali didn't come this far on lust (or looks) alone.

Diffusore da scaffale Caricamento bass reflex, 2 vie potenza 30/150watt, impedenza 8 ohm,frequenza di crossover (hz) 3.500 risposta in frequenza (hz) 55.25.000 ,sensibilita' 86db, altoparlanti 1 tw 25mm a cupola,1w da 15 cm fibra di polipropilene stampato e tessuto, rifinitura pelle e fianchi nocenaturale,griglia con tessuto fonotrasparente dimensioni l18.5xa35.6xp33.6 peso 16kg Perfette imballo originale

With the RHR. Tannoy pays tribute to its longest serving craftsman. In this loudspeaker. possibly his finest design to date. RonaldHastings Rackham combines the classic styling of which Tannoy is renowned, with advanced sound reproduction capability. The cabinet is sturdy and durable, yet exhibits the finest oiled walnut veneers, inlaid with burr walnut on the front grille divider. Tannoy's classic 15 inch high pressure die-cast frame Dual Concentric drive unit feeds into a rear folded rectangular exponential section horn: it is driven through a hard-wired, acoustic source compensating crossover network supplied by Michell gold-plated terminals . Treble energy and roll-off controls are concealed beneath a nengravedb rassp late located below the drive unit in the front grille divider. Ronald Hastings Rackham can be justly proud of his namesake.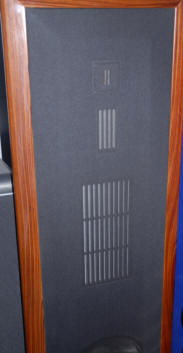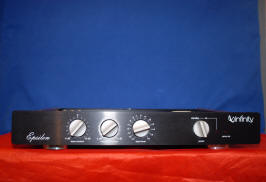 Caratteristiche funzionali :Emissione dipolare controllata Livello di emissione dei trasduttori regolabile individualmente Componenti passivi selezionati Connettori massicci placcati in oro Possibilitŕ di collegamento normale, bi-wiring e bi-amping Mobile in legno HDF con rinforzi interni Pannello frontale antirisonanza con spessore 60 mm. Finitura artigianale con lucidatura manuale Colore noce Supporti per disaccoppiamento da terraAltoparlanti perfetti Misure:151.8cmx47cmx 41.3

The Epsilon was the last of the truly top-of-the-line speakers produced by Infinity. Designed by John Miller and Cary Christie after Arnie Nudell had left Infinity, it was designed to be the heir to the IRS Betas, but in a more compact package that was easier to place in a room. The Epsilon was a departure for Infinity, in that, after many years of dipole speakers, it was sealed in the back and was (primarily) monopole. The Epsilon may be the most neutral speaker I've ever heard - no coloration of the music at all, just very clean, detailed sound. Its only shortcoming may be a lack of deep bass response, the result of trying to fit everything into a single cabinet.
WILSON AUDIO WATT PUPPY3 €. 6.500,00

WATT 3: Two-way, stand-mounted loudspeaker with reflex bass loading (QB3, quasi third-order Butterworth alignment fitted with 1"-diameter, 1.75"-deep port suitable for amplifiers with damping factors (DF) of 100 to 400; alternative port supplied for amplifiers with DF between 20 and 80). Drive-units: 1" inverted-dome tweeter, 6.5" doped-pulp–cone midrange/woofer unit. Estimated crossover frequency: 3.7kHz. Frequency response: 58Hz–18kHz +1, –3dB. Nominal impedance: 4 ohms (measured minimum 1.7 ohms at 2.4kHz). Sensitivity: 91dBA/W/m. Amplifier requirements: 30W minimum. Subjective performance Q: 1 (–6gb points). Dimensions: 13.625" H by 11.1" (11.9" wood-paneled) W by 16.5" D. Enclosure volume: 12 liters. Weight: 120 lbs/pair (166 lbs shipping weight).Puppy: floorstanding subwoofer with integral high-pass crossover for WATT 2 and 3 and reflex bass loading. Drive-units: two 7.5" plastic-cone woofers. Estimated frequency response (–3dB) when driven by integral low-pass crossover: 30Hz–130Hz. Nominal impedance: 4 ohms.Dimensions: 24" H by 11.3" W by 16.5" D.
Diffusore a 3 vie, 5 altoparlanti, bass reflex, 3 woofer in Rohacell, midrange FST (Fixed Suspension Transducer) in Kevlar, tweeter Nautilus con cupola in diamante. Struttura interna Matrix. Predisposta per bi-wiring, potenza 50-375W. Con tecnologia "Flow Port System". Meno ingombrante dei modelli superiori, utilizza tre unitŕ per le basse frequenze da cm. 17.5, in luogo di due woofer gemelli da cm. 20 presenti nell'802 Diamond. Bowers & Wilkins 803 Diamond consente al pubblico dai gusti piů classici di godere dei vari vantaggi della gamma ammiraglia B&W, nel tipico assetto di modello da pavimento. Dimensioni: 303x1164x457mm (LxHxP).Rosenwood imballi PERFETTE

The JBL® 4312 E studio monitor is the direct descendent of the legendary Model 4320, the original JBL monitor that forever changed audio recording, introduced in 1968. As you would expect of a true JBL studio monitor, the 4312 E delivers crisp, powerful bass at all listening levels with a massive 300mm (12-inch) woofer driven by a Differential Drive® (U.S. patent no. 5,748,760 and other patents pending) dual 75mm (3-inch) voice-coil assembly.A 125mm (5-inch) pure-pulp cone and 25mm (1-inch) copper voice coil with Kapton® bobbin realistically reproduce the full dynamics of vocal performances with low distortion, even at the highest listening levels. A 25mm (1-inch) tweeter with a magnesium/aluminium alloy dome extends HF response far beyond the audible range of the human ear. Built in mirror-image pairs to create the detailed, coherent stereo soundstage that studio monitors must, the JBL 4312 E exceeds the expectations of critical listeners and music professionals alike, providing a listening mexperience of such richness and subtlety that it cannot be compared to anything but a live performance TECHNICAL SPECIFICATIONS Low-frequency transducer: 300mm (12") neodymium Differential Drive cone driver with dual 75mm (3"


Model 105 Specifications Dividing Network: 4th order Linkwitz-Riley band pass -6 dB at crossover points Dividing Frequencies: 400 & 2,500 Hz Nominal Impedance: 8 ohms Programme Rating: 200 watts Sensitivity: 86 dB spl for 1 watt (1m on axis-anechoic) Maximum Continuous Sinusoidal Input: 35 Vrms 100 to 400 Hz 28 Vrms 400 to 2,500 Hz 11 Vrms 2,500 to 20,000 Hz Maximum Output: 107 dB spl on programme peaks under typical listening conditions Frequency Response: 30 to 25,000 Hz ±2 dB 38 Hz to 22 kHz at 2 m on measuring axis Directional Characteristics: Within ±1 dB of axial response up to 20,000 Hz (for ±5° vertical) Within ±2 dB of axial response up to 13,000 Hz (for ±20° horizontal) Amplifier Requirements: 40 watts minimum into 8 ohms Fuses: Fitted to mid-frequency and high-frequency sections Peak Level Indicator: Switchable to indicate power levels of 40, 50, 60, 100, 125, 150 and 200 watts Dimensions: 965 x 415 x 455 mm, (38 x 16.3 x 17.9 in) Weight Net: 36 kg (80lb) Finish: Walnut
ELECTRO VOICE STATUS 60 €. 750,00

Facevano parte dell'ultima serie di diffusori home della EV, era il modello di punta con woofer in polipropilene da 12", medio della Sentry 500 e sptw 92 db tre vie woofer da 30 cm mid e tweeter caricati da breve tromba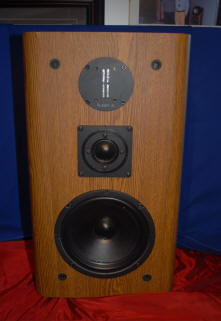 INFINITY RS 4000 €. 400,00

SPECIFICATIONS INFINITY SYSTEMS INC., 250 Crossways Park Drive, Woodbury, New York 11797 REV A 7-98 Nominal Impedance: 6 ohms Power Rating: 25-125 watts RMS Sensitivity: 89dB @ 1 watt, 1 meter Crossover Frequencies: 800Hz and 3,500Hz Frequency Response: 45Hz-45kHz +/-3dB ACOUSTIC & ELECTRICAL SPECIFICATIONS: 1x - EMIT Tweeter 1x - 3.5" (6.5cm) Midrange m1x - 8" (20.3cm) Polypropylene Woofe Dimensions: 22.5"H x 12.5"W" x 10.25"D mPolypropylene 57cm(H) x 31.75cm(W) x 26cm(D)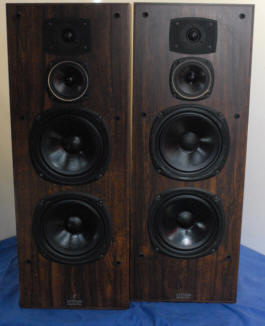 CELESTION DITTON 4 €. 650,00

Tipologia di diffusore : sospensione a bass reflex posteriore.Numero delle vie : 3 con 4 altoparlanti. Altoparlanti istallati : 2 woofer da 21 Cm con sospensioni rovesciate in gomma, 1 midrange a cono da 11 Cm, 1 tweeter domme da 3,5 Cm. Frequenza di taglio del crossover : 530 e 3.800 Hz. Risposta in frequenza : 45 - 20.000 Hz. Potenza nominale (RMS) : 150 Watt. Potenza di utilizzo consigliata : dai 10 ai 150 Watt RMS Impedenza nominale : 8 ohm. Sensibilitŕ : 92,5 dB.(1 watt/1 metro) Griglia : in tessuto nero asportabile. Rifinitura del mobile : vinile noce. Dimensione (L x H x P) : 35 x 70 x 30,5 Cm. Peso : 16 Kg. (cadauna) IMBALLI
---
---

McINTOSH C220 €. 2.500,00
Il McIntosh C220 č il risultato di un mix tecnologico: esperienza ultracinqualtennale di progettazione valvolare piů sviluppo dei circuiti di controllo dell'ultoma generazione tecnologica. Infatti racchiude tutta la flessibilitŕ richiesta dei sistemi moderni, mantenendo intatta l'altissima qualitŕ delle prestazioni stereo. Il C220 permette di modificare elettronicamente ed in modo indipendente il livello di uscita di ognuna delle otto sorgenti sia dal pannello frontale che dal telecomando, mentre il bilanciamento dei canali viene regolato elettronicamente e memorizzato. Il C220 incorpora il circuito di esclusione dei controlli di tono, e mentre i controlli dei bassi e acuti sono preziosi con le incisioni piů vecchie, č altrettanto utile bypassarli quando non servono.Imballo ancora in garanzia

General Specifications Output MetersNo Circuit DesignVacuum Tube BalancedSingle Ended Front Panel StylingNew Chassis Cover PanelsSteel Balanced Input2 Balanced Record0 Balanced Outputs1 Main Input Sources8 Programmable Optical Controlled, 213 Step, Volume AttenuatorYes, 2 Stage Precision Divider, + 0.05 dB Blue Display for Vol & Input Select16 Character Alpha Numeric Input Level MatchYes HT Pass-ThruNo MM PhonoYes MC PhonoNo AM-FM Tuner Bay- List. & Rec. Switching- IR Remote Control- Electromagnetic Input SwitchingYes All 1% Metal Film ResistorsYes 0.5% Phono EQYes Extra Wide Dynamic RangeYes, 8 Volts unbalanced, 16 Volts balanced Pwr Amp or Acc "ON" Outputs2 Pwr Strip "ON" Out2 EqualizerBass and Treble Processor LoopNo Tube Saver Circuit- Soft MuteYes Ultra Low Distortion0.08% LightingLED Fiber Optic Gold ConnectorsYes Regulated Power SupplyYes Data Output PortsYes, 8 Shielded Power TransformerR-Core Headphone OutYes, 1/4" Ext. IR Sensor JackYes Dimensions (W x H x D)17-1/2" (44.45cm) x 6" (15.24cm) (including feet) x 18" (45.72cm) (including front panel, knobs and cables) Weight21.1 lbs., (9.59 kg) Shipping Weight37.5 lbs., (17.05 kg)
McINTOSH C50 (NUOVO IMBALLATO ) OFFERTA €. 6.900,00
Preamplificatore Analogico/Digitale di riferimento – sezioni audio analogiche e digitali (con relative alimentazioni) fisicamente separate all'interno del cabinet – Vu-Meter fluorescenti - 8 Ingressi analogici sbilanciati di cui due phono sia MM che MC con regolazioni accessibili da telecomando o pannello frontale – 2 ingressi bilanciati assegnabili – due ingressi digitali coassiali e due ottici (TosLink) – 1 ingreso USB – tutti gli ingressi digitali sono ricampionati a 32 Bit / 192 kHz ca un circuito jitter free – due set di uscite analogiche bilanciate e due sbilanciate – – equalizzatore a 8 bande escludibile - funzione pass-Thru controllata da Power Conrol – Firmware aggiornabile – porta RS232 bidirezionale – uscita cuffia – telecomando - dimensioni 194 x 445 x 452 mm (AxLxP) – peso Kg. 12,27

C50 is the first McIntosh preamplifier to combine stereo analog sources with four assignable digital inputs. Music stored on popular computer programs are available through dedicated USB input. Programmable Eight band tone controls allow for personalized audio shaping. C50 may be combined with a multi-channel sytem using the Home Theater Pass Through function.Features Output MetersNone Circuit DesignSemiconductor BalancedSingle Ended Front Panel StylingNew Chassis Cover PanelsInverted Stainless Steel Balanced Input2 Balanced Record Balanced Outputs1 Main & 2 Switched Input Sources8 Programable + USB + Processor Loop Optical Controlled, 213 Step, Volume AttenuatorYes; 2 Stage Precision Divider, + 0.05dB Blue Display for Vol & Input Select22 Character Alpha Numeric Input Level Match HT Pass-Thru MM PhonoYes, Adjustable Loading MC PhonoYes, Adjustable Impedance Dimensions H x W x D7 5/8" (19.37cm) x 17 1/2" (44.45cm) x 18" (45.72") List. & Rec. SwitchingListen Only IR Remote Control Electromagnetic Input Switching All 1% Metal Film Resistors 0.5% Phono EQ Extra Wide Dynamic Range8VRMS Out; 16VRMS Balanced Pwr Amp or Acc "ON" Outputs2 Programmable Pwr Strip "ON" Out2 Equalizer8 Band Room, Programable by Input Processor LoopOne Soft Mute Ultra Low Distortion0.002 LightingLED Fiber Optic Gold Connectors Regulated Power Supply Data Output Ports Shielded Power TransformerR-Core Headphone OutYes, 1/4" Ext. IR Sensor Jack
quad PRE €. 350,00
NAD PRE 114 €. 400,00

6 line inputs incl. 2 Tape in/outputs with dubbing facility •Switchable MM and MC phono input •2 line outputs•Gold plated phono and CD input sockets•Gold plated output sockets•Independent headphone amplifier •Tone defeat switch Based upon the highly praised NAD106, the model 114 is the latest in the range of NAD high quality /low price pre-amplifiers.Following in NAD's usual design brief of 'sound quality first'ť the 114 utilises reliable, uncomplicated circuit topology which allows for investment in high specification, close tolerance components such as a large, low noise transformer, metal film resistors, polypropylene capacitors and a precision volume control. A carefully re-designed PCB layout contributes further to a noise and distortion free performance. The input selectors are operated by push rods and are located as closely as possible to the input sockets to minimise cross talk. Also featuring Gold plated RCA jacks (to give reliable signal transfer), and two tape loops to offer flexibility for tape dubbing in either direction (or the inclusion of a signal processor). Any input may be monitored whilst recording. A gold plated 1/4'ť jack socket permits most non-electrostatic headphones to be connected to the dedicated headphone amplifier. Still in demand by music lovers (but often disregarded by other manufacturers) is a good quality phono stage. The phono stage in the 114 is a fine example of what can be achieved at a reasonable price. The phono stage is switchable to allow moving coil or moving magnet cartridges to be used. Metal film resistors, polypropylene capacitors and seven discrete transistors provide extremely low noise performance, precise equalisation and a dynamic range of 105dB.
quad PRE 44 €. 550,00
preamplificatore quad 44 + finale 606 950,00 euro

The Quad 44 Pre Amplifier was the bigger brother of the Quad 34 Pre Amplifier and had the addition of an extra input over the Quad 34's four inputs. Ideally partnered with the Quad 405 and Quad 405-2 amplifiers although it is more than happy with any power amplifier, the Quad 44 Pre Amplifier has some nice features to it and clever electronics especially if your main source is vinyl. The Quad 44 Pre Amplifier has three tone filters, bass, tilt and a high pass filter which allow you to maximise the music from very old or poor recordings by removing a lot of distortion. The Quad 44 Pre Amplifier also is one of the very few home audio pre amplifiers that can cope with high output professional equipment and as well as having swappable modules for disc, radio, cd and tape, Quad were also able to supply a microphone pre-amp card as well meaning this amplifier was well suited to home recording as well as studio recording. These days people who mainly listen to CD will have dispensed with the Quad 44 Pre Amplifier because the sound quality can be bettered with more modern equipment. Some people have had success upgrading the capacitors in the Quad 44 Pre Amplifier with Black Gate or Elna types and replacing the Op Amps with superior Burr Brown types. No matter the Quad 44 Pre Amplifier is still a popular piece of equipment and given its value second hand is worth considering if you have a lot of old recordings in your collection. Quad 44 Pre Amplifier Specification Line Source Frequency Response : 30 Hz - 20 kHz (+/- 1db) Disc RIAA Frequency Response : 30 Hz - 20 kHz (+/- 0.5db) Distortion: < 0.05% Input Impedence: Variable according to modules (Radio & Tape typically 100mV) Interchannel Balance: +/- 0.5 db Crosstalk: > 70db Power consumption: 7 Watts Mains voltage : 110-120V or 220-240V (interchangeable on PCB) Dimensions (WxDxH) : 321 x 103 x 207 (mm) Weight: 4 kg
YARLAND P7 €. 450,00
SANSUI BAF 1 €. 700,00
TECHNICS A800 MKII €. 650,00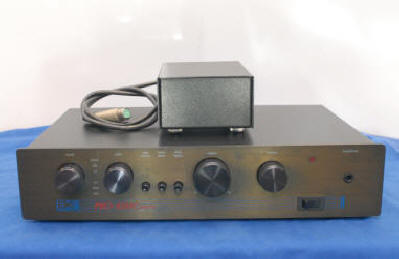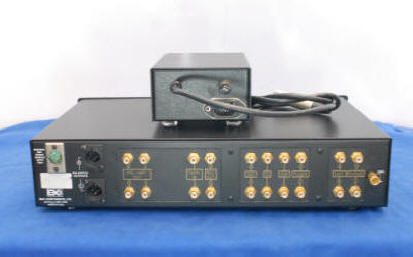 BK PRO10MC €.900,00
Preamplificatore due telai made in USA (IMBALLO)

Description : The B&K PRO-10MC is sought after for it's solid Noble potentiometers, great phono stage(MM&MC) and straightforward design. The quality of the headphone section in the PRO-10MC is impressive which beats most "high-end" delicated headphone amplifiers. The B&K PRO-10MC is a "purist" version of the MC-101 which does not use any tone controls. This preamp comes with an outboard power supply to provide the cleanest possible power to unit. Its FET loading design maximizes linearity and minimize noise. Its wide bandwidth assures clear reproduction with all styles of music. Polyproylene film capacitors were used to produce a transparent sound with highly accurate musical timbre. Low noise 1% metal film resistors were used for better sound and greater degree of repeatability. The B&K PRO-10MC preamplifier was well reviewed years ago. It was a Stereophile Class C component, way back in the day. Though not a Class A amplifier, but it certainly made to the list of memorable gear. When played, the sound is clean, detailed and warm which is almost tube like. Specifications : Moving Coil Sensitivity (at 1kHz).0.09 mVMoving Coil Overload (at 1kHz)17 mVMoving Coil Load ResistanceVariableMoving Coil Load CapacitanceVariable Moving Coil (S/N A Weighted)70 dBMoving Magnet Sensitivity (at 1kHz)0.8 mV Moving Magnet Overload (at 1kHz)225 mVMoving Magnet Load ResistanceVariable Moving Magnet Load Capacitance.Variable Moving Magnet (S/N A Weighted)82 dB THD0.02 % IM Distortion (SMPTE)0.02 % Frequency Response (± 1 dB)1 Hz - 150 kHz High Level Sensitivity45 mV Maximum Output14 V R.M.S. High Level (S/N A Weighted)89 dB Processor Loops 1 Dimensions(w x d x h) 43.5 x 27.5 x 9.5 cm (Main) 12 x 18.5 x 7 cm (Power Supply) Weight7 kg
NUFORCE P8 (NUOVO EX DEMO) €. 980,00

NuForce developed its prescient preamplifier technology from the ground up to reassess and redefine faithful music reproduction. The firstimpressions of listening to NuForce preamplifiersare those of pristine clarity, natural tonality,expansive imaging, and realistic proportions of themusicians and their instruments. Bass notes arewell defined and articulate, with addictive rhythmand drive. P-8 is NuForce's entry level high-endpre-amplifier.Specifications• Audio inputs: 3 sets of RCA inputs and a 3.5mm stereo input jack(for digital media player, PC sound devices).• Audio outputs: 1 set of RCA,1 set of balanced XLR,and a 3.5mm stereo headphone output withcross-feeding to create a natural soundstage.• Remote input selection and volume control with memory (last selection,volume level)• Mute and Sleep functions• Digitally-controlled switched attenuator. Volume Range: +30dB to –70dBwith 0.5dB steps• Dynamic Range: > 100dB• Input Impedance: 4K ohm• Output Impedance: 40 ohm• THD+N at 1kHz: <0.01%, typically 0.003-0.005%• S/N Ratio: > 85dB• Frequency Response:at 20-20kHz = +0dB/-0.2dBat 20-170kHz = +0db/-3dB• Maximum output : 8V RMS• Crosstalk: –130dBFS• Dimensions: 1.75"H x 8.5"W x 16"D• Weight: 6 lbs• 100W SMPS with PFC (Power Factor Correction)• Power Requirements: 90-240VAC, auto select.
NAD 1000i (EXDEMO) €. 980,00
APPARECCHIO DAL SUONO HI END MORBIDO E PRECISO STESSA TIMBRICA DEL FAMOSO NAD 3020 QUESTO PREAMPLIFICATORE DISPONE ANCHE DI UN OTTIMO STADIO PRE-PHONO CON VARIAZIONE DEL TIPO DI TESTINA MC E MM ABBINABILE A QUALSIASI FINALE DI POTENZA NATURALMENTE CON UN FINALE NAD SI ACCOPIA MEGLIO REGOLAZIONI BASS – TREBLE – BASS EQ-LOUDNESS INGRESSI: PHONO-CD-TUNER-TAPE1-TAPE2-OUTPUT1 E OUTPUT2 POSSIBILITA' DI COLLEGARE 2 FINALI DI POTENZA
PRIMARE PRE 30 €. 990,00
Preamplificatore hi-fi. Circuitazione dual mono. Componentistica selezionata. 7 ingressi (5 RCA e 2 XLR) e 3 uscite (2 RCA e 1 XLR). Preamplificatore PRE30 Ingressi analogici: 2XLR bilanciati, 5RCA Uscite analogiche: 1XLR bilanciato, 1RCA Uscite per registratore: 1RCA Livello ingresso XLR: 560mVrms Livello ingresso RCA: 280mVrms Altre uscite: Trigger out Guadagno: 16 dB Risposta in Frequenza: da DC a 100kHz +1dB Distorsione THD: <0,01% Rapporto S/N: 118 dB Alimentazione: 100/115/230V Dimensioni: 430x100x385mm (LxAxP) Peso: 9,5 kg (IMBALLO)
PRIMARE PRE 32 €. 1.250,00
Caratteristiche tecniche: Pre 32 Ingressi analogici: 2 XLR (L & R), 4 RCA (L & R) Altri ingressi/uscite: RS232, IR in/out, trigger in/out, RF Impedenza di ingresso: 15k (RCA e XLR) Record out: 1 RCA (L & R) Pre Out: 2 RCA (L & R), 1 XLR (L & R) Impedenza di uscita: 110 ohms Risposta in frequenza: 20 Hz – 100 kHz -3 dB Distorsione THD + Rumore: <0.003%, 20 Hz – 100 kHz Rapporto segnale/rumore: -115 dBV Max in /out level 10 VrmsGain 16 dB Power Consumption Standby: 0.2 W; operate: 23 W Dimensions (wxdxh) 430 x 385 x 105 mm Peso: 10.5 kg Colori: Nero ( IMBALLO)

The PRE32 is a high performance fully balanced pre-amplifier designed for ultra low noise and distortion, and as the perfect partner for any Primare stereo power amplifier. It features an OLED display and comprehensive menu-based control system established by the EISA award-winning I32 integrated amplifier. The PRE32 is housed in a heavy gauge alloy steel chassis, and incorporates two pairs (L/R) of low-noise balanced XLR inputs and 4 pairs of RCA inputs. In addition there are two pairs of RCA outputs and a single pair of balanced XLR outputs, as well as a record output, RS232, trigger, IR and RF inputs.XLR 2 x stereo pair analog inputs RCA4 x stereo pair analog inputs XLR1 x stereo pair analog PRE output RCA 2 x stereo pair analog PRE output RCA1 x stereo pair analog REC output IR C24 system remote control IR3.5 mm input/output12V trigger 3.5 mm input/output RS232 outboard system control port Dimensions430x385x105mm (WDH) Weight 10.5 Kg Finishes black
ELETTROCOMPANIET EC 4.7 €. 1.350,00

The Electrocompaniet EC 4.7 is a high resolution, high performance, DC coupled and fully balanced, remote controlled preamplifier. EC 4.7 has six single ended inputs, where one is fully balanced. One balanced and one single ended line output, and one fixed single ended output to be used as record. The remote controlled motorized volume is developed to not influence or degrade the sonic performance of the EC 4.7. Volume control and input sources can easily be navigated from the remote controller or via the navigators on the front panel. The navigator's window displays the selected source, and the volume position in analogy shown by a blue lit. The EC 4.7 features Electrocompaniets unique FTT technology, which is capable of deliver twice the current as conventional power supply designs. This combination with a Toroid transformer and a reservoir of capacitance far beyond necessary will give you more than adequate control of your system. Contains only high quality discrete components. It is a perfect combination with our own products or other manufacturers High-end equipment.Preamplifier section Single ended operation (gain) 0 dB Balanced operation (gain) 6 dB Input impedance single (fixed) 330 kohm Input impedance balanced (fixed) 165 kohm THD single ended (1 V in, 1 V out, 1 kHz) < 0.001 % Equivalent input noise < 3 µV THD balanced (1 V in, 1 V out, 1 kHz) < 0.0005 % Max. input single > 10 V RMS Max. input balanced > 20 V RMS Channel separation (1 V output, 1 kHz) > 90 dB Attenuation (minimum volume) - 75 dB Output impedance single 100 ohm(fixed) Output impedance balanced 50 ohm (fixed) Max. output Single ended 8 V RMS Max output Balanced 16 V RMS Output noise (400 Hz - 30 kHz) Single ended : 5 µV Balanced : 10 µV Signal to noise (400 Hz - 30 kHz) > 100 dB Frequency response (DC - 65 kHz) - 0.4 dB The EC 4.7 is DC coupled from input to output. Power consumption (no load or signal) 15 W Dimensions Width 483 mm / 19 inches Depth 410 mm / 16.1 inches Height 115 mm / 4.5 inches Weight 8 kg. / 17.6 lbs
THRESHOLD FET 9/E €. 1.250,00
Pre stereo in classe A -Risposta in frequenza: 1.5-125.000-distorsione armonica:0,02% a 3v di uscita-distorsione diintermodulazione:0,02% a 3v di uscita-Sens/imp ingresso phono:-guadagno selezionabile 40o 60dB imp.variabileda 22 a 47.000 ohm-Sens/imp. ingressi aux-linea:25.000 ohm+20db-RAPPORTO S/N:-80dB a 1mv ingresso,-100dBingressi basso guadagno-Dimensioni 48x8x16.5cm -Peso 2kg -note: alimentazione separata compresa
CLASSE CP-500 €. 1.600,00
Preamplificatore stereo in "classe A" con ingressi ad alto livello. Display TFT touch screen. Circuitazione bilanciata a simmetria complementare. Alimentazione con trasformatore toroidale da 24VA. 4 Ingressi RCA, 2 ingressi XLR, 2 uscite RCA e 1 XLR. Tape monitor. RS-232. Trigger IN/OUT. RJ45 per bus dati. Telecomando

The Classé CP-500 is an outstanding example of attention to detail, superior performance and value. It utilizes fully-balanced circuitry, implemented symmetrically to reject noise and distortion. Simple and elegant operation and control is via TFT touchscreen, RS-232 and IR remote.model CP-500 frequency response distortion (THD + noise) 20Hz - 20kHz ± 0.1dB 0.003% analog section single-ended input (max level) single-ended output (max level) balanced input (max level) balanced output (max level) Signal to noise ratio (unweighted) channel separation 5Vrms 10Vrms 10Vrms 20Vrms 20Hz to 500kHz 100dB >110dB inputs single-ended inputs (no./impedance) single-ended tape inputs (no./impedance) balanced inputs (no./impedance) 3pr RCA (incl. 1 pr w/phono option) / 100kΩ 1pr RCA / 100kΩ 2pr XLR / 200kΩ outputs single-ended balanced tape out 1pr RCA 1pr XLR 1pr RCA weights & measurements width depth height gross weight net weight 17.5" (445 mm) 16.5" (419 mm) (excluding connectors) 4.75" (121 mm) 33 lbs (15 kg) 26 lbs (12 kg)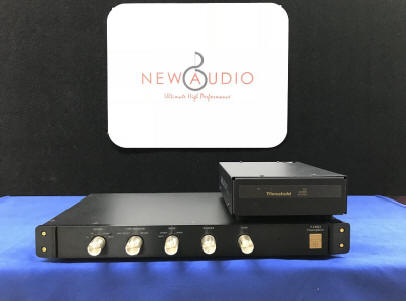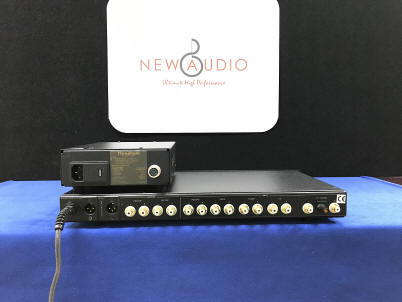 THRESHOLD T ZERO (NUOVO) €. 2.500,00
Pre stereo in classe A (IMBALLO)

Stereo High Level Preamplifier (FET-9e with Balanced Output)
AUDIAFLIGHT PRE €. 2.890,00
Preamplificatore Stereo Polarizzazione in classe A Costruzione Dual mono Local current feedback e transimpedance amplification Controllo di volume ad impedenza costante Ingressi: 2 XLR, 4 RCA Uscite: 1 XLR Peso: 15 kg Dimensioni: 42(L)x38(P)x11,2(H) cm

The high-end audio is a hobby of variety and objectivity. In each of the industry's primary product categories, there are polarities in approach and technology – such as the RIAA-based phonograph and the 16-bit/44.1kHz-based digital playback systems, MOSFET and tube-based amplifications, and finally, cone and planar loudspeaker technologies – that the proponents for each consider indispensable and superior. Yet, there is one component type that everyone has contemplated getting rid of one way or the other, and it is the preamplifier. Transistor or tube, line preamplifiers have always occupied a bittersweet spot in everyone's heart, considering its property for either making or breaking a system from the level of synergy created. To many audiophiles, brackets of price range represent a safe route for matching components: budget components dominate the sub-$2,000 range, while high-performance ones reside in the $9k+; and any higher would be considered exotic by many. Audiophiles contemplating the purchase of either $2,000 or $50,000 line preamplifiers have an easier time than those of us considering a $7k one, for the polarity in prices provides clarity and guideline in respective buyers' decision-making process, at the same time represent an approximate indicator for system matching; while a $7,000 line preamplifier falls into a somewhat grayish area. If one has a $10,000 power amplifier of commendable performance, then a $20,000 preamp of competent caliber may continue to compliment the power amplifier's inherent strength. However, a $7k preamplifier would likely accentuate the relative weakness of a $3,000 power amplifier that was designed to a budget, and then the audiophile with the $10k+ power amplifier would tend to doubt if a $7k preamplifier is adequate for his system. If you are the Dagogo reader contemplating a $7k preamplifier purchase, this review may accelerate your heartbeat. For the Audia Flight PRE has a multitude of virtuous qualities that remain elusive among many of today's sub-$10k contenders in active solid-state preamplification. From a design viewpoint, the PRE is a two-box design implemented into a single chassis, in which upper and lower sections are provisioned and horizontally partitioned. Per Audia Flight, the single-chassis design is to eliminate variables involved in connecting multiple chassis. The PRE is one of a kind in being given three 10,000 Gauss toroidal transformers mounted upside down at the lower half of the chassis into the centrally positioned circuit board. Among the toroidals, two are rated at 50VA each for stereophonic reproduction, and one at 30VA for control logics. The upper section is consisted strictly of the main audio board. To generate a 50V output for each channel, the dual-mono transformers are flanked by four "Ultra Fast Recovery" diodes and eight 3,300μF, 63V ROE-EYS series filtering capacitors. In addition, to ensure the integrity of each channel's signal during internal propagation between circuitry sections, four dual discrete stages are provided, amounting to an unheard of total of 18 discrete stages for each channel. With such vigor, the PRE is then class A-biased and regulated by Audia's current-feedback technique. Contrary to the widely adopted voltage feedback technique, which yields lower levels of input noise and low frequencies distortion, current feedback provides unlimited slew rate and wide bandwidth. Audia's implementation of the current feedback culminated supposedly in a high-current, low-noise output stage. Combined with what is perhaps Audia's most remarkable feature – a metal film resistors- and metal film relays-laden impedance-constant attenuator that Audia claims to be able to preserve frequency responses at all attenuation level, hence solving the impedance fluctuating, frequency skewing and propagation damping characteristics of conventional attenuator – the PRE is supposedly capable of such gain range as 127dB, plus a bandwidth of such magnitude that it would overpower standard attenuators anyway. The PRE chassis is machined out of aluminum via Numerical Control (NC) units and laser machines. NC micro millers further crafted the front panel out of a 25mm thick aluminum ingot. Chassis-width damping plates are inserted under the top cover, as well as between the two boards. To root out possible interference, the logic control circuitry is encased in metal and positioned behind the front pane Fully equipped and intended to be used as a reference preamplifier, the PRE is adorned with four RCA and two XLR inputs, along with one RCA Record output, one RCA Main output and one XLR Main output. The inputs are provisioned near the center of the rear panel, whereas the outputs are grouped at the farthest left and right. The PRE's front panel sports dainty, tidy lines, with beautifully subtle curves. Embedded into this tastefully crafted front panel are, from left to center right, ON/OFF, INPUT, REC, DIM, BAL and MUTE. On the right is a large dial for setting of each aforementioned control, in addition to being the attenuator. At upper center left is the large display, the brightness of which can be trimmed or defeated altogether via the remote. An aluminum, milled remote control mimics all functions on the PRE's front panel, except for REC: the record monitor. A SET button on the remote further enables customization of input gains and input characterization. Despite repeated attempts and examinations on my part, the PRE would not reconfigure its operational mode into the "Single-Ended Triode" kind. Blast! Finally, the PRE is to be left in the blinking, standby mode when not in active use, in which the amplification stages remain powered, and the attenuation at minus-117.5db. Once powered on, the attenuation adjusts itself instantly, with the display jumping from -117.5dB to the former level prior to the shutdown. Input gain can be adjusted plus and minus 6dB to facilitate uniform volume, and each input can be custom named with a maximum of 13 characters. Display brightness can be dimmed through 5 levels, including my favorite one, display off. The Sound To gauge the finesse of the Audia Flight PRE, DACs from both solid-state and tube camps were mobilized, including my longstanding champion of DACs, the $30k tubed Audio Note DAC5 Special, and the best solid-state DAC I've heard to date, the $5,700, 32bit/384kHz Accustic Arts DAC I Mk3. Primary amplification was via Audia's own $11k Flight 100, a 32-IGBT-equipped current-feedback design of superlative finesse, which I reviewed in October, 2005. 47 Lab's PiTracer helmed the tracing of pits from CDs. The Flight 100's high-power, high-current capacity facilitated auditioning via a variety of loudspeaker, thus the 89dB/4Ω, $12k GamuT L5, the 95dB/8Ω, $20k Audio Note AN-E SEC Silver and the 93dB/8Ω, $26k Acapella La Campanella were the primary speakers rotated for this review. Audio Note's Sogon digital cable, interconnects and SPx silver speaker cables handled the delicate task of signal transmission, with the 27-strand Vx linking the preamplifier to the power amplifier. 4 of Harmonix Reimyo's X-DC Studio Master 350 Wattagate power cables supported the DACs 24/7, while powering the amplifications. Although the PRE provides level adjustments of individual inputs, my use of only one Audio Note Sogon digital cable inadvertently involved frequent unplugging and plugging of the cable from the Audio Note and Accustic Arts DACs, hence rendering input customization irrelevant. Many audiophiles prefer tube preamps for the nonexistent tonal artificiality and graininess that solid-state preamps are known to impart, especially in reproducing vocals. Atop a platform of its companion Flight 100 amplifier and GamuT's L5 loudspeaker, the PRE's manifestation of tenor Toby Spence's "Vallon Sonore" [O echoing vale] from the Berlioz opera Les Troyens [The Trojans] (LSO 0010 CD) via the solid-state DAC yielded a pristine and yet smooth vocal that though not of the $30k Audio Note DAC5 Special's caliber, was nevertheless the most remarkable and reverberating of solid-state DACs. CDs produced prior to the common high-bit remastering of late, such as my favorites from Deutsche Grammophon and Philips, consistently demonstrated less refined tonal balance with pronounced top-end carelessness via the PRE – a sharp contrast to the absence of such inherent information as rendered by lesser amplification designs. Accordingly, sonics from archaic CDs processed with comparatively primitive standards were consistently found wanting in the presence of the PRE. Also noteworthy was the PRE's highly differentiating disposition on dimensionality, whether it was of jazz or orchestral music, as it revealed the GamuT L5's soundstaging prowess as the most differing from what the Acapella La Campanella could single-handedly achieve. During a separate session with one Audio Note M8 preamp ($31,750), the GamuT's soundstage expansiveness and 3-dimensionality was contrasted most explicitly by the Acapella's full-range rendition of instrument tonality. To hear a $7k solid-state preamp being able to trail in the same direction was most riveting. On dynamics, the PRE's handling of the signal from the solid-state Accustic Arts DAC was also to be applauded for its ability to track the scales of dynamics most diligently. The Italian preamplifier's reenactment of Anne Weerapass singing the Cole Porter classic, "Night & Day" (Out Of Nowhere, Jazznote 170702-02-2), delicately preserved the sound engineer's intent in the highly dynamic, resolving and yet well-balanced vocalization amidst the jazz band in the background. Transistor preamplifiers I owned in the past tended to smudge the differentiation between fore- and background. I have also yet to find a sub-$10k solid-state preamplifier with comparable spectral uniformity than the PRE. The Audia Flight not only preserved the DAC 1 Mk3's presentations in meticulous tonal balance when driving the matching Flight 100, it never obscured the $24k Harmonix Reimyo PAT-777 300B SET stereo amplifier's spectacular resolution and tonal balance neither. Per PRE, the Harmonix Reimyo SET was able to display its standard compliment of sonic feat through the $26k Acapella La Campanella horn speakers, demonstrating a full suite of tonal vibrancy with no sonic detriment that lesser solid-state preamplifiers would have impeded upon. Resultantly, the German horn speakers produced the most effectuating spectral uniformity, with integrated spectral liquidity and tonal lucidity so resplendent as to redefine what today's horn speakers could accomplish. In comparison to the now-defunct Reference Line's top preamplification offering, the Preeminence Two passive preamplifier, the PRE established itself as the first solid-sate active preamp in my system conceding to zero percent of loss in resolving power, at the same time summarily eclipsing the Reference Line in dynamic vigor and soundstaging, along with superior consistency in tonal shading at all relevant volumes. Summary With the Flight PRE, Audia demonstrated the pinnacle in solid-state preamplification design. Constructed with attenuation cells and relays for maintaining constant impedance, with the ability to preserve the same frequency response at any attenuation value, the Audia Flight PRE was a precision device of a most spectacular order. It possessed a spectral uniformity of such delicacy as to be highly conducive towards tonal differentiation. Though of solid-state birthright, the Audia Flight PRE's exceeding resolution and bandwidth propagated a sonic presentation that was the antithesis of yesterday's solid-state preamplifiers. In manifesting powerful showcases of dynamics, delicate texturing and extended spectral reproduction, it traverses alongside the $10,000 Audio Note M5, complete with a level of resolution I've yet to experience from another solid-state preamplifier. In addition, it did not constitute the minutest in sonic contamination or deviation. In fact, as proven by its coupling to the $24k Harmonix Reimyo PAT-777 300B tube amplifier, the Audia Flight PRE's fundamental lack of coloration and distortion illuminated its brilliance, as to be the one solid-state preamplifier exceedingly conducive in driving the SET amplifier. Then, its regal spectral composure and dynamic prowess, when driving the matching, $11k Audia Flight 100, was of statutory achievement – amazing and breathtaking in action. Finally, the Audia Flight's fundamental absence of electronic coloration in musical recreation makes it a fitting solid-state candidate in service of the 47 Laboratory 4704 PiTracer CD transport and Audio Note DAC5 Special. Not all audiophile will recognize the Audia Flight PRE's subtle and enduring virtues amidst other instantly gratifying solid-state preamplifiers; but I am confident that the PRE will move the discriminating Dagogo readers employing top amplifications with competent front-ends, as solid-state designs capable of such refinement and strength are rare. /www.dagogo.com/audia-flight-preamplifier-review/
---

---
LECTOR FONIX €. 550,00
Costituito da due circuiti distinti e completamente separati per testine MM e MC.E' possibile utilizzare due giradischi contemporaneamente.L'ingresso MM-MC dispone di terminazioni resistive RCA per adattare l'impedenza.Tutti i componenti sono di alta qualitá: condensatori film and foil a basso rumore ad alta precisione, alimentazione a bassa resistenza tipo Shunt, connessioni dorate ed isolatori in teflon. In dotazione: Cavo di alimentazione Fiancatine disponibili in massello o plexiglass opzionali Libretto d'uso e manutenzione Garanzia 2 anni

Type of Unit Solid State Phono RIAA Preampfor MM/MC Harmonic Distortion THD < 0.01 % Input Sensitivity MM 1.5 mV / 47 kW / 100 pFMC 0.4 mV / 47 kW / 1,500 pF S/N Ratio MM 70 dB ( A-weighted ) MC 65 dB ( A-weighted ) Frequency Response 20 - 20 kHz +/- 0.5 dB Output Inpedance & Voltage 100 W / 10 Vrms Line Input Chanels MM / MCwith two turntables Recording Output Line Main Outuput1 Switchable Main Voltage 100/110/230/240 VAC - 50/60 Hz - 50 VA Dimensions (W x D x H) 400 mm x 300 mm x 85 mm Weight ( Net - Gross ) 7 kg - 8 kg

PAGINA IN AGGIORNAMENTO
---

---
YAMAHA A-100 €. 250,00

Specifications Power output: 50 watts per channel into 8Ω (stereo), 100W into 16Ω (mono) Frequency response: 20Hz to 20kHz Total harmonic distortion: 0.2% Damping factor: 70 Gain: 38.2 dB Input sensitivity: 0.245V Signal to noise ratio: 105dB Speaker load impedance: 8Ω to 16Ω Dimensions: 220 x 96 x 296mm Weight: 4.6kg
denon POA- F100 €. 250,00
Amplificatore finale di potenza a 3 canali. 25 W x 3 canali su 8 ohm (canale centrale e canali surround). Ideale in abbinamento al AVRF100 per creare un sistema multicanale A/V.Stadi finali separati a componenti discreti. Accensione e spegnimento controllati dal telecomando in dotazione all'AVR-F100.

Denon-Design-Endstufe POA-100 Dreikanal.Äußerlich sehr gut erhalten. Technisch i.O. Aus Ausstellung gekauft und von mir seither fast unbenutzt. Reduziere jetzt meine Sammlung. Design: silber. Leistungseigenschaften: - Anzahl der Signal-Kanäle: 3 - Mitte:25 W Sinusleistung - Hinten:25 W Sinusleistung, pro Kanal - Sinusleistung (Mitte) gemessen an 6 Ohm - Sinusleistung (Hinten) gemessen an 6 Ohm - Frequenzgang-Untergrenze, Line: 20 Hz - Frequenzgang-Obergrenze, Line: 50000 Hz - bei max. Abweichung, Line von + 1 dB - bei max. Abweichung, Line von - 3 dB - Eingangsempfindl., normal/direkt: 0,435 V - Eingangsimpedanz: 47 KOhm Geräuschspannungsabstand: 90 dB.Anschlüsse: - Cinch-IN, gesamt: 3. Konstruktionsmerkmale:diskreterVerstärkeraufbau.Leistungsaufnahme/Spannungsversorgung: - Leistungsaufnahme, Betrieb: 72 W.GehäuseEigenschaften: - Breite: 27 cm - Höhe: 8,4 cm - Tiefe: 25 cm- Gewicht: 3,9 kg.
LIIN LK85 €. 700,00
TECHNICS A800 MKII €. 700,00
DENSEN B300 €. 700,00

The BEAT-300 defines versatility in the world of Densen. Internally it has a selector, which allows it to be adjusted to precisely match a BEAT-100 for easy bi-amping, using the BEAT-100 to drive treble, and the BEAT-300 to drive the bass/midrange. Naturally it can also be internally adjusted to match a BEAT-200 (or other high quality preamps). The B-300 contains a completely new output-stage, built using Densen's unique "DMCD" technology (patent pending). This makes the B-300 extremely fast and precise, while retaining unlimited control of the speakers. The bandwidth has also been improved and the B-300 goes straight to 250.000Hz, resulting in improved slew-rate. The B-300 is built using surface mounting techniques and the components are mounted to a precision of 0.05mm using silver solder. The power supply is massive and consists of a 500VA transformer and a storage capacity of 60.000uF with 3 seperate rectifiers, of which the 2 are capable of 3.000VA. All resistors are laser-trimmed metalfilm with a precision of 0.1%. The B-300 delivers 2x100W at 8 ohm, and 2x200W in 4 ohm. No local or global feedback is one of the key issues of the B-300. This technology is further improved with Densen's new patent pending DMCD circuit. DMCD stands for Dense Mass Current Distribution, and by using the DMCD circuit, the current is at all times present at the output terminal. This results in an extremely low output impedance for a non-feedback amplifier. The Printed circuit board is made of teflon and is double-sided, with signal on one side and the ground-plane on the other, thereby optimising interference free signal transfer. The B-300 is also prepared for Densen's SAXO electronic crossover, so that the B-300 can be used in active systems. This is done by mounting the crossover in an internal socket in the B-300. This enables the BEAT-300 to be used as a subwoofer amp, or as one of several BEAT-300's in 2, 3, or 4-way (or more) active systems where all crossovers are electronic. The SAXO crossover is user adjustable and fits all speakers on the market. DATA Poweroutput in 8 ohms: 2x100W Poweroutput in 4 ohms: 2x200W Powersupply size: 500VA Storagecapacity: 60.000uF THD + Noise @ rated output: Less than 0.01% Frequency response (+0 -3db): 2-200.000Hz Weight/shippingweight: 10/12 Kg Product dimensions (WxDxH): 440x310x64mm
JEFF ROLAND MODEL 112 €. 2.700,00
jeff Rowland | Model 112 Amplificatori Finali Stereo Serie Amplifiers Finale di potenza stereo da 150 W + 150W RMS su 8 ohm (250 W RMS/4 ohm). Ingressi sbilanciati e bilanciati, guadagno selezionabile, chassis interamente in alluminio.

Description Internally, the Model 112 uses an ultra-fast, integrated circuit input/output topology that couples unquestioned reliability with unparalleled sonic performance. Specifications Power output: 150 watts per channel into 8Ω (stereo) Frequency response: 20Hz to 20kHz Total harmonic distortion: 0.008% Damping factor: 60 Gain: 32 dB Dimensions: 445 x 335 x 145mm Weight: 24.5kg
JEFF ROLAND MODEL 201 COPPIA €. 3.450,00



Finale di potenza mono da 250W RMS su 8 ohm, 500W RMS su 4 ohm, 1 Ingresso bilanciato o sbilanciato tramite adattatore opzionale, 1 uscita. Costruzione interna ad "H" non-risonante.

Jeff Rowland imaging, staging, and musicality in a beautifully crafted monoblock chassis capable of capturing the often elusive music and theater experience with grace and authority. Model 201 delivers a compelling musical experience with a linear frequency extension that ranges from a deep pitched bass to a textured treble, with rippling harmonics and nuanced low level resolution. This work of art, in both sight and sound, is a true Rowland.Housed in an elegant and compact chassis milled from aircraft-grade Aluminum ingots, the Model 201 monoblock power amplifier has been created to exacting JRDG artistic and engineering standards. The advanced green technology that delivers its refined performance, make the Model 201 monoblock power amplifier ideal for the most sophisticated stereo and multi-channel audio systems at a real world price. Output Power Continuous RMS @ 8 ohms - 250 watts / @ 4 ohms - 500 watts Frequency Response 5 Hz - 70kHz, 3dB Peak Output Current > 35 amps Dynamic Range 117 dba Load Impedance Range 2 ohms - 16 ohms THD + Noise 0.1W-500W/4 ohm <.05%, typically .006 @ 1kHz CCIF Intermod. Dist., 19/20kHz <.002% Damping Factor @ 1 kHz 1000 Overall Gain Selectable Internal Jumper, 26 or 32 dB Input Impedance 40k Ohms Common Mode Rejection Ratio >90dB, 20 Hz 20 kHz Absolute Phase Non-inverting, Pin 2 Positive Inputs 1 x Balanced XLR (Unbalanced operation requires an optional XLR to RCA adapter) Outputs 1 Pair CE-Approved Binding Posts Power Consumption Idle - 9 watts Maximum - 650 watts Amplifier Weight 13 lbs/6 kg. Amplifier Dimensions 2.6" x 8.4" x 11.5"
YARLAND FVB34B €. 700,00
Specifiche tecniche Valvole di potenza: 4 x EL34, KT66 o KT77 Valvole driver: 2 x 6N3 o JAN5670W Valvola preamplificarice: 1 x 12AX7 o ECC83 Banda passante: 20 ÷ 20.000 Hz +/– 1dB e 12 ÷ 45.000 Hz +/– 2dB Potenza: 36 + 36 W RMS - 1% distorsione (IMBALLO)
AUDIOANALOGUE DONIZETTI €. 700,00
quad Finale 606 €. 600,00
Finale 140+140 watt 8 ohm preamplificatore quad 44 + finale 606 950,00 euro

Descriptio The Quad 606 is a two-channel power amplifier designed for high quality sound reproduction when used with a Quad 66 control unit or other source. While Quad high fidelity equipment is designed to reproduce music at realistic levels, there is a world of difference between the sound pressure levels produced by a string quartet and a heavy metal group. Please be aware that very high sound pressure levels will also cause severe annoyance to neighbours. Specifications Power output: 140 watts per channel into 8Ω (stereo) Frequency response: 20Hz to 20kHz Total harmonic distortion: 0.03% Input sensitivity: 0.5V Signal to noise ratio: 105dB Speaker load impedance: 4Ω (minimum) Dimensions: 321 x 140 x 238mm Weight: 12kg
HARMAN HK775
(IMBALLO)

Power output: 130W into 8Ω (mono) Frequency response: 20Hz to 20kHz Total harmonic distortion: 0.03% Damping factor: 100 Input sensitivity: 1.2V Signal to noise ratio: 123dB Dimensions: 385 x 72.5 x 320mm Weight: 10.1kg
SANSUI BAF 1 €. 890,00

Specifications Power output: 110 watts per channel into 8Ω (stereo) Frequency response: 1Hz to 600kHz Total harmonic distortion: 0.008% Damping factor: 100 Input sensitivity: 1V Signal to noise ratio: 125dB Speaker load impedance: 8Ω (minimum) Dimensions: 430 x 187 x 430mm Weight: 20.4kg
denon POA-T3 €. 400,00
(IMBALLO)

Specifications: 120 Watt per channel into 8 Ohms RMS; 0.008% THD at rated output; FR. 1 Hz - 100 KHz +0dB -3 dB; Input sensitivity 1.1V; Input Impedance 47 KOhms; Signal to noise ratio 110 dB; Power requirements 220 - 230 V 50 Hz; Please note the voltage is for UK / EU Only. Weight - 12.3 kg.
NAKAMICHI PA5
Potenza2x100 W, Dimensioni : 435x135x412, Peso 22 Kg

100wpc into 8ohms,160wpc into 4ohmsDynamic power 150wpc into 8ohms, 270wpc into 4ohms Dynamic Headroom 1.7db into 4ohms, 2.2db into 4ohms Output current capability 12 amps continuous, 35 amps peak per channel Power supply; 450 watt toroidal transformer. 700 Watt toroidal transformer, dual rectifiers 17" wide x 15" deep x 6" tall
MARK LEVINSON N°333
(IMBALLO)

Nş333 Rated power output: 300 w/ch continuous rms power @ 8Ω 600 w/ch continuous rms power @ 4Ω 1200 w/ch continuous rms power @ 2Ω all above power ratings from 20 Hz–20kHz at <0.5% THD _ Frequency response: within 0.1 dB from 20 Hz to 20 kHz _ Signal to Noise ratio (main outputs): better than –80 dB (ref. 1 w) _ Input impedance: 100kΩ (balanced) 50kΩ (single-ended) _ Voltage gain: 26.8 dB _ Input sensitivity (2.83V output): 130 mV (all models) _ Input sensitivity (full output): 2.25V for Nş333 1.80V for Nş332 1.30V for Nş331 _ Power consumption (Nş333): 350W (±5%) at idle, 200W (±5%) in standby _ Mains voltage: determined by the needs of country for which the unit was manufactured; cannot be reset by dealer or user _ Overall dimensions: See "Dimensions" _ Nş333 Shipping weight: 150 lbs. (68.2kg) each _ Connector complement: four custom binding posts per channel one 3-pin XLR balanced input connector per channel one RCA input connector per channel two 1⁄8" mini-jacks for remote turn-on two Mark Levinson communications ports one captive high current AC mains cord (Nş333 only), or one IEC-standard high current AC receptacle (Nş332, Nş331) _ Output impedance: less than 0.05Ω from 20–20,000 Hz _ Damping factor: greater than 800, 20–20,000 Hz @ 8Ω peso: 70kg
MARK LEVINSON N°336
(IMBALLO)

Mark Levinson N°336 Dual Monaural Power Amplifier, Madrigal Audio Laboratories, Designer: Madrigal design team. Power rating: 350 watts @8 ohms; 1400 watts @2 ohms. Frequency response: 20 to 20,000 Hz ± 0.1 dB. Damping factor: >800 (20-20,000 Hz @8 ohms). Input impedance: 100 K (balanced), 50 K (single-ended). Input sensitivity: 2.42 V. Output impedance: <0.05 ohms (20- 20,000 Hz @8 ohms). Connections: four custom binding posts per channel for biaming; one 3-pin XLR balanced connector/channel; one RCA input connector/channel. two-4 inch mini-jacks for remote turn-on; two Mark Levinson communication ports; two PHAST communication ports. Non-detachable AC cord. Dimensions: 171⁄2" x 9" x 19" (w x h x d). Shipping weight: 150 lbs
MARK LEVINSON N°436
(IMBALLO)

Description: Solid-state monoblock power amplifier with one pair Madrigal speaker binding posts, one 3-pin XLR balanced input, two 1/8" minijacks for remote turn-on, one RS-232 port on RJ-11, two Mark Levinson communication ports on RJ-45, and two PHAST communications ports on RJ-45. Rated power output (20Hz-20kHz, <0.3%. THD, FTC): 350Wpc into 8 ohms (25.4dBW), 700W minimum continuous into 4 ohms (25.4dBW), 1400W minimum continuous RMS power at 2 ohms (25.4dBW). Frequency response: 20Hz-20kHz, ±0.2dB. Output impedance: ±0.05 ohm, 20Hz-20kHz. S/N Ratio: better than -89dB (ref. 2.83V). Damping factor: >800, 20Hz-20kHz into 8 ohms. Power consumption: 100W in standby, 180W at idle. Current draw at rated output at 120V: 8.5A (350W into 8 ohms), 14.6A (700W into 4 ohms), 25.6A (1400W into 2 ohms). Dimensions: 17.75" (455mm) W by 7.65" (194mm) H by 20.2" (518mm) D. Weight: 85 lbs (38.6kg) net, 95 lbs (43.2kg) shipping. serial number :1028
AERON A07 €. ,00
Con i suoi sette canali da 120 watt rms, l'A-07 č uno degli amplificatori piů potenti oggi disponibili. Il progetto č stato elaborato per dar vita ad un apparecchio prestigioso, inappuntabile sotto il profilo qualitativo e stupefacente come potenza pura. La sua massa di ben 28kg toglie ogni eventuale dubbio sul dimensionamento elettro-meccanico, garante dell'affidabilitŕ e della tenuta in potenza a lungo termine. Partner naturale del pre/decoder AV-1003, quest'apparecchio (robusto meccanicamente ed elettronicamente, ma delicato musicalmente) č l'amplificatore ideale per i sistemi home cinema che richiedano sette canali, elevate potenze e prestazioni "audiophile Dati tecnici Power output 7 x 100W rms / 8 ohm Power output 7 x 160W rms / 4 ohm All power figures at 20Hz-20kHz, 0,1% THDSensitivity 1V / 47k ohms Frequency response 20Hz-20kHz +/- 0.5dB Signal to noise ratio >95dB at 100W (A weighted) Harmonic distortion <0.1% from 20Hz to 20kHz, 1 to 100 watts Intermodulation distortion <0.2% (IHF A) Power supply 230V, 50/60Hz Absorption 1100 VA Dimension (WxHxD) 430 x 200 x 460 mm Finish Silver Weight 23 kg
---

---
NAD 3300 €. 350,00

The 3300 is a Monitor Series integrated amp made of most of the 1300 preamp and half of the 2600 power amp : MM & MC inputs with 3-step capacitance switch, low-impedance outputs, buffered tape i/os, "lab" input (to be fed from the preamp out and bypass all filters and controls), 30A and 400W of peak current/output available maintained in listenable regions with NAD's staple Soft-Clipping circuit. That much output goes with the Power Envelope circuit : two voltage rails for high and low power ranges. When listening loud, switching back and forth between rails therefore happens... I believe the 3300 was first available without the Product: NAD 3300Specifications: Power output: 60 watts per channel into 8Ω (stereo) Frequency response: 20Hz to 20kHz Total harmonic distortion: 0.03% Damping factor: 100 Signal to noise ratio: 80dB (MC), 80dB (MM), 100dB (line) Speaker load impedance: 4Ω to 8Ω Weight: 10kg Code Amplifier Measures: 432 x 105 x 381 mm
EXPOSURE 1010 €. 500,00
Amplificatore integrato 50W / canale – Trasformatore toroidale customizzato 120VA ad elevata capacitŕ – Ingresso AV dedicato a guadagno fisso – Circuitazione Cascode per migliorare l'immunitŕ dell'alimentazione.

1. High capacity 120VA custom made toroidal transformer2. Anodised aluminium faceplate3. High quality capacitors used in signal path4. Short signal path PCB5. Relay switching of input signals6. Dedicated fixed gain AV input7. Cascode circuitry used for improved power supply immunity8. High quality remote control9. Three year guarantee • Power Output (1KHz): 50W per channel RMS 8ohms• Input sensitivity: 250mV• Input Impedance: >14K Ohms• Frequency Response: 20Hz - 20KHz ± 0.7dB• Total Harmonic Distortion: <0.05% at rated power• Signal to Noise Ration: >95dB, A Weighted, ref rated power• Channel Separation: >60dB• Mains Supply: 110/120V or 220/240V, 50/60Hz (factory set)• Power Consumption: <120W• Dimensions - H x W x D: 90mm x 420mm x 300mm• Nett weight (unpacked): 5Kg • Gross Weight (packed): 7Kg
advance acoustic MAP-305ll €. 890,00

Superb design together with a remarkable construction, high technical thoroughness and a finish beyond reproach allow the MAP305 II to meet the expectations of the greatest number of stereo freaks at a reasonable cost. Technically speaking, the AB class operating mode of the famous MAP-303 has been kept and optimized featuring a new ultra-rigid chassis with sealed compartments, new internal architecture and ubiquitous use of best quality circuit components.Musically speaking, the MAP-305 II expresses delicate subtlety and the right balance, always ready to deliver the right amount of power and dynamics. Neutrality, transparency and energy gathered in the AB class are making the MAP-305 II a unique musical instrument.
Moreover, the MAP-305DA II comprises a stereo digital converter (24-bits/ 192 kHz) having 5 inputs capable of reprocessing, at the highest level, audio digital signals from, for example, a CD/DVD .Output power 8Ω : Classe AB - 2 x 100 W Output power 4 Ω : Classe AB : 2 x 200 W Frequency response : 10Hz - 60kHz (+1/-3dB) Distorsion : < 0,05% S/N Ratio : > 100dB Channel separation : > 70dB Input impedance : 20K Phono input impedance : 47k-100 Input level (CD-Aux): < 300mV Phono input level MM/ MC: 2,5mV & 0,2mV 4 Input : CD, Tuner, AUX, et Phono MM ou Phono MC Pre-Out Amp IN IR Remote control Dimension (L x H x D): 44 cm x 15,5 cm x 45 cm Weight : 19 kg
---

---
PRIMALUNA PROLOGUE TWO €. 890,00
Integrato a valvole con KT88 (45 watt/ch)

Designed in Holland and made in China, PrimaLuna's amps are essentially classic valve designs, but they bring distinctive aesthetics and a few modern design touches to the party. One such notable feature in the PrimaLuna Prologue Two amp we are reviewing here is 'Adaptive auto bias'. Bias is a long-standing pain in the neck of valve amps: quite simply it's the DC ('standing') current in the valves under conditions of no audio signal and it's critical. Usually amps either have manually adjusted bias, which may even require test equipment to set, or auto-bias (also called 'self-bias'), which does what it says but, in the traditional implementation, reduces maximum output power. It's really surprising how few firms have done what PrimaLuna does and made solid-state monitoring circuits which control bias. It makes the amp far more tolerant of imbalance between output valves. Input switching and volume control use good-quality mechanical components and behind them a good deal of the amp's circuitry is based on solid wiring and tag strips, with large resistors in most positions. Critical capacitors are brand-name plastic-film parts, while a couple of substantial electrolytic capacitors are joined by a smoothing choke in the power supply. The valve complement, apart from the output KT88s, runs to two each of the ECC83 and ECC82The cover over the transformers is so very resonant that we'd be tempted to remove it! Sound quality Definitely a qualified success, this amp made a very favourable impression on one of our listeners and a mostly favourable one on a second, but failed to inspire the third. It turns out that the unimpressed listener missed detail and insight more than anything and found it a struggle to hear details even in familiar recordings. On the other hand, the best-pleased listener referred to 'sublime vocals' and clearly enormously enjoyed the overall musicality of the amp's presentation, which certainly has great charm across the midband. Opinions were united on the subject of imaging, which is good laterally but tends to bring the performers a bit further forward than one is accustomed to hearing. Treble wasn't explicitly mentioned by our 'blind' listeners, but our sighted experience suggests it is well-extended without sibilance or spit. That's probably a contribution to the amp's good handling of vocals and it scores highly for the ease with which lyrics can be understood. There was also specific praise for the PrimaLuna's handling of dynamics, which are full but surprisingly subtle – you often don't notice the music is growing in volume until it's really loud.https://www.techradar.com/reviews/audio-visual/hi-fi-and-audio/amplifiers/primaluna-prologue-two-945738/review
UNION RESEARC NIMBLY €. 1.100,00
Amplificatore stereo 2x50 watt 8/4/2 ohm pentodo ,2x25 watt watt 8/4/2 ohm triodo, classe a pura fino a meta' potenza, thd 0.1%,commutatore pentodo -triodo Misure 470x210x360mm 32 kg prova ar 99 pag.171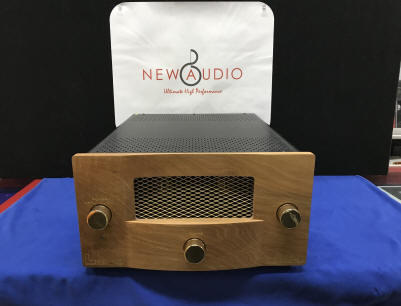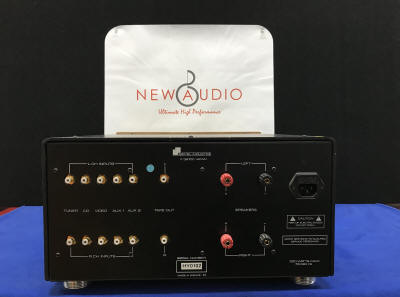 simel €. 1.300,00
---

---
ADVANCE ACOUSTIC 503 €. 750,00

SPECIFICATIONS OUTPUT LEVEL UNBAL./BAL 0-1,8V FREQUENCY RESPONSE 10Hz-70kHz DAC DIGITAL AUDIO CONVERTER (2X2) 24bit-384kHz DISTORSION < 0,06% S/N RATIO >= 90 dB CHANNEL SEPARATION >= 90 dB INPUT IMPEDANCE 50-110Ω AC INPUT 115-230V POWER CONSUMPTION S/BY OFF NC POWER CONSUMPTION S/BY ON NC POWER CONSUMPTION MAX < 40W TRANSFORMER(S) 2 DIMENSIONS H.11x l.44x D.35 NET WEIGHT / GROSS WEIGHT 1,6 / 9,1 kg
LECTOR DIGITUBE (NUOVO EX DEMO) €. 1.090,00
D A C a valvole 32/192 Khz input: aes-ebu / spdif / USB Con selettore 5 ingressi selezionabili / WC input / spdif out



The new Digitube S-192 digital tube D to A converter is based on 32 bit dac from AKM, high-resolution dac, output circuits is design around vacuum tube type miniwatt as ECC-81/12AT7. Digital signals are accepted up to 192 kHz 24-bit on all inputs, USB input too. The Digitube S-192 is also equipped with word clock input and digital spdif output for general purpose application. T h e d i g i t a l i n p u t s : - Spdif IEC-958 as RCA connector @ resolution 192 Khz 24 bit - Spdif IEC-958 as BNC connector @ resolution 192 Khz 24 bit - AES-EBU AES-3 as XLR connector @ resolution 192 Khz 24 bit - Opto toslink digital input @ resolution 192 Khz 24 bit - Asyncronous USB PC/MAC input @ resolution 192 Khz 24 bit support stable KS/WASAPI protocol at high speed comunication O u t p u t / i n p u t d i g i t a l s e r v i c e s : - Word Clock (W.C.) clock input - Spdif as BNC output A n a l o g o u t p u t : - Unbalanced output as 2.5 volt 250 ohm P e r f o r m a n c e s : Input selector by sequential single shot by push button, led indicator for selected input. Led indicator for analog and digital supply Led lock for spdif / aes-ebu input Display frequency indicator for 32 / 44.1 / 48 / 88.2 / 96 / 176.4 / 192 / Windows driver for XP/Vista/Seven at 32 and 64 bit supplied by CD rom, update service downlod from web No any driver required for OSX-Apple mac computer ( the USB interface is native as real USB-2) Type of Unit Digital to Analog converter with usb input Output impedance 250 ohm Jitter interface 20 ps Frequency Response 15 - 96 kHz +/- 1 dB @ hi-res input 192 Khz Input digital Impedance 75 ohm spdif / 110 ohm aes-3 Harmonic Distortion THD < 0.1 % S/N Ratio 100 dB ( A-weighted ) Tube output ECC-81/12AT7 x 4 AC Main Voltages 100/110/230/240 VAC - 50/60 Hz - 100 VA Dimensions ( W x D x H ) 430 mm x 300 mm x 55 mm Weight ( Net - Gross ) 8 kg - 10 kg
THRESHOLD DAC1/E €. 1.500,00

Description High-performance processor for converting a digital audio input stream To an analog output signal at fixed line level. Operating format is an ultra linear 1 bit system performing @ 24 bit equivalent static linearity in a dual parallel balanced differential configuration. Computer optimized passive filtration maintains phase linearity to 80 kHz. Proprietary "jitter" reduction circuitry assures extreme accuracy in the conversion of each bit. Master clocking is performed by three separate precision lithium-tantalite crystals each clocking an associated PLL reference oscillator and dedicated to a single one of the processor's sampling rates. Analog signal output is developed by a proprietary discrete FET /bi-polar buffer. Four digital inputs are provided, 2 via coaxial, and 2 via optical connectors. One optical digital output and balanced or single-ended characteristic stereo analog output signals are available. The analog output signal characteristic may be phase rotated 1800 • Front panel controls: INPUT SELECTOR, PHASE. Front panel displays indicate: sampling rate; emphasis present; lock lost; standby mode. Frequency response 48 kHz sampling: DC to 22 kHz ± 0.15dB. 44.1 kHz sampling: DC to 20 kHz ± 0.15dB 32 kHz sampling: DC to 15 kHz ± 0.15dB. Decoding system 1 bit performing @ 24 bit equivalent static linearity. (500Hz, pass band filtered) Oversampling clocked @ 768 times incoming data Jitter MApproximately 20 picoseconds Linearity Within ± 0.3 dB @ - 120 db below digital maximum level Output filtration 3rd order (passive) with phase linearity to 80 kHz De-emphasis MPassive analog Distortion Below 0.002% typical 20 Hz through 20 kHz.
MICROMEGA DAC (NUOVO EX DEMO) €. 690,00
convertitore D/A Dac1 ( 3 ingressi digitali , ottico , coassiale e AES-EBU , uscite analogiche bilanciate e sbilanciate)
BRYSTON BDA 1 €. 1.450,00
Stadio di conversione DA, doppio DAC Crystal 192kHz/24bit, doppia alimentazione indipendente, sovracampionamento 32x a quadrupla velocitŕ, upsampling sincrono (176,4kHz/192kHz), percorsi di segnale analogico e digitale separati. Ingressi USB (1), COAX (2), OPTICAL (2), AES-EBU (1), BNC (2). Campionamento 32, 44,1, 48, 88,2, 96, 176,4 e 192kHz, PCM 16-24bit, USB 16bit 32-48kHz, uscite stereofoniche bilanciate XLR e sbilanciate RCA totalmente differenziali, uscita bypass loop SPDIF COAX, aggiornamento software tramite RS-232, comando a distanza opzionale, trigger 12 volt per l'utilizzo da remoto, compatibile con meccaniche CD, schede audio, computer, server musicali. La cosmetica riprende il design C-Series (BP26, MPS2, BCDm, ecc)



BDA-1 External DAC The Bryston BDA-1 is a state of the art external Stereo DAC (digital to analog converter) which delivers superb sonic performance through re-sampling and re-clocking of the digital input signal. Features: •Dual 192K/24 bit crystal DACs •Discrete Class A analog output stage•Independent analog and digital signal paths•Independent dual power supply •Synchronous upsampling (176.4K/192K)•Oversampling•Inputs: USB 1.1, 4x SPDIF (2 BNC, 2 RCA), 2x Optical (TOSLINK), AES/EBU•Outputs: RCA Single Ended, XLR Balanced, SPDIF (RCA)*•Control: RS-232 (DB9)** Options: •Available with silver or black faceplate•17"or 19" faceplate available•Rack mountable option available (1U)•BR2 remote control available (see Accessories in Other Products

ESOTERIC D07 €. 1.950,00

ESOTERIC is pleased to introduce a new 32-bit D/A converter model D-07 that supports the playback of Super Audio CD, CD and high-resolution, hard drive based music files. The D-07 is a dual mono D/A converter capable of 32bit resolution throughout the signal path. The D-07 features a variety of digital inputs, including a USB terminal, that support the playback of Super Audio CDs together with ESOTERIC's Super Audio CD Transport products, as well as the playback of high-resolution music files. The D-07's USB input can accept native resolution up to 24bit/96kHz. The digital processing in the D/A conversion input is realized by utilizing a variety of D/D conversion functions, and thus represents the pinnacle of ESOTERIC's digital processing technology. The new D-07 features high-definition functions that employ state-of-the-art technology, such as format conversion for converting PCM digital signals to DSD, PCM up-conversion (2x/4x), and two digital filters (Including "pre-echo" reduction). These functions can be freely selected and used to fit your needs. WORD SYNC allows you to synchronize playback with other digital devices, and a 2nd PLL effectively reduces the jitter for digital devices without WORD SYNC - these are the kind of high-definition functions that can only be found on high-end, specialized devices. The D-07 also has an attenuator for controlling the level of analog output. This can be combined with selector functions that are used for a variety of digital inputs, and allow the DAC to serve as a high-end digital preamplifier. The D-07, which can be used with both audio-visual devices and the PC, maximizes the potential of ESOTERIC's state-of-the-art technology. It is the ultimate high-end D/A converter for people that demand the utmost in quality for high-resolution music sources.32bit D/A converter strives for the highest qualityTo achieve that perfect sound, the D-07 uses the Asahi Kasei Microdevices Corporation's AK4392 (*1) DAC device. It also comes equipped with an in-house developed high-speed and high-performance digital signal processing section, and an improved analog section for receiving processed data. The 32bit processing capacity is maintained throughout the unit, from the input I/F and the digital filter, to the Delta-Sigma modulator. The digital computing section provides high-precision computing, even if data below 24bit is input, helping to produce that high sound quality. In the analog section, the layout of channels is completely symmetrical, and a dedicated power supply is used for each circuit. This helps to prevent cross channel interference. The internal master clock is also equipped with a dedicated power supply, thus minimizing effects caused by jitter. Dual mono configuration from the DAC to the audio output This configuration follows ESOTERIC's proven dual mono configuration. It contains separate DAC devices and analog audio circuits on each L/R, and the same parts positioned on the same path. To reduce crosstalk between channels, the same parts are positioned in the same pattern for each L/R on the board. This minimizes differences in sound quality between L/R to ensure superior channel separation. This allows you to experience high-definition playback with a rich sense of localization and depth. XLR audio output is set up in fully balanced configuration, allowing you to select between HOT (pin=2) and HOT (pin=3). You can also select from the analog outputs (RCA/XLR/OFF). Analog output Output terminals XLR (2ch) ×1RCA (2ch) ×1Output impedance XLR: 100Ω RCA: 100ΩMaximum output level 2.2Vrms (1kHz, full scale, 10kΩ)Frequency response 5Hz - 40kHzS/N ratio 130dBTotal harmonic distortion 0.001% (1kHz)Digital input Balanced digital input XLR ×1 24bit/192kHzCoaxial digital input RCA ×2 24bit/192kHzOptical digital input Optical ×1 24bit/192kHzUSB input USB Type B ×1 24bit/96kHzWord Sync output Output terminal BNC ×1Output frequency 44.1/88.2/176.4/48/96/192kHz(rectangular wave) Output level TTL level (75Ω)Word Sync input Input terminal BNC×1 Input frequency 44.1/88.2/176.4/48/96/192/100kHz(rectangular wave) Input impedance 75ΩInput level TTL level General Power supply AC 230V 50HzAC 120V 60HzAC 220V 60HzPower consumption 7W External dimensions(W×H×D) 442mm×103.5mm×346mm (17-3/8"×4-1/16"×13-5/8") Weight 9.5kg
---

---
JADIS J1 DRIVE €. 4.900,00
Meccanica trasporto cd state of art
MARK LEVINSON CD N°37 €. 2.600,00
Meccanica trasporto cd state of art

No.37 Description: CD transport with four digital outputs: AES/EBU on XLR, S/PDIF on BNC, S/PDIF on RCA, ST optical. Dimensions: 15.75" W by 3.76" H by 14.3" D. Weight: 34 lbs (shipping).

LECTOR CDP 707 €. 1.800,00
CD-player integrato top loading a valvole 24 bit con psu separato mdello: PSU-3T display blu completo di fiancatine tipo legno o plexi neroL'alimentatore separato consente di attivare le sezioni analogiche e digitali separatamente. La componentistica elet-trica ed elettronica č di pregio assoluto: condensatori in polipropilene, cablatura con cavo OFC, resistenze di precisione e circuiti di alimentazione per singolo stadio. La conversione č affidata a due DAC monofonici, uno per canale. In dotazione: •Alimentatore separato PSU-3T•Telecomando•Cavo di alimentazione •Stabilizzatore magnetico cinematico CD•Fiancatine disponibili in massello o plexiglass •Libretto d'uso e manutenzione •Garanzia 2 anni Type of Unit Top Loading Integrated CD Player with Real Tube Circuit & External Power Supply Harmonic Distortion THD < 0.1 % DAC Type and Filter 24 bit / Dual Mono Burr Brown PCM1704with DSP Over Sampling Filter. S/N Ratio 98 dB ( A-weighted ) Tube for Amp Stage ECC81/12AT7 selected & matched by Lector Frequency Response 20 - 22 kHz +/- 1 dB Digital Inputs/Outputs Optional output: S/PDIF and Toslink or ST-II/AES-EBU XLR Analogue Line Outputs RCA ( 2.5V - 3 V / 250W ) Switchable Main Voltages 100/110/230/240 VAC - 50/60 Hz - 80 VA Dimensions ( W x D x H ) 440 mm x 308 mm x 85 mm Weight ( Net - Gross ) 9 kg - 10.5 kg ExternalPower Supply PSU-3T Dimensions 200 mm x 308 mm x 85 mm Weight ( Net - Gross ) 5 kg - 6 kg



The perfect mechanical solution join original electronic design born a superior cd player class A product.several original mechanical solution are adopted as proprietary (internal Lector factory made) read out laser mechanism and special made brass pillar suspension separate power supply with indipendent section mains AC power switch ON/OFF (digital/analog) three power toroidal hi-flux transformers exclusive CD disc clamp with two axis stabilization effect by special neodinium magnet sophisticated selection off DAC type dual mono PCM-1704 BB 24 bit with indipendent board pcb for real jitter reduction NO any type of feedback total or local circuity can control the analog stage, a original circuit design drive and control the gain of the first tube stage ( chatode direct drive coupling ) passive dithering circuit increase real bit resolution near to the barrier of 24 bit ( Lector invented this original circuit design) custom made CD mechanism with three isolated plate stages and vibration system discharge control spindle original proprietary servo digital board with new technology solution design ( we don't use the kit electronic board ) The circuity of power supply employ 14 regulation stages , only one capacitor on signal path as film & foil custom made, special material chassis by aerospace alluminium die-cast. The output tube triode circuity is in class A with only one passive first order filter so do not have indesiderate rotative signal phase.The CD mechanism have two different solution of mechanical damping:the first by special damping rubber in neoprene the second by lattice-rubber as similar solution adopted in analog turntable. A original magnetic clamp system give more stability to the rotation the CD disc so to have the double stabilization on two axis: orizzontal and vertical. C O N V E N I E N C E A N D P E R F O R M A N C ESeparate power supply box with two indipendent switch for analog section and digital section model PSU-3T Original Remote Control Handset with most important function Hi stability disc rotation insensible to external shock Two axis stabilization neodinium magnetic clamp Cherry natural wood veneering brackets for reduce cover resonance (on series) Black solid plexiglassbrackets (optional alternative to cherry wood) RED satin wood brackets (optional alternative to cherry wood) S P E C I F I C A T I O N Type Top Loading CD player tube analog Digital section 24 bit PCM-1704 dual mono oversampling by DSP and NO data L/R shift phase S/N ratio 105 db Distorsion 0.1% THD or better Frequency response 20-20khz (with gently slope filter) Output impedance 150 ohm 3.0 volts rms (2.5 Volt min) The output voltage is measured at 0 db test cd disk The music cd disk have output rathed at 200-500 mV so the CDP-7 can interface ANY preamplifier or amplifier without NO input saturation Power supply 220-240-120-100 vac (separate box model PSU 3) Dimension CDP 7T 400x115x300 (lxhxp) Dimension PSU 3T 225x85x300 (lxhxp) Weight net CDP7T= 12 kg PSU3T= 3 kg READ THIS IMPORTANT DESIGN ORIGINAL SOLUTION Chassis Machined alluminium die cast chassis CD-TRANSPORT Laser assembly Lector design proprietary mechanism made from alluminium one shot construction, brass pillar and solid plexiglass as mechanical isolated filter from chassis ground Magnetic Clamp Made by special delrin with isolated viton rubber control resonance and neodinium magentic puck Jitter control By own design servo board ( no economical pre-assembly kit's) by selecting XTAL oscillator work as "suspended mode" data digital signal leaves as full integrity and channel switch is on latch digital signal, own proprietary software control firmware Power supply Separate box include 3 power transformer so reduce magnet flux, passive AC mains filter included , CDP-7 main unit uses 14 local voltage regulators Digital filter section By D.S.P. (digital signal processor) as low taps, phase correct, 18 bit interface real data transfer resolution to DAC interface Analog filter section Minimize phase distorsion and phase rotation design only simple first order passive filter, D.S.P. make the 99% reduce jitter noise DAC power supply By two double voltage regulator and separate plug-in board as isolated ground loop for reducing ground jitter I- TO- V circuit Based on zero feedback control by mixing of tubes and passive components Reclock data DAC circuit Based on D.S.P. (digital signal processor) controlled by Xtal drive by PLL as low noise circuit

DENON DCD-DS10II €. 750,00
UNION RESEARC UNICO CD €. 1.250,00
Ogni prodotto Unison Research č la somma della nostra lunga esperienza nella progettazione e produzione di dispositivi audio alta qualitŕ per alta fedeltŕ, piů la nostra passione e il nostro impegno per offrire agli amanti della musica l'opportunitŕ di vivere momenti meravigliosi. Pur legata alla tradizione, ma con lo sguardo al futuro, Unison Research ha sviluppato un lettore con una grande integrabilitŕ ma anche con grande qualitŕ sonora. Unico CD Primo č un prodotto versatile, che presenta un nuovo stile accattivante e alcuni elementi distintivi e vincenti, come l'alluminio sabbiato e il layout generale del pannello frontale. Meccanica: TEAC CD5010A Rate Converter: Burr Brown SRC4192 Convertitore D/A: Wolfson Micro WM8524Conversione: 24bit / 96kHz Standard digitale: AES3, IEC60958 (S/PDIF) e EIAJ CP-1201 Ingresso digitale (Ext): Isochronous-Out 16bit / 32-48kHz (USB-B) Uscita digitale: 44.1kHz Stadio di uscita: Stato Solido, Classe A Uscite: 1 RCA Stadio di guadagno: a Triodi in Classe A Valvole: 1 x ECC82 (12AU7) Assorbimento di potenza: 100W max Dimensioni (la x lu x alt): 43.5 x 43 x 9.5 cm Peso netto: 10 kg
COPLAND CDA 288 €. 750,00

Copland is now available in the US; the company makes its Stereophile debut with this review of its top-of-the-line CDA 288 CD player. This well-balanced design is 17" wide but measures 6.9" high — almost double that of standard slimline units. Black enamel is used for the casework, whose undamped, heavy-gauge steel accounts for much of the CDA 288's considerable weight (35 lbs). Silver alloy constitutes the cleanly anodized faceplate, distinguished by just two control knobs of machined alloy and one small, chrome pushbutton, the latter so discreet that one might not even notice it. This button operates the open-close function for the slim CD drawer located beneath the central, fluorescent- green display window.With the left control configured as an old-style rotary power switch and no other buttons in sight, one might legitimately wonder how to manually operate the player with the one remaining. But the smooth-acting rotary knob not only controls track step forward or back, but selects Play and Pause when pushed in. Stop is achieved by operating the drawer button.When the display is in Off mode (dimming is available on the handset), no operating indicators are lit — save the green HDCD lamp, if such a disc is playing. When commanded, the display is illuminated and remains so for a couple of seconds, indicating the relevant operation.An IEC mains socket is located on the rear panel, along with high-quality gold-plated unbalanced audio outputs (nominally 2.5V maximum output), optical (TosLink) and coaxial (RCA) digital outputs, and an output off switch. (Though the CDA 288 is intended to be a standalone player, it can also be used as a transport.) It lacks such luxuries as a headphone socket or a remote volume control.The remote handset, made in Japan, has clear labeling and a quite logical but ton layout. Secondary controls available include display on/off, drawer open/close, time mode (elapsed, track, total), and index access. A 10-key numeric array allows for rapid track access and programming, these facilities including auto space (for track-seeking cassette dubs). Play modes include single-track and total, program repeat, and A—B repeat. The infrared control has a good range and is not unduly directional.Description: Single-box CD player using a TEAC VRDS transport mechanism, HDCD decoding, and optical (TosLink) and coaxial (RCA) digital outputs. Maximum output level: 2.4V. Output impedance: 30 ohms. Dimensions: 17" W by 6.9" H by 15" D. Weight: 35 lbs (16kg).
ELETTROCOMPANIET ECCI (NUOVO EX DEMO) €. 1.800,00
Budget high-end, con DAC 24 bit/192 kHz Cirrus Logic, piattaforma antivibrazioni per pick-up laser

Modern production technology has been utilized to keep the manufacturing cost at a minimum and give a performance that will rival the best. The latest 24bit/192kHz DAC from Cirrus Logic, together with a precision fully balanced analogue output stage operating in class A, sets the basis for a detailed, delicate and dynamic sound. A damping platform based on the EMC1 UP anti-vibration system has been developed to create the best possible working conditions for the laser pick-up. The ECC 1 features both balanced and single-ended outputs, and a coaxial digital output. The analogue output filter is optimized to reduce the phase shift at higher frequencies, thereby leaving the high frequency music information intact.Technical Data Conditions No. of channels 2 Video No Output impedance 100 ohm Output level Unbalanced 2.3Vrms Output level Balanced 4.6Vrms Noise floor 20 - 20 kHz < - 130 dB Frequency deviation 20 - 20 kHz < 0.05 dB Channel separation > 110 dB THD + N 20 - 20 kHz < 0.002% IMD TBD Digital/Analog Conversion 24 bit, 192 kHz Dynamic Range 120 dB Compatible formats CD-R, CD-RW, MP3-CD, CD, MP3-DVD, WMA-CD Dimensions W x D x H 483 x 385 x 75 mm Weight 9 kg Power consumption No load or signal 55 W Audio Outputs 1 x 2 ch balanced line out (XLR)1 x 2 ch unbalanced phono Digital Outputs 75 ohm S/PDIF RCA
PAGINA IN AGGIORNAMENTO
PROTON AC 423 Prezzo offerta €.290,00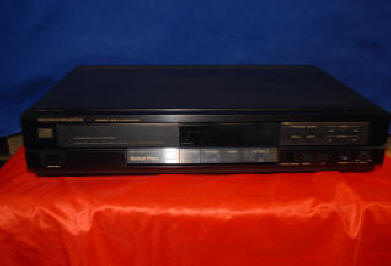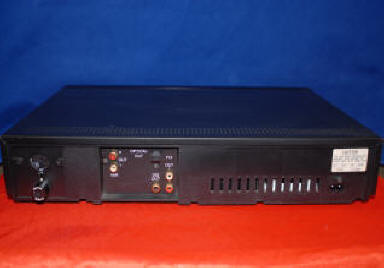 MARANTZ CD 75II cod.0120 Prezzo offerta €. 160,00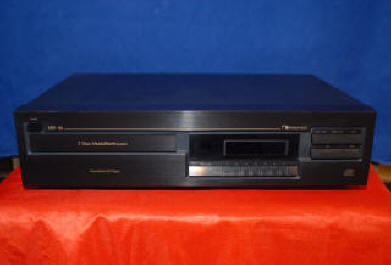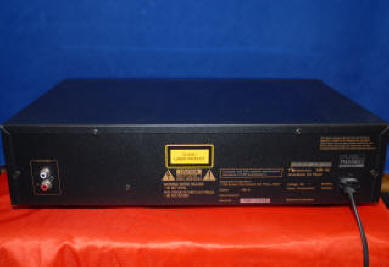 NAKAMICHI MB4 Prezzo offerta €.450,00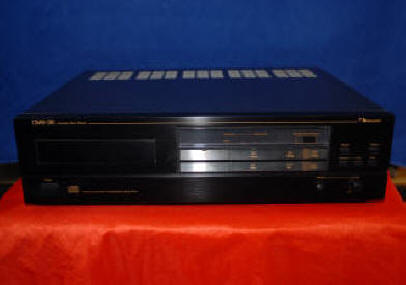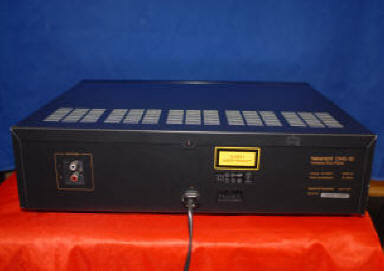 NAKAMICHI OMS 3 Prezzo offerta €.300,00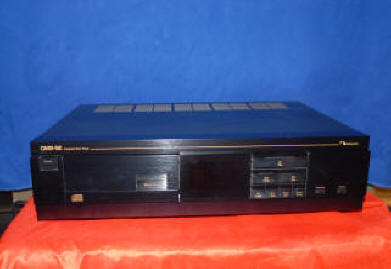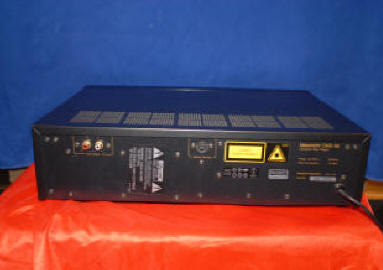 NAKAMICHI OMS 5 Prezzo offerta €. 500,00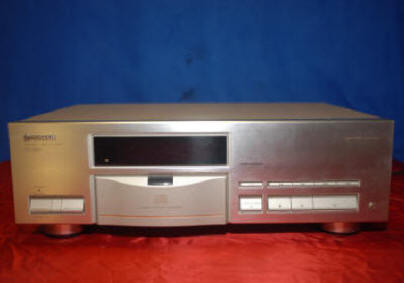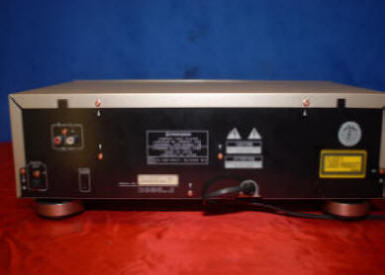 PIONEER PD-S801G Per offertaTelefonare/ invia un e-mail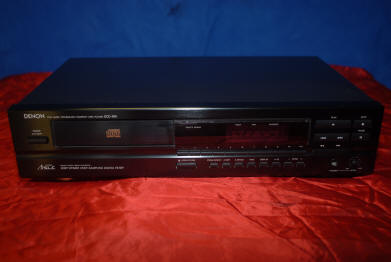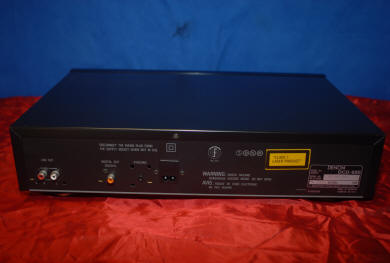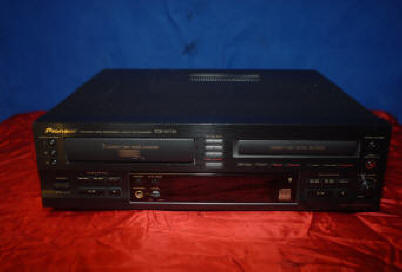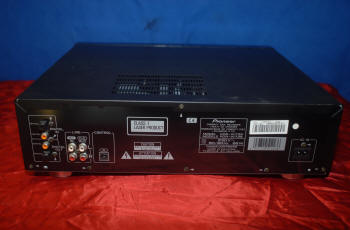 PIONEER W739 Per offertaTelefonare/ invia un e-mail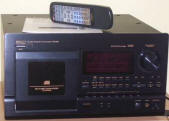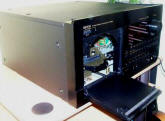 DENON DCM-5000

Per offertaTelefonare/ invia un e-mail

The Denon DCM-5000 offers a variety of control options that make it easier than ever for the user to organize and access an entire CD music library. Standard control functions such as play, stop, random play and so on can be activated from either the ergonomically designed front panel or via the supplied remote control—but that's just the beginning. The user can also connect a standard PC keyboard directly to the DCM-5000 and enter disc/name information into the DCM-5000's memory; once entered, this information is displayed for easy identification when the disc is selected for playback. Each CD can be assigned to any of up to eight musical categories (i.e., "Rock," "Jazz," "Country" and so on), and the user can choose to listen to only CDs within a particular category at any time. CD TEXT CDs are also supported.The DCM-5000 also includes a standard RS-232 serial port, allowing it to be controlled by a personal computer. And for the ultimate user interface, the Denon DCM-5000 is compatible with the Escient Tune-Base CD management system. Escient's Tune-Base system, which has an Internet PC-based engine and proprietary software, connects to the DCM-5000 and the home theater system's monitor TV. Because every CD has a unique Table of Contents, the Escient Tune-Base system is able to look up the names of each CD (using the CD's unique identification code) and enters its title, artist's name, song title and even album cover into a custom, personalized database. A graphical on-screen interface then allows the user to choose and play the desired music simply by clicking on album cover art and song titles!Advanced Engineering for Audiophile Sound QualityAlong with its unparalleled playback versatility, the Denon DCM-5000 provides true audiophile sound quality, superior to even esoteric high-end CD transport/ D/A converter combinations. Key to the DCM-5000's superb audio performance is Denon's new 24-bit ALPHA processing technology, a proprietary analog waveform reproduction technology that uses newly developed interpolation algorithms to provide 24-bit resolution from conventional 16-bit CDs. The DCM-5000 incorporates the finest available 24-bit Burr-Brown D/A converters for ultimate sound quality. The DCM-5000's ALPHA processor also incorporates an adaptive digital filter that automatically adjusts the low pass cutoff frequency, for improved pass-band and impulse response. The result is a dramatic leap forward in CD sound quality, with vastly improved low-level detail resolution, outstanding dynamic range, precise imaging, a wider and deeper soundstage and a far more natural musical presentation.Built-In HDCD Decoding In addition, the DCM-5000 incorporates the Pacific Microsonics HDCD decoder chip to obtain the full sonic benefits of HDCD-encoded CDs, which offer greater resolution and dynamic range than standard CDs. HDCD is a multi-stage process that overcomes the limitations of the 16-bit CD format by using a patented system to extend the dynamic range of CDs to a 20-bit level, while remaining completely compatible with the CD format. The DCM-5000's built-in HDCD decoder also improves the sound of non-HDCD discs, thanks to its high-precision digital filter. More than 2,000 HDCD titles from major artists are currently available, with the list growing rapidly. The Denon DCM-5000 carries a suggested retail price of $1,800, and the DCM-5001 100-disc slave changer unit is available at $1,300 suggested retail.Denon Electronics is Japan's oldest audio company. Founded nearly 90 years ago, the company has a long history of technical innovations, including the development and first commercialization of PCM digital audio recording.100 disc CD Changer • Dual CD drives • Slide-out, non-removable linear CD tray • HDCD decoding via Pacific Microsonics PMD-100 filter/decoder • 24 bit Burr-Brown premium DACs (Audio output 1) • 20 bit digital filter, 18 bit Burr-Brown premium DACs(Audio output 2 - second zone) • CD Text • Disc naming function, via front panel controls or via external PC keyboard input, or via remote control • 8 Music groups • 40 step programming X 4 functions = 160 step programming capacity • 2 sets analog ouptuts (main and second zones) • 2 sets digital outputs (coaxial) • Digital inputs for connection to optional DCM-5001 auxilliary drives • Crossfade in analog mode • Up to 5 DCM-5001 aux drives can be connected to DCM-5000 control drive • Remote control supplied • RS-232/422 serial port • Composite video output for on-screen display • assorbimento: 42 W-misure: 434(B) x 243 (H) x 474,5 (T) mm-peso 16,2 Kg.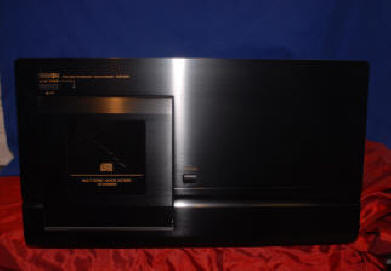 DENON DCM-5001

Per offertaTelefonare/ invia un e-mail

100 disc CD Changer • Companion to DCM-5000 • Dual CD drives • Slide-out, non-removable CD tray • 20 bit digital filter, 18 bit premium Burr-Brown DACs for both analog outputs • 2 sets analog outputs (main zone/second zone) • Digital connections (2 coaxial) to DCM-5000 for all digital transfer • Up to 5 DCM-5001 drives can be connected to DCM-5000 master drive • RS-232/422 serial port • misure :434(B) x 243 (H) x 474,5 (T) mm-peso 16,2 Kg.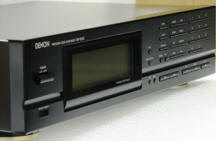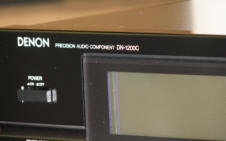 DENON DN-1200C cod.0120 Prezzo offerta €. 990,00
Master unit for DN-1200F-TELECOMANDO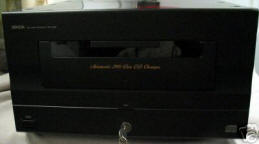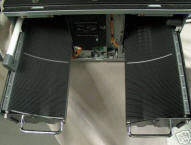 DENON DN-1200F

cod.0120 Prezzo offerta €. 1.450,00
---
---
sTRESSLESS HOME CINEMA EX DEMO Per offertaTelefonare/ invia un e-mail
---

---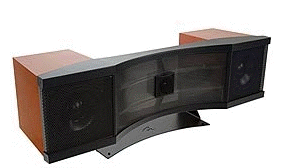 Martin Logan STAGE EX DEMO Per offertaTelefonare/ invia un e-mail
Stage™ Il diffusore Stage™ rappresenta un'espressione molto evoluta delle idee e delle tecniche che hanno portato alla realizzazione dei leggendari diffusori per canale centrale Logos™ e Theater™. Grazie a molte delle tecnologie piů raffinate, tra cui il pannello elettrostatico XStat™, i woofer con cono in alluminio da cm 16,5 ed il crossover Vojtko, lo Stage pone nuovi standard per il comportamento musicale. La precisione e l'intelligibilitŕ della riproduzione di questo diffusore non sono seconde a nessuno. Fornito di un particolare supporto, lo Stage č un diffusore molto versatile che si comporta estremamente bene come canale principale, centrale o surround, montato sulla parete o lontano da essa, in posizione verticale od orizzontale. Sono ben pochi i diffusori (i nostri modelli elettrostatici da pavimento) che possono pareggiare o superare lo Stage in una di queste applicazioni, mentre nessuno puň superare la sua versatilitŕ. Il suono dello Stage č semplicemente glorioso. Trasduttore XStat™ L'avanzata tecnologia degli statori MicroPerf, i distanziatori ClearSpar e la straordinaria soluzione Vacuum Bonding si combinano con la sorprendente topologia del crossover, per aumentare grandemente l'efficienza ed avere restituzioni dinamiche naturali e senza limiti. Tecnologia ClearSpar™ I distanziatori ClearSpar mantengono uniforme, entro tolleranze stringenti, lo spazio sui due lati del diaframma, rendendo piů rigido il sistema. Ciň consente poi al diaframma l'applicazione del preciso valore di tensione meccanica, senza alterare quella caratteristica trasparenza tipica dei prodotti elettrostatici MartinLogan. Vacuum Bonding I componenti dei pannelli XStat - due statori isolati ottenuti da acciaio al carbonio di alta purezza, il diaframma in PET a strato metallico ed i distanziatori ClearSpar - sono uniti in una geometria a sezione cilindrica mediante un adesivo di tipo aerospaziale la cui tenacia supera quella della saldatura. Il nostro trattamento Vacuum Bonding assicura l'uniformitŕ della tensione applicata al diaframma e facilita il rispetto delle tolleranze, estremamente strette, essenziali per la realizzazione di un trasduttore di precisione. Crossover Vojtko™ Realizzato accuratamente a mano solo con induttori avvolti in aria e coi migliori condensatori in polipropilene, il crossover utilizza la nostra topologia Vojtko per la massima integrazione tra i driver e per una distorsione praticamente nulla. Questo crossover riesce a preservare i dettagli sonori piů delicati anche durante la riproduzione dei passaggi dinamici piů forti, da qualsiasi sorgente. Woofer a bassa distorsione con cono in alluminio Il cono in alluminio elimina le flessioni e favorisce livelli di distorsione molto bassi, necessari per un adeguato abbinamento dei woofer al pannello elettrostatico. Alimentazione a bassa tensione, di facile installazione Un alimentatore a bassa tensione elimina il bisogno del tradizionale, grosso cordone di alimentazione IEC.Specifiche Risposta in frequenza: 69 – 22000 Hz ± 3 dB Dispersione orizzontale: 30 gradi Sensibilitŕ: 90 dB/2,83 V/m Impedenza: Nominale 4,0 ohm – minima 2,9 ohm Frequenze crossover: 450 Hz – 2700 Hz Componenti:Trasformatore audio toroidale proprietario, induttori avvolti in aria, condensatori in polipropilene Tweeter: cm 2,5 con cupola in neodimio Woofer: Due woofer da cm 16,5 con cestello pressofuso, cono in alluminio. Camera asimmetrica non risonante Potenza: 250 w Peso: Kg 17,7 Dimensioni (staffa in basso): 87,9 (L) x 30,4 (H) x 26,1 (P) Dimensioni (senza posteriore): 87,9 (L) x 23,6 (H) x 30,0 (P) Dimensioni (senza staffa): 87,9 (L) x 22,7 (H) x 26,1 (P)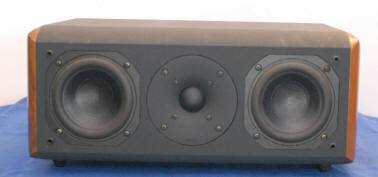 CHARIO PHOENIX Per offerta Telefonare/ invia un e-mail
Phoenix Il sistema Phoenix nato come canale centrale per un sistema multicanale, deve possedere particolari doti di trasparenza nella delicata gamma di frequenze del parlato. Niente di meglio di una Lynx a sviluppo orizzontale, con l'aggiunta di un secondo woofer per rendere omogenea l'emissione in presenza di piů persone che fruiscono del programma A/V. Phoenix puň essere posizionato sia sopra sia sotto il monitor TV. Il sistema Phoenix nato come canale centrale per un sistema multicanale, deve possedere particolari doti di trasparenza nella delicata gamma di frequenze del parlato. Niente di meglio di una Lynx a sviluppo orizzontale, con l'aggiunta di un secondo woofer per rendere omogenea l'emissione in presenza di piů persone che fruiscono del programma A/V. Low Frequency Load Vented back firing – TV screen 2π sr Configuration 2way Symmetrical Cosine Shaped radiation Drivers 1 Tweeter 38mm soft dome T38 WaveGuide 2 Woofer 130mm Paper Compound Sensitivity 90 dB SPL normalized to 1m with 2.83Vrms pink noise within IEC 268-13 compliant listening room Low Frequency Cut Off 80Hz @ -3dB referred to C4 WETS Xover Frequency 1,500Hz Alignment 4th Order All Pass Rated Impedance 8Ω Suggested amplifiers Rated for 120W/8Ω max Average Power Size 215x490x260mm (HxWxD) Weight 11kg Cabinet Finishing Solid walnut or solid cherry and HDF Noce massello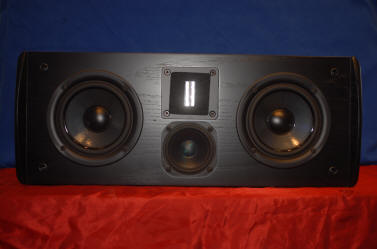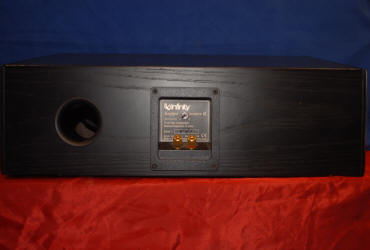 INFINITY kappa CENTER b Per offertaTelefonare/ invia un e-mail
Altoparlanti 2x13cm woofer 8 cm midrange tweeter emit-b- risposta in frequenza 70hz -45khz 2db - Frequenza di taglio 600hz ,4khz- efficenza 88db/2.8v/1m- impedenza 6 ohm- Misure 509x230x270 mm- Potenza 10w-150w - Peso 12.5 kg.
B&W 805 CILIEGIO Prezzo offerta €. 650,00
SOLO 1 Diffusore adoperabile per esempio canale centrale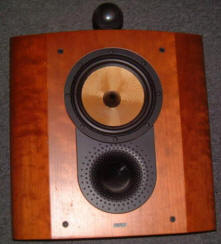 B&W SCM1 Per offertaTelefonare/ invia un e-mail
MISURE 44 x 37 x 16 cm 1 SOLO 1 Diffusore adoperabile per esempio canale centrale.
---

---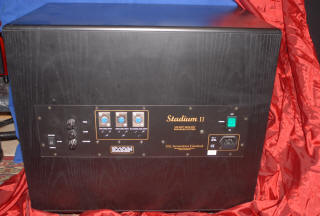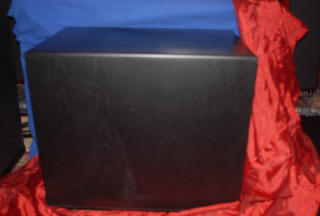 REL STADIUM ll Per offertaTelefonare/ invia un e-mail

REL Stadium III on test By Jason Kennedy Overview: Price: Ł1500 Website: www.rel.net Size: HxWxD - 55.8x59x39cm Weight: 50kg Finishes: Black ash, cherry, light oak, rosenut, walnut Drive unit: 250mm long throw Power: 200 watts REL is a small dedicated company based in Bridgend, south Wales and committed to bass. It could be argued quite easily that REL founder Richard E. Lord put the subwoofer or sub-bass loudspeaker system on the hi-fi map. Before he appeared on the scene the subwoofer was not the kind of thing any self respecting audiophile would consider giving house room to. This may have been because most of the species were sold with satellite loudspeakers or simply because no one had made a serious subwoofer before, one that could enhance rather than muddy the quality of regular speakers.The key feature that makes REL subs so easy to get a good result with is the ability to adjust the roll-off point of the sub so that it marries seamlessly with the stereo speakers. REL subs are not designed to increase the amount of bass produced by a system but to extend the bandwidth of the existing speakers. For a stereo speaker to be able to extend down to the 12Hz (-6dB) claimed for the Stadium III it would have to be as big as a fridge, a big fridge at that. The reason the REL is able to do that with a 65 litre cabinet is that it is actively driven, it has its own 200 watt MOSFET power amp and electronic crossover which means that it can boost the output at very low frequencies. In other words it drives the big ten inch Volt drive unit harder therefore producing more bass energy.Another reason for REL's success is inclusion of both high and low level signal inputs, this means that you can feed the sub exactly the same signal that you send to your speakers via the high level input. The connection is made with a three core cable that hooks up to your amplifier's speaker outputs. There is of course the low or line level input but this is really only appropriate for surround sound processors which have a dedicated LFE (low frequency effects) output. Sound quality To integrate the Stadium III with your speaker traditionally requires that you roll the sub in at the point your speaker rolls off and then set output level to match the speaker. However, I have found that if you set roll off three or four dB higher than the speaker's roll-off and turn the output level down a bit you can get a better result. There are many surprising aspects to the sound of this sub not least being the way that it enhances the high frequency performance of all the speakers I have tried it with. It introduces a sense of open spaciousness that is hard to accredit to an improvement in low frequency extension and power. It must be something to do with the way that bass defines a space but is not an easy phenomenon to explain. Yet it is not in the least bit subtle and gives the REL considerably more appeal than you would expect an extra octave or two in the bass to produce.The bass does of course help matters considerably, it adds a foundation to the sound that gives the rest of the range something to work from, something solid. This seems to apply regardless of the bass content of the music. There is a tendency to think that only your Prodigy and Grace Jones albums will sound a lot better with a decent sub but the Stadium III boosts everything you play. The more familiar and well loved the album the more exciting the result, even albums like Jeff Beck's Wired, which is clearly fantastic yet can sound compressed, takes on a whole new sense of purpose and solidity with this sub.All this is achieved without you thinking wow there's loads of bass, in other words you are not skewing the balance of your system, the main speakers sound the same but better. And if you turn the sub off you don't think where has the bass gone, you think why is the sound small and relatively flat. You can set it up so that it goes boom and everyone knows there's a sub in the room - which can be fun I'll grant you - but for long term musical satisfaction an integrated sound is the way forward, the approach that's going to reveal more of the music and the venue it's played in. leads for installation flexibility Finished in 30mm MDF in Brittex Blac
MIRAGE 7X/S8 Per offertaTelefonare/ invia un e-mail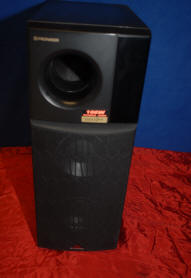 PIONEER S-W505 Per offertaTelefonare/ invia un e-mail
---

---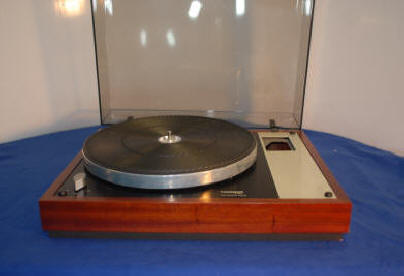 THORENS td 160b MKII Per offertaTelefonare/ invia un e-mail
Description Despite it's moderate price, this handsome slim line integrated transcription turntable shares many of the advanced engineering features and refinements of the highly sophisticated Thorens TD-125 mark II series. For example, the identical TP-16 tonearm and belt-driven synchronous motor used in the Thorens TD-125 mark II are incorporated in the TD-160C. In addition, it comes complete with a walnut base and dust cover. Here's the traditional quality and precision you have come to expect from Thorens, at a moderate price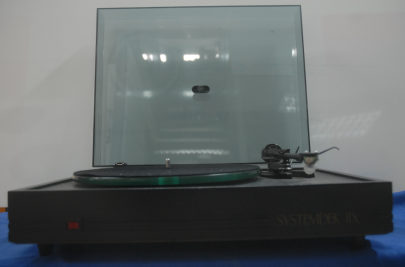 SIMSTEMDEK Per offertaTelefonare/ invia un e-mail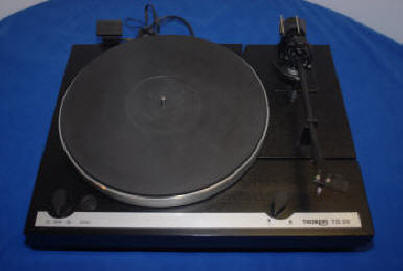 THORENS td 318 Per offertaTelefonare/ invia un e-mail
Drive method: one step belt drive Motor: low voltage 16-pole synchronous motor Speeds: 33 and 45rpm Speed control: 2-phase generator Platter: 2.7kg, 300mm, zinc alloy, dynamically balanced Wow and flutter: 0.04% Rumble: -70B Tonearm effective length: 232mm Effective mass: 12.5g Overhang: 16.4mm Offset angle: 23 degrees Dimensions: 440 x 350 x 170mm Weight: 10.5kg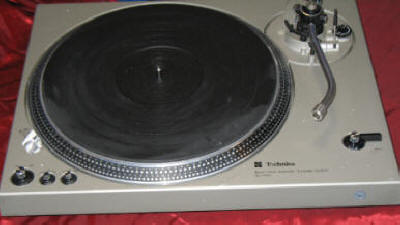 TECHNICS SL1700 Per offertaTelefonare/ invia un e-mail
The SL-1700 offers the famous Technics direct drive system with the added convenience of semi-automatic operation. Once the tonearm is manually positioned over the lead in grooves, the automatic mechanism will lower the tonearm onto the record when the lever is flicked, and automatically return it to the arm rest at the completion of play. The unit is then automatically shut off. This handy feature frees the user from rushing to the turntable at the end of record play and also saves wear on your stylus. At any time during play, flicking the stop lever will cause the tonearm to automatically lift up and return to the arm rest. Specifications Type: semi-automatic turntable Drive method: direct drive Motor: servo DC motor (mk1), brushless DC motor (mk2) Platter: 330mm (mk1), 332mm 2kg (mk2) Speeds: 33 and 45rpm Wow and flutter: 0.025% WRMS Rumble: -73dB (mk1), -78dB (mk2) Tonearm: universal s-shaped tubular arm Effective length: 230mm Overhang: 15mm Offset angle: 21.5 degrees (mk1), 22 degrees (mk2) Weight: 8.8kg (mk1), 10kg (mk2)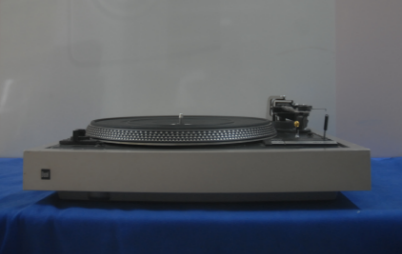 dual 505 Per offertaTelefonare/ invia un e-mail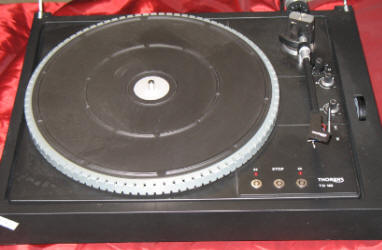 THORENS DT 105 Per offertaTelefonare/ invia un e-mail
Description The Thorens TD 105 semi-automatic, high-fidelity turntable incorporates advanced technical features to afford true state of the art performance. It employs a special Thorens suspension system for the floating chassis and an exclusive Isotrack tonearm with precision bearing assembly and low-mass construction which enables optimum tracking characteristics to be realised with modern pickup cartridges. The TD 105 also employs a velocity sensitive electronic shut-off which raises the tonearm, returns it to it's rest, and stops the motor. The electronic shut-off at the end of a record operates without frictional contact with the tonearm, ensuring precise performance and full protection of the record and pickup stylus. All operating functions are initiated by electronic switching keys which respond to a light touch of the finger. Specifications Drive method: 1 step belt drive Motor: dc motor with 72 pole tacho-generator Speeds: 33 and 45rpm Speed control: electronic Pitch control: +-6% Platter: 300mm, 1.3kg zinc alloy, dynamically balanced Wow and flutter: 0.05%
Rumble: 65dB Tonearm effective length: 222mm Effective mass: 7.5g Overhang: 15.5mm Offset angle: 23 degrees Dimensions: 435 x 125 x 355mm Weight: 5.5kg
---
---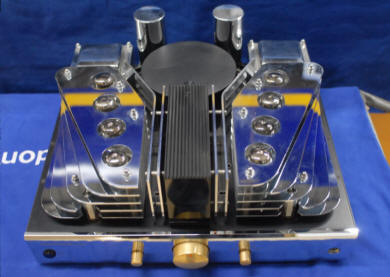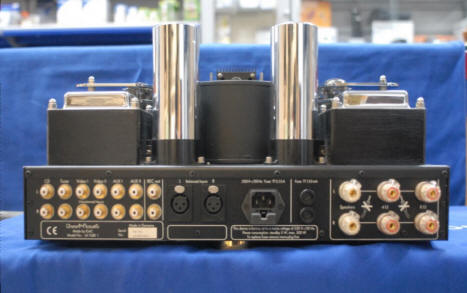 LINEAR ACUSTIC LA TUBE 1 Per offerta Telefonare/ e-mail

Nennleistung/Rated power Triodenmodus/"Triode" mode of operation: Ultralinearmodus/"Ultra-linear" mode of operation: 2x45 W an 4 oder 8 Ω/ 2x45 W at 4Ω or 8Ω 2x80 W an 4 oder 8 Ω/ 2x80 W at 4Ω or 8Ω Eingangsempfindlichkeit für Nennleistung/ Input sensitivity for rated power Cinch: 450 mV XLR: 850 mV Eingangsimpedanz/ Input impedance Cinch: 7 kΩ XLR: 26 kΩ Ausgangsimpedanz/ Output impedance 0.17 Ω (am 4Ω-Anschluß/at the 4Ω-terminal) 0.29 Ω (am 8Ω-Anschluß/at the 8Ω terminal) Signal/Rauschabstand bezogen auf Vollaussteuerung/ Signal/noise ratio(SNR) rel. full modulation better than 98 dB (A) Klirrfaktor/ Distortion factor (THD+N) 1 kHz/10 W 4Ω-Anschluß/4Ω-terminal: 0.03% 8Ω-Anschluß/ 8Ω-terminal: 0.07% Frequenzgang/ Frequency response 20 Hz-20 kHz Cinch: + 0.1/-1.2 dB XLR: +0.1/-0.4 dB Garantie/ Guarantee 3 Jahre inkl. Röhren/ 3 years including tubes Gewicht/ Weight 45 kg Abmessungen/ Dimensions HxBxT/ H x W x D: 230 mm x 450 mm x 446 mm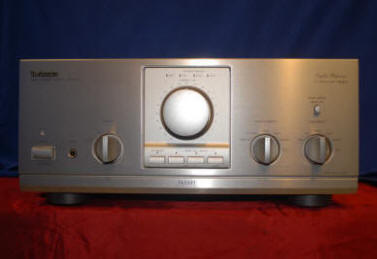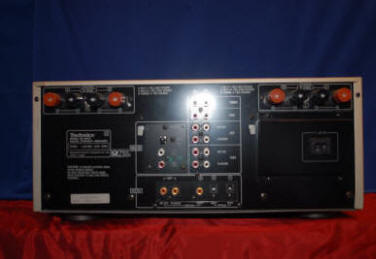 TECHNICS SU-MA10 Per offerta Telefonare/ e-mail

Massive integrated audio amplifier with built-in 1-bit MASH digirtal stages and monitoring loop - plus bombastic reservoirs of caps, heatsinks and transformers. Each X-Pro capacitor is in fact two-in-one: one for positive phase and one for negative. Besides this, these beer cans are copper topped and plotted into composite materials for less vibrations and even less magnetic leakage. The two 300VA transformers are of the EI kind and wound with OFC copper. The dual-mono structure is followed through the back with the input terminals centered vertically and the output posts being, previsibly, spread over the left and right sections.The MASH d/a section, running the entire depth near the bottom plate, is typical of MASH sections: multi-stage noise shaping with several PLL loops to output every digital bit in good order and amplitude. This MASH section is connected directly to the power output section. Added to it is "Class AA": stabilizing input and output voltages for a 140dB digital s/n ratio...Part of the penultimate high-end Technics full lineup, at 107,000Ą, loaded as it was, the 25kg SU-MA10 was quite a bargain. It still is but it's pretty rare anywhere. Specifications Power output: 100 watts per channel into 8Ω (stereo) Frequency response: 20Hz to 20kHz Total harmonic distortion: 0.005% Damping factor: 110 Input sensitivity: 0.25mV (MC), 2.5mV (MM), 150mV (line) Signal to noise ratio: 70dB (MC), 79dB (MM), 92dB (line) Channel separation: 55dB (line) Output: 150mV (line) Speaker load impedance: 4Ω to 16Ω Dimensions: 430 x 186 x 433mm Weight: 25kg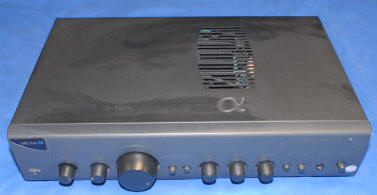 ARCAM ALPHA9 Per offerta Telefonare/ e-mail

Description The Arcam Alpha 9 integrated amplifier has 6 line level inputs and an optional phono input Specifications Power output: 70 watts per channel into 8Ω (stereo) Total harmonic distortion: 0.02% Input sensitivity: 0.26mV (MC), 2.6mV (MM), 160mV (line) Signal to noise ratio: 73dB (MC), 79dB (MM), 90dB (line) Output: 0.8V (Pre out) Dimensions: 430 x 330 x 110m Weight: 6.1kg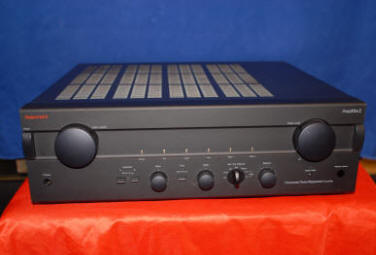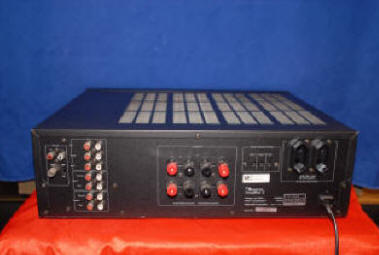 NAKAMICHI amplifirer 2 Prezzo €. 450,00
Merkmale / Funktionen / Ausstattung: Harmonic Time Alignment Prinzip - Minimum an Verzerrung für bessere Tonqualität Hochpegelstufe mit diskreten Bauelementen großzügig dimensionierte Leistungstrafos für enorme Stromkapazität niederohmige Aussteuerung für besseren Klang Netzteil in "Multi-Regulated"-Technik - separate Transformatorwicklungen "Isolated Group"-Prinzip - Referenzpotential bleibt immer konstant, was stabiles Arbeiten aller Schaltungen garantiert Phono: MM/MC - Schalter hinten Tone Schalter- der Klang kann mit den entsprechenden Reglern eingestellt werden Systemsteuerung RI - zur Steuerung weiteren RI- fähigen Nakamichi-Geräte Muting Funktion Bass, Treble, Balance Regler Rec Selector Input Selector: Tape2, Tape1, Phono, Tuner, CD, AUX Lautsprecherwahlschalter: A/B, A+B Anschlüsse s. Bilder Technische Daten: (alle Angaben ohne Gewähr) DIN Ausgangsleistung an 4 Ohm: 2 x 80 W RMS Ausgangsleistung an 8 Ohm: 2 x 50 W Musikleistung an 2 /4 Ohm: 2 x 140 W / 2 x 90 W Gesamtklirrfaktor: 0,01% Aufnahmeleistung: 370 W Abmessungen ca. (B x H x T): 430 x 125 x 360 mm Gewicht: ca. 12,5 kg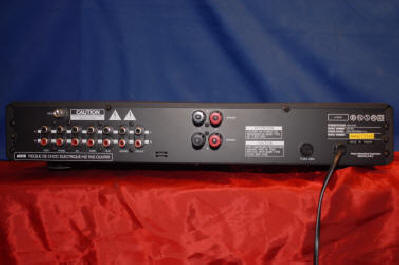 PROTON AM 452 Prezzo €. 390,00
PROTON AM452 AMPLIFICATORE INTEGRATO CON PRE-OUT 25 WATT X 2 SU 8 OHM 5 INGRESSI RCA (DI CUI 1 INGRESSO PHONO) 2 USCITE RCA
PIONEER A717 mark ll Prezzo €. 390,00

Specifications Power output: 100 watts per channel into 8Ω (stereo) Frequency response: 1Hz to 150kHz Total harmonic distortion: 0.003% Damping factor: 70 Input sensitivity: 0.2mV (MC), 2.5mV (MM), 150mV (line) Signal to noise ratio: 77dB (MC), 95dB (MM), 108dB (line) Output: 150mV (line) Dimensions: 420 x 435 x 162mm Weight: 19kg

NAD 3020 Per offertaTelefonare/ invia un e-mail


The NAD 3020 can be used as the heart of an elaborate audiophile sound system. For example, the pre-amp out jacks may be connected via a stereo patch cord to any high quality separate power amplifier.To use a separate high power amplifier for your main stereo speakers while continuing to use the nad 3020'S inbuilt power amp for headphones or extension speakers, simply install Y adaptors to split the signal from the pre-amp out jacks. The pre-amp stage is capable of driving several power amplifiers in parallel, or the long signal cables required to connect to power amplifiers located near the speakers, or to powered speakers. Specifications Power output: 20 watts per channel into 8Ω (stereo) Frequency response: 10Hz to 70kHz Total harmonic distortion: 0.02% Damping factor: 55 Input sensitivity: 2.5mV (MM), 150mV (line) Signal to noise ratio: 75dB (MM), 110dB (line) Dimensions: 420 x 96 x 240mm Weight: 5.26kg

MARANTZ 1150 Per offertaTelefonare/ invia un e-mail

Power output: 75 watts per channel into 8Ω (stereo) Frequency response: 15Hz to 50kHz Total harmonic distortion: 0.1% Input sensitivity: 1.8mV (mic), 1.8mV (MM), 180mV (line) Signal to noise ratio: 78dB (MM), 88dB (line) Output: 0.775mV (line) Speaker load impedance: 8Ω (minimum) Dimensions: 376 x 144 x 301mm Weight: 14.8kg

MARANTZ PM 6010 OSE KI SIGNATURE Prezzo €. 400,00


Specifications RMS power into 8/4 ohms 50/ 70W DIN power into 8/4 ohms 52/ 72W IHF dynamic power into 8/4 ohms 60/ 80W Linear Drive Power Supply Total Harmonic Distortion 0.008% Damping factor 100 CCNE Signal-to-noise CD/Phono (MM/MC) 96/ 85 dB Frequency range 10 - 60k Hz Power Transformer EI Channel separation (1kHz/10kHz) >90/ 85 dB Cabinet dimensions (W x H x D) 440 x 138 x 343 mm HDAM Copper Weight 6.7 kg Symmetric PCB Layout Chassis Metal High Grade Audio Components Customized Components System Block Shielding Metal BTL Possibility Treble, Bass Balance Loudness Source Direct Separate Solid Heatsinks Speaker A/B Record Selector Tape Monitor Temperature Gauge Standby mode Gold Plated Cinch IN/OUTPUTS Audio Inputs 6 Phono Input MM Audio Outputs 2 Balanced I/O External Control In Processor I/O Pre-out / Main in D-Bus I/O Speaker Terminal Screw AC Outlets SPECIFICATIONS Power Output (8/4 Ohm RMS) 50 / 70 Watts Frequency Range 10Hz-50kHz (+0, -1 dB) Total Harmonic Distortion(THD) 0,008% Bridged Power Output Damping Factor 100 Input Sensitivity MM/MC 2.5mV / - mV Input Sensitivity High Level 150 mV Input Sensitivity Balanced -- Signal to Noise MM/MC 85 dB / - dB Signal to Noise High Level 97 dB Channel Separation 1kHz / 10kHz > 90 dB / 85 dB Headphone Out GENERAL Color Black / Gold Front Panel Metal Remote Control RC8000PM, System (NOT SUPPLIED) Power Consumption -- Detachable Power Cable Dimensions WxHxD (mm) 440x138x338 Weight 6,7 Kg
MARANTZ PM7000 Prezzo €. 350,00


Power output: 95 watts per channel into 8Ω (stereo)Frequency response: 10Hz to 50kHz Total harmonic distortion: 0.03% Damping factor: 130 Input sensitivity: 2.5mV (MM), 150mV (line) Signal to noise ratio: 85dB (MM), 109dB (line) Channel separation: 70dB (line) Dimensions: 440 x 159 x 370.5mm Weight: 12.3kg

MARANTZ PM610 Prezzo €. 280,00


output: 50 watts per channel into 8Ω (stereo) Frequency response: 5Hz to 70kHz Total harmonic distortion: 0.008% Damping factor: 100 Input sensitivity: 2.5mV (MM), 150mV (line)Signal to noise ratio: 87dB (MM), 97dB (line) Dimensions: 440 x 138 x 338mm Weight: 6.7kg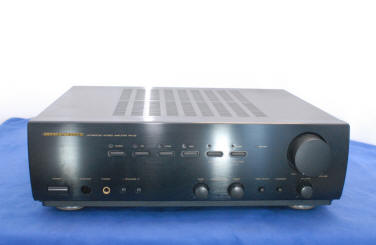 MARANTZ PM53 Prezzo €. 200,00


Specifications Power output: 55 watts per channel into 8Ω (stereo) Frequency response: 10Hz to 70kHz Total harmonic distortion: 0.008% Damping factor: 100 Input sensitivity: 2.5mV (MM), 150mV (line) Signal to noise ratio: 86dB (MM), 102dB (line) Channel separation: 85dB (line) Speaker load impedance: 4Ω to 16Ω Dimensions: 420 x 118 x 300mm Weight: 6.2kg

TECHNICS SU-X911 Prezzo €. 220,00


Power output: 40 watts per channel into 8Ω (stereo) Frequency response: 10Hz to 50kHz Total harmonic distortion: 1% Damping factor: 30 Input sensitivity: 3mV (MM), 200mV (line) Signal to noise ratio: 79dB (MM), 83dB (line) Channel separation: 55dB (line) Output: 200mV (line) Speaker load impedance: 8Ω to 16Ω Dimensions: 360 x 106 x 304mm Weight: 5.3kg Finish: black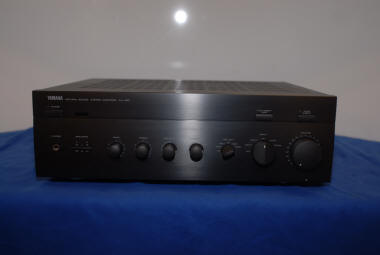 YAMAHA AX490 Prezzo €. 250,00

Power output: 85 watts per channel into 8Ω (stereo) Frequency response: 20Hz to 20kHz Total harmonic distortion: 0.008%Damping factor: 240 Input sensitivity: 2.5mV (MM), 150mV (line) Signal to noise ratio: 88dB (MM), 110dB (line) Output: 150mV (line) Speaker load impedance: 4Ω to 16Ω Dimensions: 435 x 146 x 386mm Weight: 9.2kg Accessories: remote control

YAMAHA AX390 Prezzo €. 190,00

Specifications Power output: 60 watts per channel into 8Ω (stereo) Frequency response: 20Hz to 20kHz Total harmonic distortion: 0.04% Damping factor: 100 Input sensitivity: 2.5mV (MM), 150mV (line) Signal to noise ratio: 82dB (MM), 102dB (line) Channel separation: 65dB (MM), 60dB (line) Output: 150mV (line) Dimensions: 435 x 146 x 309mm Weight: 7.3kg
---

---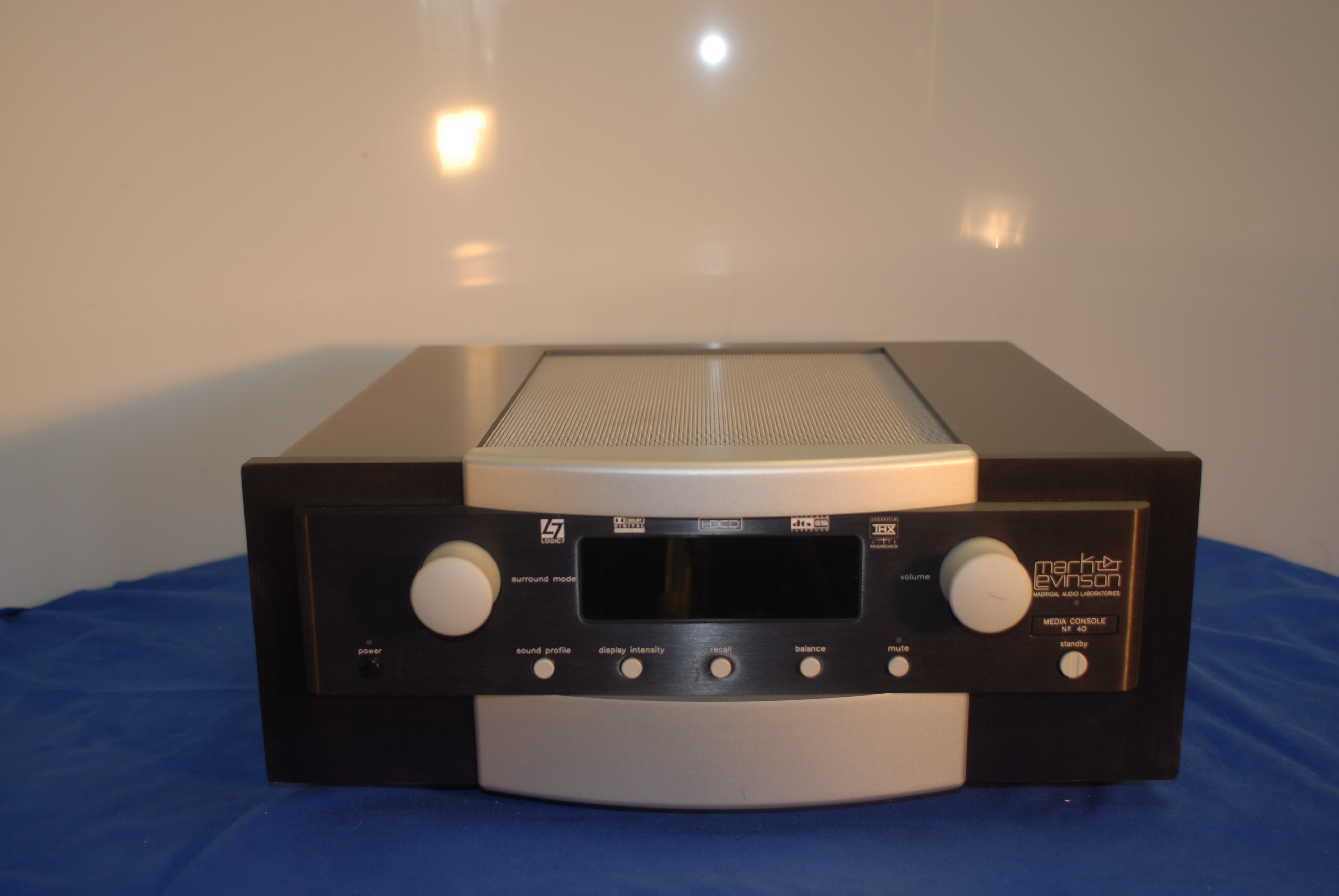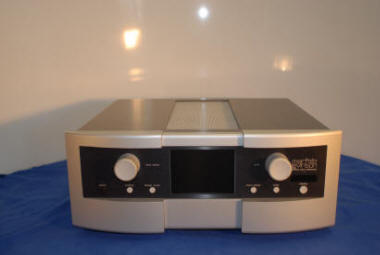 MARK LEVINSON N°40 Per offertaTelefonare/ invia un e-mail
Nella storia della Mark Levinson ci sono stati molti prodotti che hanno rappresentato vere e proprie pietre miliari. In quest'illustre gruppo figurano il pre phono JC-1 (1972), il preamplificatore ML-1 (1977), i finali mono ML-2 (1977), il primo componente "Reference", il finale mono N°20 (1986) e i leggendari Processore Digitale Reference N°30 (1991) e Pre Reference N°32 (1999). Questi prodotti, sin dalla loro presentazione, erano ovviamente destinati a diventare dei classici. In molti casi questi classici erano notevolmente piů costosi di qualsiasi altro prodotto della stessa classe, e spesso offrivano meno funzioni (o meno potenza) rispetto ad apparecchi concorrenti. Tuttavia sono diventati dei classici. Questi ed altri leggendari prodotti Mark Levinson condividono una straordinaria caratteristica, surclassando, infatti, qualsiasi altro apparecchio della loro categoria. Il motivo principale per possedere un prodotto Mark Levinson č il livello delle prestazioni offerte, e sono proprio le eccezionali prestazioni quello che caratterizza il Media Console Mark Levinson N°40. Il N°40 č probabilmente il prodotto piů innovativo dei 29 anni di storia del marchio, sicuramente destinato ad entrare nella lista dei classici. Come i prodotti Reference anche il N°40 va considerato uno spartiacque, rappresentando una transizione importante tra come sono stati progettati i prodotti nel passato e come lo saranno nel futuro. Come i prodotti Reference il N°40 ingloba una raffinata esecuzione di molte tecnologie sviluppate e sperimentate in apparecchi Mark Levinson precedenti, insieme a nuovi dispositivi e nuove tecniche. Molte innovazioni tecniche sviluppate per il N°40 troveranno spazio in futuri progetti Madrigal. In effetti, č giŕ successo: sia il CD Processor Mark Levinson N°390S, di eccezionali doti timbriche, che il Proceed AVP2, nuovo pre audio/video, ne hanno giŕ beneficiato. Perché, allora, il N°40 non č stato designato come prodotto Reference? Per quanto buono sia, infatti, il N°40 non eguaglia le prestazioni di quattro Pre Reference n°32 e di quattro Processori Reference N°30.6. Le sue prestazioni sono molto vicine ai prodotti Reference, e la combinazione del N°40 con i N°32 e N°30.6 offre grandi risultati. Configurazione modulare Il N°40 č un progetto modulare in grado di accettare le piů svariate configurazioni: la sua configurazione standard viene incontro alle esigenze della maggior parte degli impianti. Sia il processore audio che quello video hanno diversi "slot" liberi per espansioni tramite i moduli opzionali, dei quali alcuni giŕ disponibili: moduli per ulteriori ingressi/uscite, per ulteriori R-Zone, per speciali esigenze di comunicazione, per interfacce sicure audio o video, per la gestione avanzata video, per risorse addizionali DSP. Configurazione Standard del N°40 3x ingressi compositi 6x ingressi S-Video 3x ingressi video component 6x SPDIF su RCA 4x Toslink 2x AES/EBU su XLR 1x SPDIF su BNC 1x coppia audio analogica bilanciata su XLR 6x coppie audio analogiche sbilanciate su RCA 8 canali audio principali d'uscita (bilanciati e sbilanciati) Uscite principali Composita, S-Video e Component 2x R Zones (zone remote/record, audio e video) Interfaccia utente grafica La caratteristica del pannello frontale che attira maggiormente l'attenzione č la presenza di un piccolo schermo LCD sul processore video. Questo schermo puň essere usato in molte, utili, maniere inclusa quella di accedere a tutti i menů di setup e relative opzioni di controllo attraverso la nostra interfaccia utente grafica (GUI).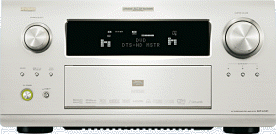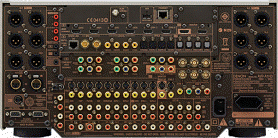 Denon AVP-A1HDA
Preamplificatore HD Surround per applicazioni A/V certificato THX Ultra 2. Decodifica Dolby Pro Logic IIx, Dolby Digital, Dolby Digital EX, Dolby True-HD, Dolby Digital +, DTS, DTS ES, DTS 96/24, DTS-HD MASTER AUDIO, DTS HD High Resolution Audio, THX Ultra 2, THX Surround EX, HDCD. Dolby Headphone. 3 processori SHARC 32-bit. Convertitore D/A audio a 24 bit/192kHz per tutti i canali. Elaborazione AL24 Advanced. Nuovo DDSC-HD. Auto Setup e Auto Room EQ con mic. e MultiEQ XT Audyssey. Audyssey Dinamic EQ. Audyssey Dinamic Volume. Protocollo CEC per HDMI. 6 in e 2 uscite HDMI 1.3a, 36bit Deep Color, spazio colore xvYCC. Funz. Restorer audio compresso. 2 in USB con dec. MP3, WMA, AAC e FLAC. Internet Radio. 1 Ethernet. Denon Home Network. Wi-Fi IEEE 802.11 b/g. In Dock Control per basi ASD per iPod (opzionale) con controllo da telec. preamp. In e out multicanale 9.3, uscite pre XLR 9.3. RS232 e Denon Link 3. Conversione video con scaler interno fino a 1080p su HDMI. Ingressi video: 8 S-Video, 8 compositi e 6 component. Uscite video: 4 S-Video, 4 compositi e 2 component. Multi Zone fino a 4 stanze. Nuovo telec. elettrolum. + telec. per zona remota. Finitura Premium Silver
.

For the ultimate home theater experience, Denon presents the ultimate A/V surround sound and video processor – the AVP-A1HDCI. With features and capabilities simply not found on any other controller, the AVP-A1HDCI sets the standard for both audio and video processing ability, along with state-of-the-art next-generation digital media connectivity with built-in Ethernet and Wi-Fi (802.11b/g) that lets you access music and photo files as well as Internet radio stations. An optional adapter lets you stream your favorite songs and videos from your iPod. Built with uncompromising attention to detail, the AVP-A1HDCI is equipped with an astonishing six individual power transformers to ensure the ultimate audio and video fidelity, eliminating interference between the various audio and video processing sections. Featuring unparalleled audio connectivity, the AVP-A1HDCI is equipped with 12 high definition video inputs (6 HDMI v1.3a/6 component) and an additional 16 standard definition inputs, with deinterlacing, upscaling and conversion to HDMI outputs via the Silicon Optix HQV Realta reference video processor. THX Ultra2 certified Processor All new circuit layouts that shorten audio and video signal paths for best picture and sound Discrete Devices for ultimate performance in each circuit block (D.D.S.C.-HD) Dolby TrueHD and DTS-HD Master Audio decoders To preserve original sound quality for the room's acoustics at any volume level, Audyssey Dynamic EQ loudness correction technology Realta sxT2 HQV processing for i/p and scaling Deep Color (30/36-bit) and xvYCC broader color space support Discrete construction and circuitry for highest quality video processing HDMI to HDMI scaling up to 1080p HD/SD video noise reduction functionality Network Audio and Photo Streaming Compressed Audio Restorer to enhance digital music files New user interface for easy operation, setup and digital media browsing (G.U.I.) GUI-assisted operation even during 1080p output from HDMI Dual HDMI outputs enabling simultaneous output to video projector and flat panel Three Analog and One Digital, Four Zone multi-source capability Zone 2 OSD with text, Album art is also available Web setup, save and load all settings via Ethernet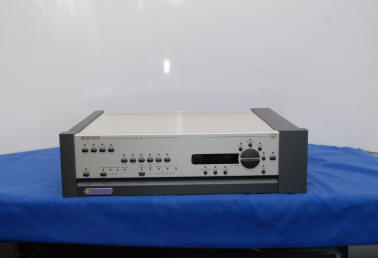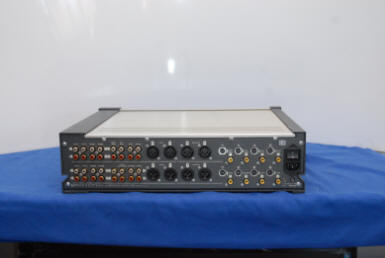 PROCEED PAV1 Per offertaTelefonare/ invia un e-mail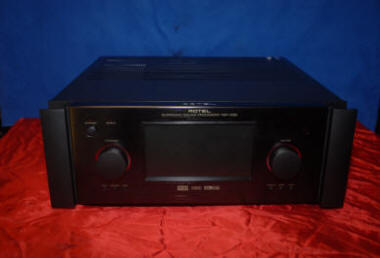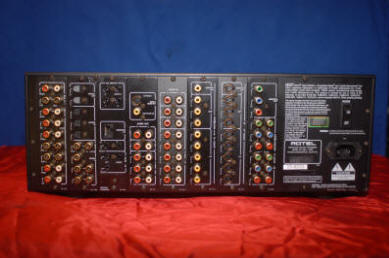 ROTEL RSP1068 Per offertaTelefonare/ invia un e-mail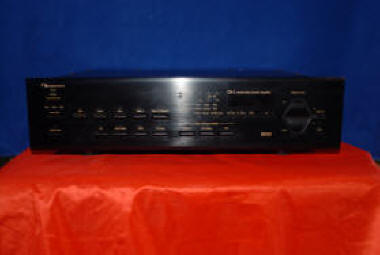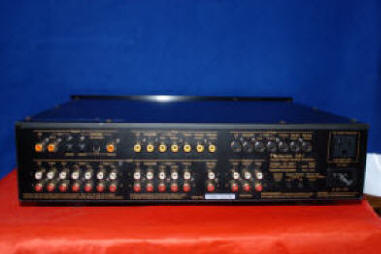 NAKAMICHI CA1 Prezzo offerta €.1.499,00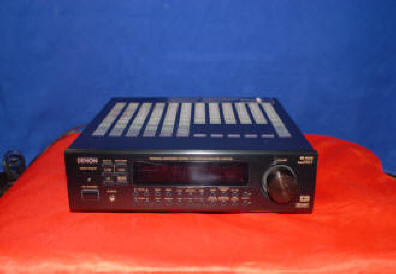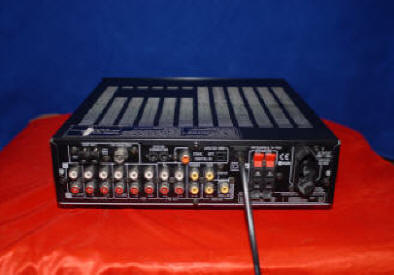 DENON F100 Prezzo offerta €.499,00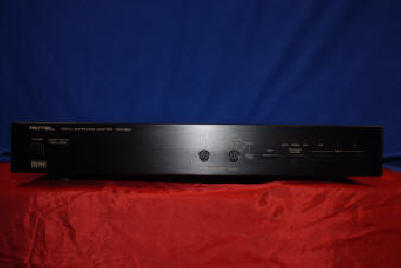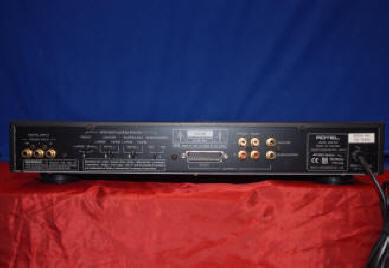 ROTEL RDA 980 Prezzo offerta €. 499,00
Digital surrond adpter PROCESSORE ac3-pro logic AUDIO VIDEO 3 INGRESSI
---

---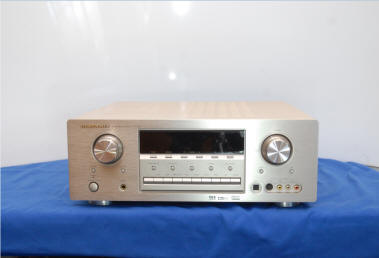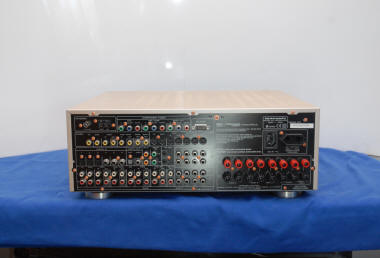 MARANTZ SR 7300 Per offertaTelefonare/ invia un e-mail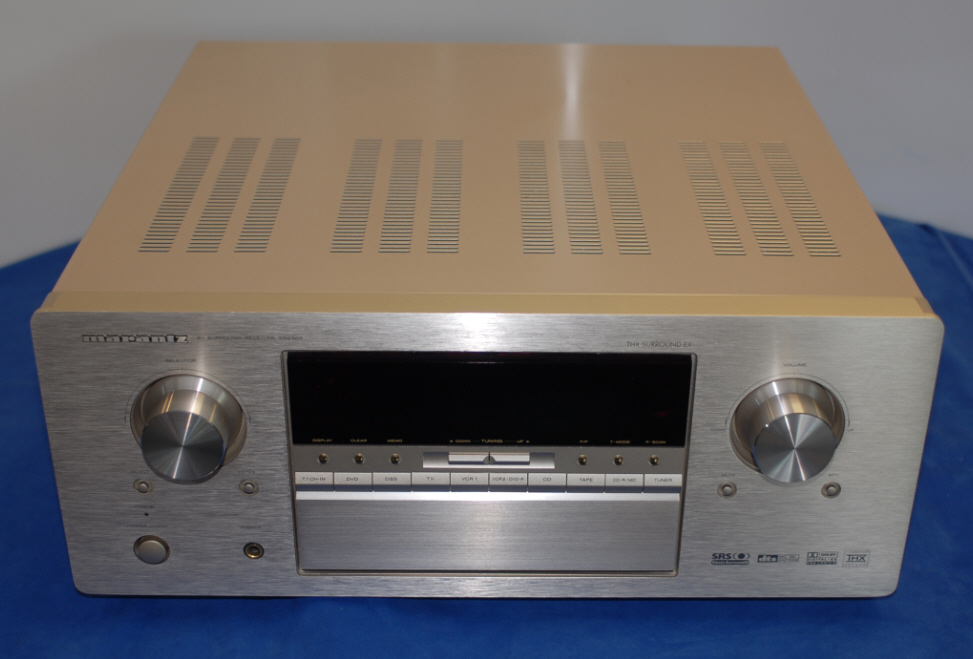 MARANTZ SR 8300 Per offertaTelefonare/ invia un e-mail
MARANTZ SR 4500 Per offertaTelefonare/ invia un e-mail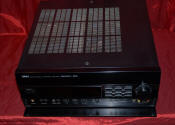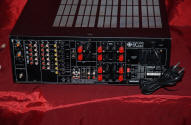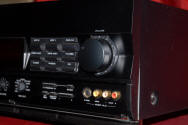 YAMAHA DSP-A1092 Per offerta Telefonare/ invia un e-mail
Features : Dolby Digital and Dolby Pro-Logic decoding; Cinema DSP modes compromising enhanced and theatrical Dolby Digital, TV Sports, Stadium, Disco, Rock Concert, Jazz Club, Church and Concert Hall; dynamic range adjustment; bass management; learning handset with macros and illuminated keys; 5x80W amplification plus 2x25W for front effects; centre speaker delay; test tone; onscreen graphicsConnections : Phono composite video and stereo audio inputs; S-Video four-pin mini DIN; phono preamp outputs; phono digital coaxial; TOSLink optical digital; 6.3mm headphone jackDimensions : 435(w) x 170(h) x476.5(d)mm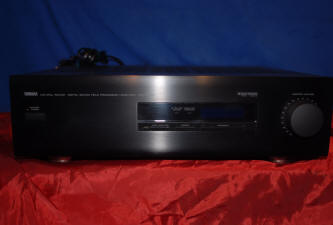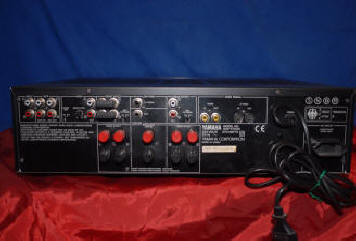 YAMAHA DSP-E1000 Per offertaTelefonare/ invia un e-mail
DENON DCM-5001

Per offertaTelefonare/ invia un e-mail

100 disc CD Changer • Companion to DCM-5000 • Dual CD drives • Slide-out, non-removable CD tray • 20 bit digital filter, 18 bit premium Burr-Brown DACs for both analog outputs • 2 sets analog outputs (main zone/second zone) • Digital connections (2 coaxial) to DCM-5000 for all digital transfer • Up to 5 DCM-5001 drives can be connected to DCM-5000 master drive • RS-232/422 serial port • misure :434(B) x 243 (H) x 474,5 (T) mm-peso 16,2 Kg.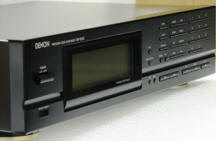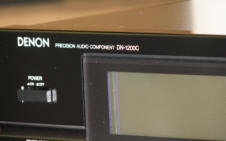 DENON DN-1200C cod.0120 Prezzo offerta €. 990,00
Master unit for DN-1200F-TELECOMANDO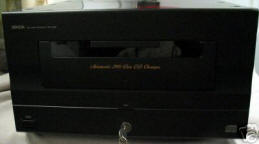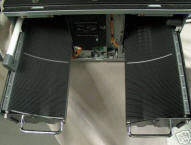 DENON DN-1200F

cod.0120 Prezzo offerta €. 1.450,00
Cd player slave unit -200 cd
---
---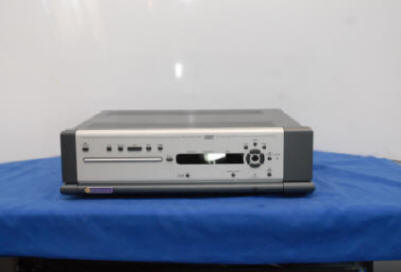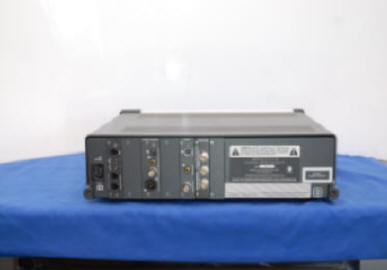 PROCEED DVD Per offertaTelefonare/ invia un e-mail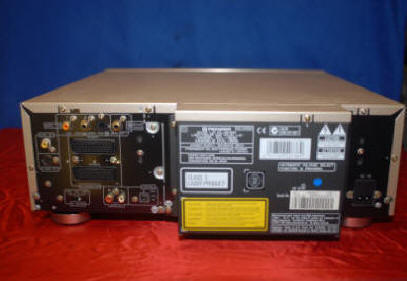 PIONEER DVL 909 Per offertaTelefonare/ invia un e-mail
DENON DVD1730 Per offerta Telefonare/ invia un e-mail
PHILIPS DVD 711 Per offerta Telefonare/ invia un e-mail
DENON DVD-A1



Per offertaTelefonare/ invia un e-mail
Lettore digitale per DVD Audio/Video, DVD-R, DVD-RW, CD, CD-R, CD-RW, MP3, Foto JPEG e Kodak. Certificazione THX Ultra. Nuovo circuito Progressive Scan Sil504 Silicon Image (solo NTSC). 5 regolazioni video tra cui contrasto e colore. Sofisticata sezione di conversione con 8 DAC audio a 24bit192kHz. Modalitŕ Pure Direct. Elaborazione AL24. Filtri Super Sub Alias e Noise Shaped Video. Chassis in rame a struttura ibrida per lo smorzamento delle vibrazioni. Sezioni di alimentazioni separate. Decoder HDCD. Riproduzione sia PAL che NTSC. Convertitore D/A video 14bit/108MHz. Denon Digital Link. Uscite audio digitali AC-3, DTS, e PCM 24/96. Uscita analogica stereo, uscite digitali (ottico e coassiale) ed uscite analogiche separate 5.1. Ingressi digitali ottici e coassiali. 2 uscite video composito, 2 S-Video, 1 Scart RGB e 1 component. Porta RS-232. Telecomando retroilluminato glow-key multifunzione in dotazione. Finitura in nero o oro.

THX Ultra Certified • Powered by the latest Silicon Image/DVDO PureProgressive (SiI504) Decoding Engine - highest quality progressive decoding engine available • Accurate 2:3 pulldown detection and reconstruction • Optimum processing for film content, video content, graphics content and mixed-mode content • New ESS Vibratto ES6038F MPEG/DVD-Audio Decoder • New highest resolution Analog Devices 108 MHz, 4:4:4, 14 bit Video D/A Conversion system featuring Noise Shaped Video processing(progressive and interlace output) • 4x Oversampling Progressive and 8x Interlace output • (2)Composite and (2)"S" outputs • 2X DVD read speed; 4X CD/CD-R/CD-RW read speed; with 4MB drive buffer memory • 4:3 Squeeze and Zoom Controls • Top audio performance, featuring 8 Burr-Brown 24-bit, 192-kHz PCM 1704 Audio DACs, with 2 per Main L/R Channels in differential mode • Pure Direct Modes to defeat unneeded portions of player for the ultimate in audio performance • Full Digital Bass Management for DVD-Audio, featuring Analog Devices 32-bit processor; 80Hz crossover with 12dB high and 24dB low pass slopes; Adjustable delay time • HDCD decoding • AL24 Processing Plus • MP3 Playback • Plays Audio/Video CDs; HDCDs; DVD-Video; DVD-R/RW (conditional); Audio CD-R/RW; MP3 CD-R/RW (128 or higher kbps recommended) • JPEG photo file viewer and Kodak Picture CD compatible • 24/96 digital outputs; optical and coaxial • Optical and Digital Inputs to allow player to be used as outboard D/A converter • DENON Link for connection to AVR-5803 • Internal Copper construction, and multi-layer top and bottom plates • 3 box, 6 block internal layout to isolate analog, digital and video circuits • RS-232C and remote in/out ports • Backlit remote control • Dimensions: 17.1"w x 5.4"h x 16.2"d • Weight: 40.8lbs. • Download Setup Tips for DVD-Audio Playback in pdf format, click on tech note icon .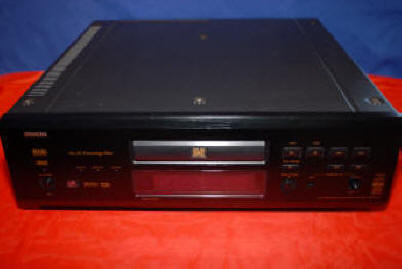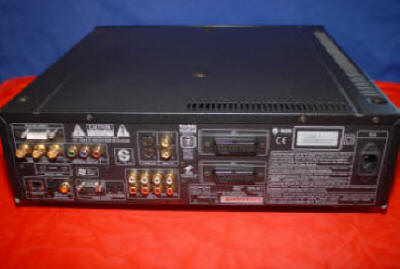 DENON DVD A11



Per offertaTelefonare/ invia un e-mail
■ Il nuovo circuito Progressive di FAROUDJA (Uscita NTSC / PAL) Oltre al Motion Adaptive Deinterlacer, che elabora i segnali video in unitŕ di pixel, la tecnologia video a scansione progressiva ad alta definizione č resa possibile da un processore in modalitŕ mFilm, che supporta materiale pulldown 3:2 e 2:2. La tecnologia DCDi, famosa per la sua capacitŕ m,di elaborare linee diagonali e bordi, produce immagini omogenee, naturali e prive di disturbi. m,Il DVD-A11 č inoltre dotato di 5 modalitŕ di scansione progressive che permettono all'utente di selezionare la conversione progressiva ideale per ciascuna delle sorgenti di programma scelte fra un'ampia gamma. ■ Convertitore Video Dual a 12-bit, 216-MHz Il DVD-A11 utilizza un totale di sei convertitori D/A video 12 bit/216 MHz per trarre il massimo potenziale dalle prestazioni del nuovo circuito di FAROUDJA. Il DVD-A11 utilizza convertitori D/A indipendenti per la riproduzione delle immagini Progressive med Interlacciate. Questi convertitori garantiscono una frequenza di campionatura molto elevata, pari a 216 MHz, con una sovracampionatura 8x utilizzata per il funzionamento in modalitŕ Progressiva ed una sovracampionatura 16x in modalitŕ Interlacciata, ottenendo come risultato la conversione D/A piů precisa attualmente disponibile. ■ Sezione Video Utilizzando un filtro con estese caratteristiche di sezionamento come filtro analogico passa basso, il DVD-A11 riesce a riprodurre le delicate sfumature dei segnali video, consentendo allo spettatore di apprezzare le immagini originali al massimo livello di realismo. ■ Alimentazioni indipendenti Sono state studiate alimentazioni indipendenti per lo stadio di elaborazione del segnale audio, lo stadio del segnale video ed altre sezioni, allo scopo di eliminare le interferenze reciproche. L'alimentazione di potenza che viene fornita ai vari circuiti contribuisce ad una elevata qualitŕ delle immagini e del suono. ■ Noise Shaped Video (NSV) ■ Filtro Super Sub Alias ■ Circuito di Riduzione Rumore Rumore di fondo e sfarfallio, caratteristici problemi dei segnali video compressi in formato MPEG, vengono efficacemente eliminati per produrre un'immagine video piů naturale. Inoltre, la riduzione del rumore 3D elimina i disturbi minori presenti nell'immagine video per riprodurre splendidamente solo le informazioni video richieste. ■ Modalitŕ Pure Direct Il DVD-A11 include due modalitŕ Pure Direct che migliorano ulteriormente la qualitŕ del suono. Ad esempio, durante l'utilizzo dell'uscita audio analogica, il Pure Direct puň disattivare le alimentazioni della sezione digitale, della sezione video ed il display frontale, che potrebbero influire sulla qualitŕ sonora dei segnali audio analogici. ■ Elaborazione AL24 per tutti i canali Denon ha ulteriormente sviluppato la propria tecnologia brevettata AL24 Processing per la riproduzione delle forme d'onda analogiche, a supporto della frequenza di campionatura di 192 kHz del DVD-Audio. Questa nuova tecnologia, AL24 Processing Plus, sopprime efficacemente il rumore di quantizzazione associato alla conversione D/A dei segnali LPCM, per riprodurre i segnali di basso livello con un'eccezionale chiarezza, che mette in luce tutte le delicate sfumature musicali. ■ DENON Link Quando il DVD-A11 č collegato tramite un apposito cavo con terminali RJ-45, ad un amplificatore A/V dotato di ingresso Denon Link, il trasferimento bilanciato di segnali offre una tensione inferiore rispetto ai cavi coassiali o non bilanciati. Dato che DenonLink č molto meno sensibile al rumore irradiato, garantisce il massimo livello di trasferimento di segnale. L'interfaccia Denon Link č in grado di trasferire un'uscita digitale di alta qualitŕ LPCM 24-bit / 192-kHz / a 2 canali (*1). ■ Costruzione multistrato Poiché i dati ad alta densitŕ registrati su DVD devono essere letti con assoluta precisione, le vibrazioni provenienti da sorgenti esterne o interne, come l'alimentazione, influiscono negativamente sulla qualitŕ del sonoro e delle immagini. Nel DVD-A11 sono state adottate diverse soluzioni per sopprimere queste vibrazioni indesiderate. Il fondo del telaio del DVD-A11 č caratterizzato da una solida struttura a 3 strati progettata per meliminare le vibrazioni. Robuste flange di rinforzo vengono utilizzate anche sul frontale e sul retro del telaio stesso. L'aggiunta di una copertura superiore a 2 strati e di materiale isolante, servono ad eliminare le vibrazioni esterne. E la base del trasformatore č realizzata di alluminio pressofuso che assorbe le vibrazioni esterne e quelle provenienti dal trasformatore stesso per garantire un funzionamento ottimale.
DENON DVD-900


cod.0900 Prezzo offerta €. 199,00
Lettore digitale per DVD, DVD-R, CD, CD-R, CD-RW e MP3. Convertitore D/A audio a 24 bit/192 kHz. Uscite audio digitali AC-3, DTS e PCM, uscita analogica stereo. Convertitore D/A video a 10 bit, 27MHz. 1 uscita video composito, 1 S-Video, 1 SCART (RGB). Pannello frontale in alluminio. Funzione di zoom x2 e x4. On screen display. Telecomando multifunzione in dotazione.Finitura in nero o oro.

Progressive Scan DVD Player • Progressive Scan featuring DCDi by Faroudja decoding engine • 3:2 Pulldown Detection • Plays CD/CD-R/CD-RW Discs, *DVD-R Conditionally • MP3 Decoder for encoded CD-R/RW Discs (128 or higher kbps recommended) • 12-bit, 54-MHz Video DAC • Burr-Brown 24-bit, 192-kHz Audio DACs • 2MB Memory Buffer to decrease layer change pauses or pickup dropouts • Selectable 24 bit, 96 kHz PCM output pass-through capability • PCM, DD, dts compatible Optical and Coaxial Digital Outputs • Component, S-Video and Composite video outputs • Passes Below Black(Pluge) for proper Monitor Calibration • Picture Zoom • Dimensions: 17.1"w x 3"h x 8.3"d
DENON DVD-800

cod.0900 Prezzo offerta €. 159,00
Lettore digitale per DVD, CD, CD-R, Video CD e DAD. Convertitore D/A audio a 24 bit/96 kHz.Uscite audio digitali AC-3, DTS e PCM, uscita analogica stereo. Convertitore D/A video a 10 bit.1 uscita video composite, 1 S-Video e 1 Y/C(SCART).Filtro Super Sub Alias. On screen display.Telecomando multifunzione in dotazione.Finitura nero I dischi CD-R registrati senza un corretto procedimento di finalizzazione potrebbero risultare leggibili soltanto in parte o completamente illeggibili.

DVD Player • Plays CD, DVD, Video CD, CD-R and CD-RW music discs • Built-in MP3 Decoder for CD-R/RW encoded discs (128 or higher kbps recommended) • 10 bit, 27 MHz video DAC • 3MB Memory Buffer to decrease or eliminate layer change pauses or pickup dropout • 24 bit, 96 kHz DACs • Real 24 bit, 96 kHz digital output capability • Dolby Digital & DTS digital outputs • Optical digital output • "S" & Composite video outputs • Subwoofer output • Component video outputs (Y, Pr, Pb) • On Screen Display • Picture Mode Adjustments • Passes PLUGE (below black) • Dimensions: 17.1"w x 3.2"h x 9.7"d
DENON DVD2500 Per offerta Telefonare/ invia un e-mail
DENON DVD1500

Per offerta Telefonare/ invia un e-mail
Lettore digitale per DVD, CD, CD-R, Video CD e DAD. Convertitore D/A audio a 24 bit/96 kHz.Uscite audio digitali AC-3, DTS e PCM, uscita analogica stereo. Convertitore D/A video a 10 bit. 1 uscita video composite, 1 S-Video, 1 componenti e 1 Y/C (SCART). Nuovo meccanismo. Telecomando multifunzione in dotazione.Finitura in nero o oro.Il sistema On-screen Display consente una facile visualizzazione ed utilizzo delle funzioni.Dotato di uscite video component e SCART, il DVD 1500 adotta un sistema di trasmissione a doppia velocitŕ ed č in grado di riprodurre CD-R audio (*1).(Nota; *1 I dischi CD-R registrati senza un corretto procedimento di finalizzazione potrebbero risultare leggibili soltanto in parte o completamente illeggibili.)

DVD Player • "S" video output; composite video output • DTS compatible digital output • CD-R Playback compatible • 24 bit, 96 kHz DACs • Component video outputs (Y, R-Y, B-Y) • Dolby Digital (AC-3) digital output • Plays MPEG-2 DVD's; also plays MPEG-1 Video CD's, and music CDs • GUI graphical user interface • 2 digital outputs - 1 optical, 1 coaxial
MARANTZ DV 4300 Per offerta Telefonare/ invia un e-mail
DENON DVD F100 cod.0120 Prezzo offerta €. 300,00
Lettore digitale per DVD, CD, CD-R e Video CD. Convertitore D/A audio a 24 bit/96 kHz. Uscite audio digitali AC-3, DTS e PCM, uscita analogicastereo. Convertitore D/A video a 10 bit/27MHz. Circuito Virtual Surround Sound. 1 uscita video composito. +Filtro Super Sub Alias. Telecomando multifunzione in dotazione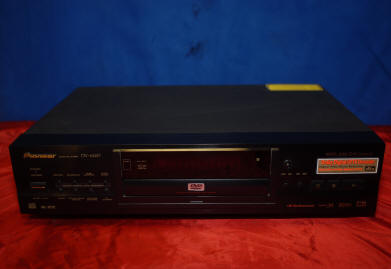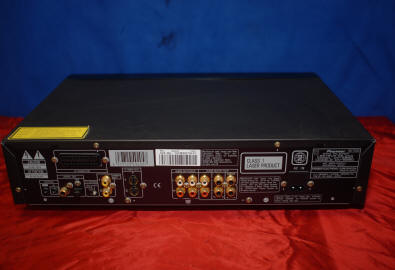 PIONEER DV-626-D €. 300,00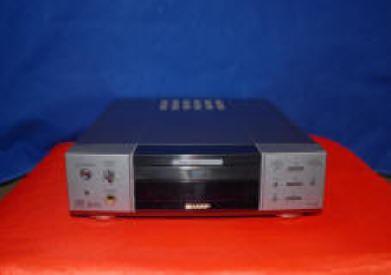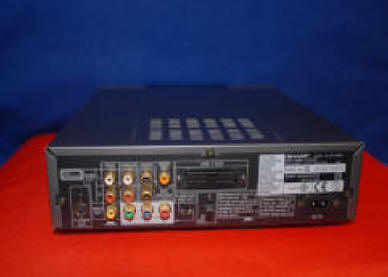 SHARP DV 560 Per offerta Telefonare/ invia un e-mail
---
---
TEAC W585R €. 250,00
Piastra doppia cassetta TEAC W585R dotazione veramente completa : doppio motore per ogni piastra, telecomando, DOLBY B C HX PRO, ingresso stereo per microfono, autoreverse.

NAKAMICHI CR 5 Per offertaTelefonare/ invia un e-mail
NAKAMICHI RX 202

Prezzo offerta €. 439,00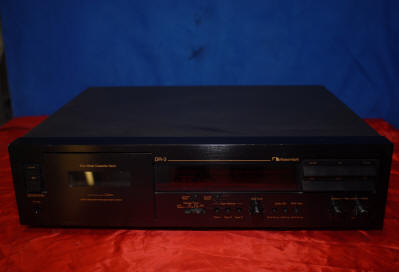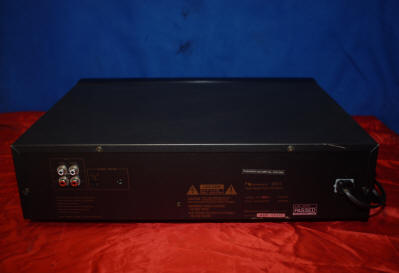 NAKAMICHI DR-3 COD.0150 Prezzo offerta €. 300,00
NAKAMICHI LX3

Per offerta Telefonare/ invia un e-mail
NAKAMICHI 480 COD.0150 Prezzo offerta €. 220,00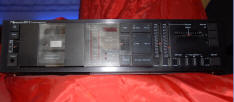 NAKAMICHI BX 2 COD.0099 Prezzo offerta €.160,00
TECHNICS RS-BX404 Prezzo offerta €.110,00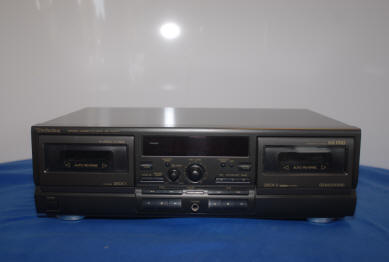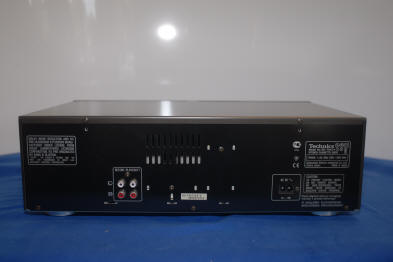 TECHNICS RS-TR474 Per offertaTelefonare/ invia un e-mail
TECHNICS RS-B755 Prezzo offerta €.140,00
DENON DRR-M30 Prezzo offerta €. 230,00
---
---
NAKAMICHI ST 7 Prezzo offerta €. 750,00

The Nakamichi ST-7 / ST-7E is a digital synthesis tuner with the Schotz Noise Reduction technology. This revolutionary system improves effective stereo sensitivity by about 9db and lets you enjoy clean stereo on broadcasts that previously could only be received in mono. Other features include seek and manual tuning as well as 16 FM/AM presets that can be programmed at random, thus combining convenience with top-level capability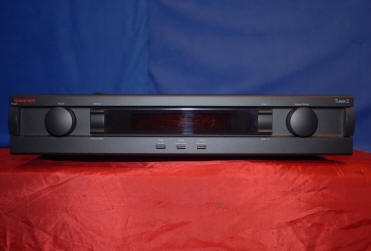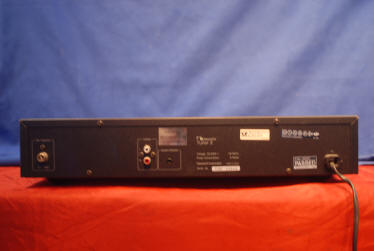 NAKAMICHI TUNER2 Prezzo offerta €.490,00
PROTON AT470 Prezzo offerta €.290,00


SANSUI TU317 Prezzo offerta €. 200,00
PIONEER F443 Prezzo offerta €. 149,00
JVC TU3 Prezzo offerta €. 180,00
AIWA XT-003 Prezzo offerta €. 150,00
TECHNICS ST-Z450 Prezzo offerta €. 100,00
---

---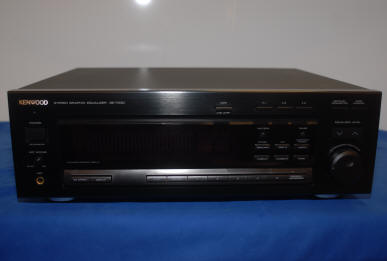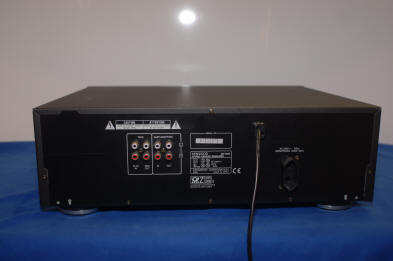 KENWOOD GE 730 Prezzo offerta €. 399,00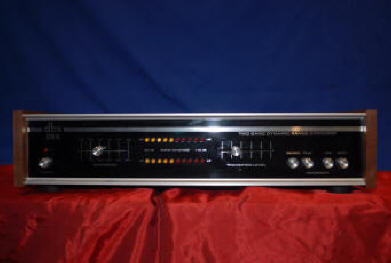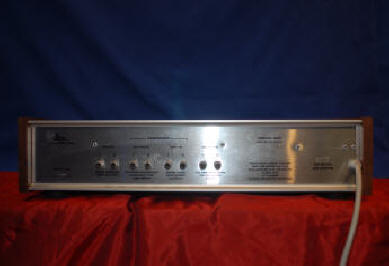 dbX-2BX EXPANDER Prezzo offerta €. 399,00
2BAND DYNAMIC RANGE EXPANDER dbx 2BX two band dynamic range expander. The limitations of the recording process requires record and tape manufactureers to sacrifice nearly half the dynamic content of live music. Crescendos and loudness variations containing vital musical information must be reduced in scale, compromising the presence and excitement of the original performance. A dynamic range expander is a complex electronic system which makes quiet sounds quieter and loud sounds louder to restore the dynamics sacrificed in the recording process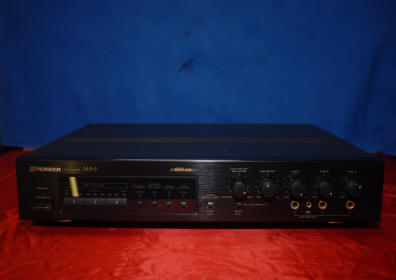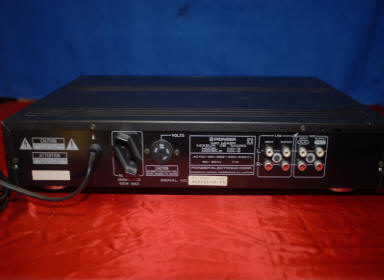 PIONEER MA9 Prezzo offerta €. 299,00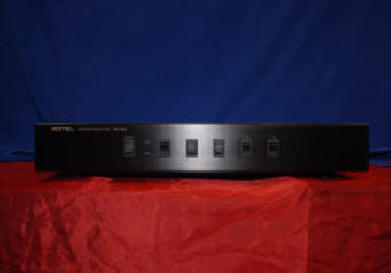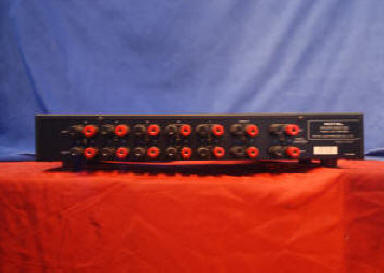 ROTEL RSP 900 Prezzo offerta €. 499,00
SELETTORE DI DIFFUSORI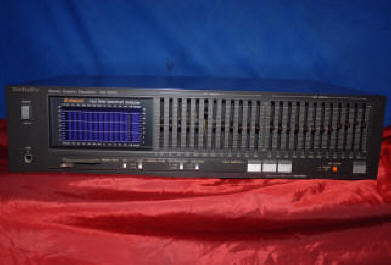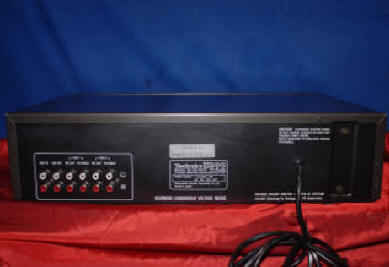 TECHNICS SH-8055 Per offerta Telefonare/ e-mail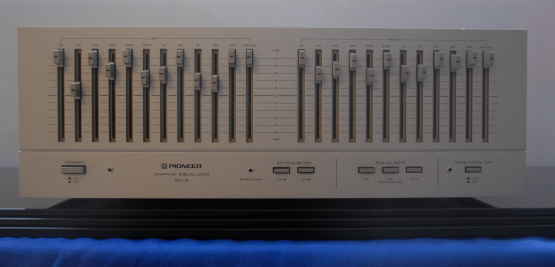 PIONEER SG9 Per offerta Telefonare/ e-mail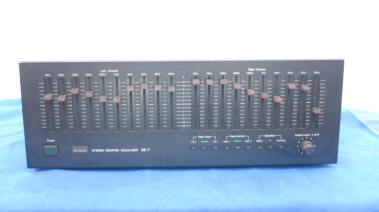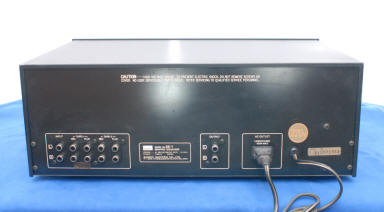 SANSUI DS7 Per offerta Telefonare/ e-mail
TECHNICS SH-800 Prezzo offerta €. 350,00
TECHNICS SH-8055 Prezzo offerta €. 250,00
---
---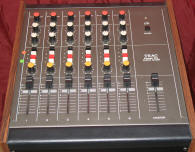 TEAC MIXER model 2 Prezzo offerta €. 250,00
---

---
INFOCUS IN72 Per offertaTelefonare/ invia un e-mail
Description The InFocus IN72 DLP home entertainment projector offers all of the excitement of attending your first rock concert! You can't always get what you want? With the IN72, you can always get it – in sports, gaming or television entertainment. It's like going out on the town without having to leave home! With its stylish design, it delivers more performance than a plasma TV – at less cost. Go for it! Live large. Invite your guests to see the latest movies in your own screening room. The IN72 truly brings it all back home. Product Identifiers Brand InFocus Model IN72 MPN IN72 UPC 00797212665706, 797212665706 Key Features Display Technology DLP Resolution 854x480 Image Brightness 900 ANSI Lumens Contrast Ratio 2000:1 Form Factor Portable Image Max Resolution 1024 x 768 (XGA) Image Size (Diagonal) 32.47 in. - 156.46 in. Image Aspect Ratio 16:9 HDTV Formats 1035i, 1080i, 1080p, 480i, 480p, 576i, 576p, 720p Screen Distance 5 ft. - 20 ft. Synchronization Range Horizontal 31.5-80 kHz Synchronization Range Vertical 50-85 Hz Analog Video Format NTSC, PAL, SECAM Color Support 24-bit (16.7M colors) Technical Features Platform Mac, PC Front Panel Controls Keypad Remote Control Features Illuminated Remote Connectors Component, Composite (RCA), DVI, HDMI, S-Video Interfaces Video input 4 Pin - Mini DIN (S-Video), Component Video, Composite Video, DVI, HDMI x 1 Lamp Lamp Type SHP Light Source Power 200W SHP Light Source Life 3000 Hours Dimensions Width 14.2 in. Depth 14.2 in. Height 4.7 in. Weight 9.3 lb. Miscellaneous Features Keystone Correction Projection Method Ceiling, Front, Rea


PLANAR PD7060 Per offertaTelefonare/ invia un e-mail
Planar PD7060 DLP Projector A 3600:1 contrast ratio, 1,000 lumens, and a native 720p HD resolution, the Planar PD7060 endows every projected image with a lush, detailed realism. Now augment this awe-inspiring performance with wide-ranging connectivity, DLP's DarkChip technology, and menus that can virtually read your mind. Be warned: This projector has been known to turn enthusiasts into addicts. Planar Planar PD7060 DLP Projector Planar PD7060 •DLP™ Display Technology •1000 ANSI Lumens •1280 x 720 Native Resolution •16:9 Native Aspect Ratio •3500:1:1 Contrast Ratio •8.0 lbs •HDTV Ready
EPSON TW 3800 Per offertaTelefonare/ invia un e-mail
Resolution 1920x1080 Type LCD Weight (kg) 7 Rated fan noise (dB) 22 Throw ratio 2.4-5.1 Rated contrast 18000:1 Aspect ratio 16:9 Max image size (in) 300 Dimensions (hwd, cm) 15x45x39 Rated brightness (Lumens) 1800 Phono audio in 0 PC in 0 S-Video in 1 HDMI in 2 RGB Scart in 1 Component in 1 Accepts 1080p Yes 24fps Yes HDMI 1.3a Yes Composite in 1 DVI in 0 HD Ready Yes Full HD Yes
SHARP XV-C1E Per offertaTelefonare/ invia un e-mail
SHARP XV-C100E Per offertaTelefonare/ invia un e-mail
---

---
---
---
DVDO Per offertaTelefonare/ invia un e-mail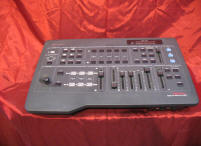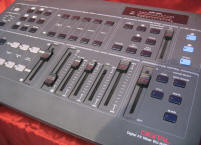 PANASONIC Prezzo offerta €. 559,00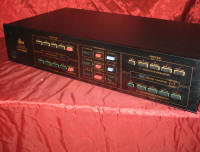 DBX-DAV 600G Per offerta Telefonare/ invia un e-mail
Audio video program route selector A switching console for people who have more equipment than their receivers have inputs.
* 3 video input/output (play & record, that is) plus one video input-only (for laserdisc or DVD) * 3 audio input/output * Multiple audio and video effects processing loops for noise reduction units, equaliser, etc. The only difference between the video and audio sections is the passing of video through the circuit. I have almost always used it for six audio connections and ignored the video
---
---
Infinity infinitesimal COPPIA Prezzo offerta €. 400,00

INFINITY FILTRI PB Renaissance 80 Prezzo offerta €. 150,00
CROSSOVER ORIGINALE PASSA BASSO IDEALE PER AUTOCOSTRUTTORI O RICAMBIO ORIGINALE PER :REINASSANCE80,REINASSANCE90 DISPONIBILI POCHI PEZZI AFFRETTARSI

INFINITY FILTRI PH Renaissance 80 Prezzo offerta €. 170,00
CROSSOVER ORIGINALE PASSA ALTO PER EMIT ED EMIN IDEALE PER AUTOCOSTRUTTORI O RICAMBIO ORIGINALE PER :REINASSANCE80,REINASSANCE90 DISPONIBILI POCHI PEZZI AFFRETTARSI
INFINITY EMIT 902-5228 PREZZO OFFERTA €.250,00
IDEALE PER AUTOCOSTRUTTORI O RICAMBIO ORIGINALE PER :SIGMA,EPSYLON,OMEGA,REINASSANCE80,REINASSANCE90
---
---
NAKAMICHI IND7 Prezzo offerta €.1.890,00
NAKAMICHI TD7 Prezzo offerta €. 150,00