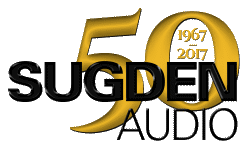 ---

---

SUDGEN A21A SIGNATURE Listino ufficiale €. 3.210,00

Integrato 23 Watt su 8 Ohm (Pura Classe A) OPTIONAL scheda phono A21A MM/MC 268,00 euro

A21 Signature Line and Integrated Amplifier The Sugden pure class A design provides affordable high-end performance from a beautifully engineered single box integrated amplifier. Compact in size with a simple but stylish design, the A21 is possibly the only amplifier you will ever need. With many of the original A21's still in daily use after fifty years, it could also last a life time. Providing a large soundstage and depth to all types of music, the A21 is an amplifier you can listen to for hours without fatigue. The single ended circuit provides impressive dynamics and incredible bass. Facilities Inputs Five line level (four on A21 Integrated) Optional mm/mc phono Outputs One pair of stereo multi-way binding posts Pre-out (variable), tape out (fixed) Remote Control Volume up/down Earth terminal Specifications Line Input Sensitivity 170mV for max. outPhono Input Sensitivity 3mV/mm, 0.2mV/mc for max. output Phono Loading MM 47K MC 100 Ohm Power Output 23 Watts into 8 Ohms Frequency Response +/-1dB 10Hz-20kHz Bandwidth 6Hz-200kHz Signal to Noise >83dBGross Weight (packed) 11kgs Dimensions 92 x 430 x 350mm (hwd)

SUDGEN A21 SE SIGNATURE Listino ufficiale €. 4.270,00

Integrato 36 Watt su 8 Ohm (Pura Classe A)

A21 Signature Line and Integrated Amplifier The Sugden pure class A design provides affordable high-end performance from a beautifully engineered single box integrated amplifier. Compact in size with a simple but stylish design, the A21 is possibly the only amplifier you will ever need. With many of the original A21's still in daily use after fifty years, it could also last a life time. Providing a large soundstage and depth to all types of music, the A21 is an amplifier you can listen to for hours without fatigue. The single ended circuit provides impressive dynamics and incredible bass. Facilities Inputs Five line level (four on A21 Integrated) Optional mm/mc phono Outputs One pair of stereo multi-way binding posts Pre-out (variable), tape out (fixed) Remote Control Volume up/down Earth terminal SpecificationsLine Input Sensitivity 170mV for max. out Phono Input Sensitivity 3mV/mm, 0.2mV/mc for max. output Phono Loading MM 47K MC 100 Ohm Power Output 23 Watts into 8 Ohms Frequency Response +/-1dB 10Hz-20kHz Bandwidth 6Hz-200kHz Signal to Noise >83dB Gross Weight (packed) 11kgs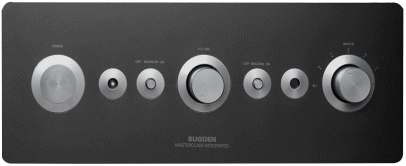 SUDGEN MASTERCLASS IA4 Listino ufficiale €. 7.455,00

Integrato 33 Watt su 8 Ohm (Pura Classe A)

Masterclass IA-4 Integrated Amplifier The IA-4 is our flagship and most popular integrated amplifier. Weighing a substantial 20 kilos the IA-4 has a purposeful look and impressive build quality. Plenty of input and output facilities are on offer including a high quality phono stage. The class A power output circuit has been upgraded from the A21 series with a larger power supply and improved soothing and output capacitors. Gold plated circuit boards, full relay switching and a precision input selector switch offer further detailing. The pre-amplifier section of the IA-4 is a bespoke design, with surprising clarity and detail. The most noticeable feature is the ability to create a large performance with depth and height on any type of music. Facilities Inputs Three line level, tape, MM phono, balancedOutputs Variable pre-out, fixed out, loudspeaker out Volume Control Remote control RC5 compatible Tape Monitor and record off Specifications Line Input sensitivity 125mVPhono Input Sensitivity 2mV (MM)Power Output 33 Watts per channelFrequency Response +/-1dB 14Hz-200kHz Bandwidth 6Hz-300kHz Signal to Noise >84dB Gross Weight (packed) 20kgs Dimensions 165 x 430 x 440mm (hwd)
---

---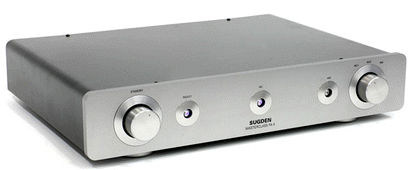 SUDGEN MASTERCLASS PA4 Listino ufficiale €. 3.115,00

Preampli Stereo (Pura Classe A)

Masterclass PA-4 Phono Amplifier Vinyl is a passion for some people and that includes the designers at Sugden Audio. It is capable of the very finest musical experience creating a unique presence and atmosphere. The PA-4 is one of the most rewarding phono amplifiers available at real world prices helping you to enjoy your prized record collection for years to come. The PA-4 comes fully loaded with two MC inputs, an MM input and infinite loading options as it can be factory set to match your cartridge exactly. The moving coil stage is a Class 'A' current feedback circuit and the moving magnet amplifier a Class 'A' voltage feedback circuit incorporating the RIAA correction in the negative feedback loop. DC servo circuits enable direct coupling of the musical signal from moving coil input to final output. The power supply, which Sugden considers an integral part of the amplifier circuitry, is a 'current shunt' design with a specially designed voltage regulator to prevent rising impedance with higher frequencies. Constructed with components of exceptional quality, hand assembled on long-term stability gold plated circuit boards; the resultant performance is a phono stage of absolute transparency and natural sound. Facilities Inputs Two moving coil, moving magnet Outputs Two line level Loading MC1 and MC2 Front Panel Controls MC1, MC2, MM selector, standby, input indicator Specifications Output 360mV Input Sensitivity Moving magnet 3.5mV Moving coil 0.15mV Loading Moving magnet 57K Moving coil 470 & 100 Ohms Frequency Response +/-0.3dB 30Hz-30kHz Signal to Noise >70dB Gross Weight (packed) 6kgs Dimensions 110 x 430 x 330mm (hwd)
SUDGEN MASTERCLASS LA4 Listino ufficiale €. 4.495,00

Preampli Stereo (Pura Classe A)
---

---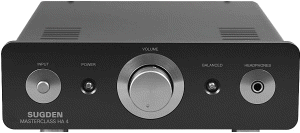 SUDGEN MASTERCLASS HA4

Listino ufficiale €. 2.695,00

Preampli cuffia Stereo (Pura Classe A)

Masterclass HA-4 Headphone Pre-amplifier The HA-4 is not only a state of the art class A headphone amplifier, it can also be used as a compact high-end pre-amplifier. The design is similar to our top of the range Sapphire DAP-800 and will drive any dynamic headphone. Featuring Sugden VCV circuit and coupled to a pure class A zero feedback mosfet output stage. The HA-4 is unconditionally load stable with a discrete constant voltage series power supply. A high input impedance ensures absolute minimal loss of signal with perfect current gain.
Facilities Inputs One line level input, one balanced input Outputs Stereo ¼" jack socket, one line level output Volume Control Manual operation Specifications Input Impedance 20k Ohms Gain 16dB Channel Separation >90dB Frequency Response >0.3dB 20Hz-30kHz Signal to Noise >95dB Output Impedance 1 Ohm Gross Weight (packed) 6kgs Dimensions 80 x 250 x 310mm (hwd)
---

---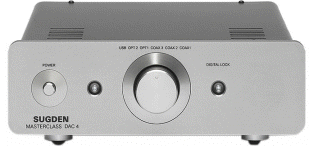 SUDGEN MASTERCLASS DAC 4 Listino ufficiale €. 2.759,00


Masterclass DAC-4 Digital to Analogue Converter The DAC-4 offers a well judged alternative to the plethora of other DAC's available in the current market. With sound quality top of the list, our watchword 'Rescuing music from technology' could not be more appropriate. Instead of accepting and using the latest digital trends, we have produced a product meticulously engineered to play music. With our own conversion circuits and data reformatting, a near analogue experience can be enjoyed. The DAC-4 is without limitations and has no over sampling or digital filtering. Facilities Inputs Three SPDIF coaxial, two SPDIF optical, One USB typeB, Mains IEC socket Outputs One RCA stereo analogue One digital coaxial Front Panel Controls Power switch, power lamp, input selector switch, digital lock lamp Specifications Output 2.15 Volts Frequency Response 20Hz-20kHz +/- 1.5dB points Signal to Noise >80dB Gross Weight (packed) 5kgs Dimensions 90 x 250 x 330mm (hwd) Digital Input SPDIF 16-24 bit word length, with sample rates from 32 to 96kHz Power Consumption 12 Watts
---

---
SUDGEN MASTERCLASS LA4 Listino ufficiale €. 4.495,00

Preampli Stereo (Pura Classe A)

SUDGEN SHAPPIRE DAP 800 Listino ufficiale €. 5.885,00


Sapphire DAP-800 Digital Analogue Pre-Amplifier With an extensive range of input options, the DAP-800 can be the control centre of your audio system. A total of six analogue inputs and six digital inputs are available as well as two single ended and one balanced output. The DAP-800 has been carefully designed to operate in two separate domains, analogue and digital. For each circuit we use independent power supplies throughout so in effect there is a separate DAC and analogue pre-amp housed in a single chassis. The pre amplifiers analogue stage incorporates a Sugden VCV circuit in its most advanced form. This circuit has a high impedance input section, current gain stage which drives a folded cascode stage into a Class A output stage. The folded cascode circuit facilitates a wide bandwidth with maximum dynamics and low capacitive connectivity. This delivers a sophisticated sound that is neutral and transparent. The digital section of the DAP-800 incorporates the same unique digital to analogue conversion as our stand alone DAC-4. Our experience in designing digital products now stretches over twenty five years and we pride ourselves on the analogue natural sound we have achieved. The DAP-800 has a number of advanced features. To reduce jitter and control errors during play back there is a dedicated transceiver circuit, this re-formats data prior to the digital to analogue converter. A unique conversion method is employed without oversampling or filtering in the digital domain, instead we chose an analogue filter resulting in very wide bandwidth capability. The interface accepts most digital formats including a 'plug and play' USB input for streaming music directly from a computer or dedicated music streamer.Facilities Inputs Four line level inputs, one balanced input, bypassDigital Inputs Three SPDIF coax, two SPDIF optical, one USB type B Word length up to 24bit 96kOutputs Two line level outputs, one balanced output, tape outputVolume Control Motorised remote control (analogue) RC5 compatible Mains Power Switching Separate for analogue and digital circuits SpecificationsInput Sensitivity 120mV for 1 Volt outMaximum Output 9 VoltsFrequency Response 0dB 15Hz-98kHzBandwidth 8Hz-125kHzSignal to Noise >85dB Distortion <0.05% @ 1kHz, 1 Volt out Gross Weight (packed) 10kgs Dimensions 120 x 430 x 340mm (hwd)
---

---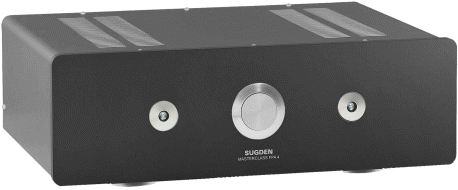 SUDGEN MASTERCLASS FPA4 Listino ufficiale €. 3.590,00

Finale Stereo 75 Watt su 4 Ohm (Pura Classe A)

Masterclass FPA-4 Power AmplifierThe FPA-4 power amplifier is the latest member of the Sugden Masterclass Family. This output stage is of the classic Sugden pure class A single ended design which has given musical satisfaction to thousands of discerning music lovers over many years. The amplifier benefits from a comparator and correction circuit so that errors which would occur in the power stage, due to varying loads and distortion, are corrected to match the output of the high impedance input amplifier. Whilst it is maintaining the signal authenticity it is also increasing the load stability and forces the output impedance to zero. The Amplifier with Sugden Error Correction has extremely low open loop output impedance with a resultant high damping factor at quite high frequencies. Coupling of the output of the Amplifier to its chosen speakers is via a 'soft connection' protection board. It is a static contact switching board using extremely low 'on resistance' power mosfets. These devices are timed on and off to enable soundless connection to the speakers however sensitive. The FPA-4 is an exciting new design that performs well above its modest price point. Facilities Inputs Stereo line level, stereo balanced Outputs Stereo pair multi-way locking binding posts Specifications Input Sensitivity 1Volt for full output Power Output 25 Watts per channel both channels working Frequency Response -0.3dB 18Hz-95kHz Bandwidth 10Hz-125kHz Signal to Noise >82dB Distortion at 1 Watt 1kHz <0.04% Gross Weight (packed) 15kgs Dimensions 143 x 430 x 350mm (hwd)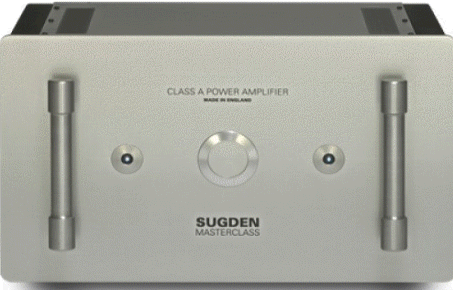 SUDGEN MASTERCLASS SPA4 Listino ufficiale €. 7.925,00

Finale Stereo 75 Watt su 8 Ohm (Pura Classe A)

Masterclass SPA-4 Stereo Power Amplifier & MPA-4 Balanced Mono Power Amplifier The popularity of the Masterclass series has resulted in over seventeen years of continuous production. Offering an excellent price/performance ratio it is easy to see why it remains so successful. With an abundance of headroom, the MPA-4 mono power amplifiers deal easily with heavy complex music, allowing the low level detail to be heard clearly and accurately. Boasting a fully balanced circuit design, it can be the engine room of a fully balanced hi fi system. The SPA-4 is a stereo version of the MPA-4 and uses the same class A circuit. The only differences are power output and the additional flexibility of both single ended and balanced inputs. Not every music lover can accommodate two substantial power amplifiers in their listen space, so a single SPA-4 could be the solution. One of the noticeable abilities of the SPA-4 is how well it works with smaller loudspeaker designs as well as large ones. Control and soundstage are two key elements of the SPA-4 making it a fine power amplifier.SPA-4 Facilities Inputs Stereo line level, stereo balanced Outputs Stereo pair multi-way locking binding posts Specifications Input Sensitivity 1Volt for full output Power Output 75 Watts into 4 Ohms both channels working Frequency Response +/-0dB 15Hz-30kHz Bandwidth -3dB points 2Hz-200kHz Signal to Noise >85dB Gross Weight (packed) 25kgs VERSIONE MASTERCLASS MPA4 Finale Mono 75 Watt SU RICHIESTA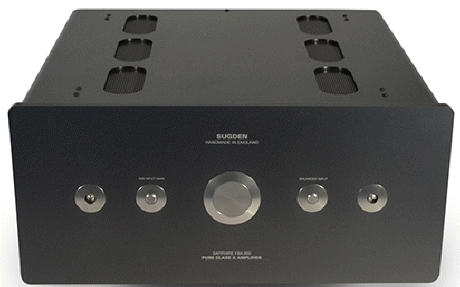 SUDGEN SHAPPIRE FBA 800 Listino ufficiale €. 8.289,00

Finale Stereo 40 Watt su 8 Ohm (Pura Classe A)

Sapphire FBA-800 Pure Class A Power Amplifier The FBA-800 is our most advanced power amplifier. The floating bridge design combines four 20 Watt amplifiers in a single stereo chassis and provides several key benefits. Each channel consists of two amplifiers working as voltage amplifiers driving an output stage of bridged power transistors. The advantages are a low noise floor, better power output relative to the voltage rails (x2) and with the fixed current of the class A mode, low output impedance and better load tolerance. The Power amplifier is D.C. coupled, with a servo lock, ensuring excellent low frequency detail. For safety purposes the amplifier includes a D.C. protection circuit. This circuit is statically switched using extremely low impedance Mosfet switching devices. This circuit also soft switches the power amp on and off. The power supply is a low impedance design with a single custom made bi-filar wound transformer, with four separate windings. The main smoothing capacitors for the output stage are specially developed for professional audio applications with excellent ripple characteristics and long life. The Four power transistors per channel in the output stages are multi emitter devices with an output capability of 26 amps per device. The FBA-800 operates in the full balanced mode from the input of the unit to the output FacilitiesInputs Stereo line level, stereo balanced Outputs Stereo pair multi-way locking binding posts Front Panel Gain Selector 6dB input attenuation Front Panel Input Selector RCA or XLR Specifications Input Sensitivity 735mV for full outputPower Output 40 Watts into 8 Ohms both channels workingFrequency Response 0dB 20Hz-80kHzBandwidth 6Hz-113kHzSignal to Noise >96dBDistortion at 1 Watt 1kHz >0.05% Gross Weight (packed) 25kgs Dimensions 206 x 430 x 460mm (hwd)
---

---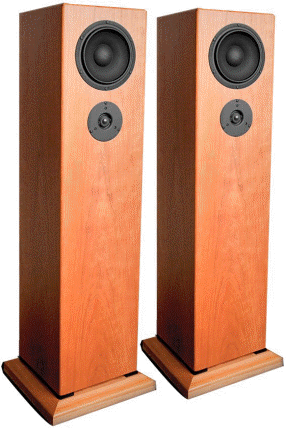 SUDGEN LS21 Listino ufficiale €. 5.525,00

The LS21 is a tuned quarter wave design and uses a treble and mid/base driver ported through the plinth. The cabinet is compact but not compromised, being domestically acceptable at less than 1m tall and less than 23cm wide. The cabinets are manufactured in-house by our highly skilled cabinet maker. This includes all aspects of construction from machining to veneering. Our recently installed joinery workshop runs harmoniously alongside our existing custom engineering shop. We feel the fit and finish of a loudspeaker is very important both cosmetically and acoustically. Therefore the cabinets are assembled like fine furniture should be, including real hardwood edge inlays and bonded mitre corner locking joints. The veneers are crown cut and bookmatched, and then polished to produce a satin finish with a low level gloss. Over time this will result in a natural patina. Standard finishes are cherry, walnut and maple, but other exotic finishes are available to order at an additional cost.Smooth internal air flow is an important aspect of the quarter wave design, so the crossover has been removed from the internal cabinet and mounted in the loudspeaker plinth. The components used in the crossover are audiophile quality, manufactured by Mundorf. Specifications for the treble unit (right) include large diameter voice coil, soft dome ferrofluid filled with a sensitivity of 90db and nominal impedance of 8 Ohms. We chose the preferred bass/mid driver after careful matching to the cabinet design. It has an identical sensitivity and nominal impedance to the tweeter, aiding crossover design and uniformity. Again a large voice coil is employed and the chassis is die cast aluminium providing superior rigidity.During the development of the LS21 we have been lucky to work closely with one of the UK's most respected designers, Colin Walker. His involvement with specialist quarter wave loudspeakers spans an impressive six decades. The LS21 has undergone hundreds of hours of auditioning and refinement in our listening room. The result is a unique handcrafted loudspeaker capable of producing stunning realism in any top notch audio system. With a sensitivity of 90dB and an easy uniform load, the LS21 is particularly suited to class A amplifiers. Due to the high power handling of both drive units, Class AB amplifiers will also work beautifully with the LS21.Due to the required manufacturing techniques and bespoke nature of our loudspeakers, every pair will be built to order. An accurate delivery time can be given on request. The advantage of a custom workshop is the range of special finishes on offer. The standard finish is cherry as this is a very popular wood that sits comfortably in most living spaces. A no cost option is American walnut as this offers a darker alternative and Maple.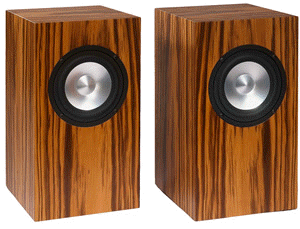 SUDGEN MISTRO Listino ufficiale €. 1.690,00

---

---
Legenda istruzioni

Clicca per qui per vedere : FOTO PRODOTTO

Clicca per qui per vedere : ISTRUZIONI PRODOTTO

Clicca per qui per vedere : CATALOGO,PROVA RIVISTE SPECIALIZZATE PRODOTTO
---
Nota bene *
Per ordinare o avere gli ultimi prezzi aggiornati telefona al 0174 670100 o invia un E-mail a info@newaudio.it
*I prezzi indicati sono di listino ufficiale delle case produttrici ,nel caso di diffusori si riferisce al prezzo del singolo diffusore per offerte ed eventuali promozioni telefonare o inviare e-mail.
*Il presente listino sostituisce ed annulla ogni precedente. Le caratteristiche e i prezzi indicati possono variare senza preavviso telefonare o inviare un e-mail per ulteriori domande e conferme sui prezzi sopra riportati.
*Tutti i marchi citati nel presente listino sono di proprietà e registrati alle rispettive Case Produttrici
*Prezzi franco nostro magazzino
---