---

---

---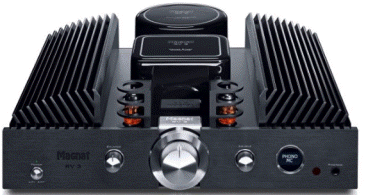 magnat RV 4 Listino ufficiale €. 3.074,00 PROMO

L'amplificatore ibrido Magnat RV 4 combina in modo perfetto le richieste sonore audiophile e le elevate prestazioni: la combinazione della fase di uscita della valvola e della fase di transistor garantisce le caratteristiche sonore analogiche del'warm 'con un'elevata potenza di uscita allo stesso tempo per il meglio possibili dinamiche. I proprietari del RV 4 hanno la possibilità di scegliere tra numerosi ingressi analogici, tra cui MM e MC, ma hanno anche la possibilità di accesso coassiale e ottico digitale. Il fatto che il convertitore Burr-Brown di fascia alta sia anche utilizzato per l'ingresso Bluetooth con aptX è un ulteriore punto di riferimento. Questo amplificatore stereo di fascia alta combina così la sensazione e la facilità d'uso con le più elevate esigenze audiophile sia del mondo analogico che digitale.Specifiche tecniche: PICCO 1 kHz, 4Ω: 2 x 250 W CONSUMO DI ENERGIA 350 W RISPOSTA IN FREQUENZA CD / sintonizzatore / aux / linea / nastro / digitale: 8 Hz - 110 kHz (-3,0 dB), 20 Hz - 20 kHz (+/- 0,1 dB) Filtro subsonico: 16Hz, 18 dB / ott. POTENZA DI USCITA / NOMINALE 20 Hz - 20 kHz, THD <1,0%, 4 Ohm, 2 x 150 W 20 Hz - 20 kHz, THD <1,0%, 8 Ohm, 2 x 110 W SENSIBILITÀ DELL'INPUT Phono MM: 2,5mV / 47kΩ INGRESSI DIGITALI ottico (Toslink ™) coassiale (cinch) Frequenze di campionamento supportate: 44.1 / 48 / 88.2 / 96 / 176.4 / 192kHz Profondità di bit supportata: 16/24 bit TENSIONE DI RETE 230 VAC / 50 Hz RAPPORTO S / N CD / sintonizzatore / aux / linea / nastro: 110 dB (A) Phono MM: 90 dB Phono MC: 78 dB DIMENSIONI (LXAXP) Unità principale: 434 x 157 x 360 mm (410 mm con comandi e connettori) Telecomando: 40 x 100 x 16mm COLORE Nero PESO 18,5 kg

High-end hybrid integrated amplifier with valve pre-stage and Bluetooth® aptX™
The Magnat RV 4 continues the legacy of its legendary predecessor, the RV 3. Our development engineers set themselves the goal with this new high-end hybrid amplifier of exceeding the RV 3 - and have succeeded with flying colours: the RV 4 combines analogue stereo sound at the very highest level with modern features like a digital section and Bluetooth 4.0 with aptX.

AUDIOPHILE SOUND THANKS TO THE VALVE PRE-STAGE
One of the outstanding qualities of the Magnat RV 4 is the extraordinary attention to the finest details, which manifests itself in the special valve pre-stage. Two particularly high-quality Russian-made E88CC valves are used for this - not least of all due to the special SQ quality with maximum reliability and the lowest tolerances. After being burned in for 60 hours, the valves or tubes are selected in pairs and inserted into the high-quality, gold-plated tube sockets of the RV. In this way, we guarantee that this high-end stereo amplifier offers precisely the audiophile sound experience that our customers appreciate.

HIGHEST QUALITY COMPONENTS FOR LOSS-FREE TRANSMISSION
This attention to detail continues in every single element of the RV 4. For example, the input signal switchover ensues via high-quality, durable reed relays. Vinyl enthusiasts will also be delighted with the phono pre-stage with separate MM and MC inputs, assembled with particularly low-noise operational amplifiers. Low-loss WIMA audio capacitors in the signal path ensure that not the smallest modicum of the carefully processed sound is lost on the way to the power amp.

AUDIOPHILE SOUND - ALSO DIGITAL AND WIRELESS
Another highlight of the RV 4 is the digital input section. One coaxial and one optical input accept digital stereo signals up to 24bit/192kHz. Precise conversion into the best analogue sound is taken care of by a particularly high-quality digital-analogue converter (or DAC) from Burr-Brown.
The integrated Bluetooth 4.0 module of the RV 4 provides the best possible sound quality for the much-loved wireless transmission thanks to the particularly high-quality audio standard aptX. Here, too, the high-quality Burr-Brown DAC is used as an exclusive feature to convert the digital Bluetooth signals into the best possible analogue sound quality.

HIGH PERFORMANCE THANKS TO THE BEST TRANSISTORS
For the power amplification, we rely on two discretely designed high-performance power amplifiers with the proven power transistors from Sanken (Japan). Both amplifier stages deliver up to a constant 150 watts to the loudspeakers with the finest sound. The total peak power of the RV 4 is a huge 500 watts. The speakers are connected to the RV 4 via large, insulated screw terminals.


HIGH-END IN EVERY DETAIL
The audiophile concept continues in the Magnat RV 4 right down to the smallest details. Whether it´s the extravagant, stylish design, the sturdy solid-metal enclosure with the 8 mm front panel of the solid aluminium controls: This stereo amplifier is pure high-end. This also includes the solid heat sinks, which also serve as striking design elements. Other details like the high-contrast OLED high-quality display, the pre-amplifier output for active subwoofers or additional power amplifiers and the power amp input to easily incorporate the RV 4 into a home cinema system demonstrate the well thought-out concept of this high-end amplifier.


magnat MA 1000


Listino ufficiale €. 1.740,00


High-end hybrid integrated amplifier with tube preamplifier and transistor output stage The MA 100 high-end integrated amplifier delivers the best of two "worlds": the audiophile sound produced by the high-quality tube pre-amplifier with the simultaneously massive and stable output of a modern transistor power amplifier! In combination, these different technologies create the perfect conditions for excellent acoustical performance. The heart of the MA 1000 is undoubtedly the tube pre-amplifier, which uses Russian-made pre-selected ECC-82 valves that have been burned in for 60 hours. A high-performance amplifier with discrete configuration using Toshiba power transistors delivers the necessary power. This thus provides the MA 1000 with 115 watts of continuous performance per channel.
Output power / Nominal 20 Hz – 20 kHz, THD < 1.0% 4 Ohm, 2 x 115 8 Ohm, 2 x 80 W Peak 1 kHz, 4Ω: 2 x 250 W Frequency response CD/Tuner/Aux/Line/Tape: 5 Hz – 100 kHz (-3,0 dB) CD/Tuner/Aux/Line/Tape: 20 Hz – 20 kHz (+/-0,1 dB) hono: 20 Hz – 20 kHz (+/-0,3 dB) hono Subsonic Filter: 16 Hz, 18 dB/Oct. Input sensivity Phono MC: 0,3mV/470Ω Phono MM: 2,5mV/47kΩ CD/Tuner/Aux/Line/Tape: 400mV/100kΩ Power consumption Standby < 0,5 W Max 420 W Mains voltage 230 VAC / 50 Hz S/N ratio CD/Tuner/Aux/Line/Tape: 110 dB (A) Phono MM : 89 dB (A) Phono MC : 77 dB (A) Dimensions (WxHxD) Remote control: 47 x 193 x 23 mm 434 x 125 x 330 mm (380 mm incl. controls and connectors) Weight 11 kg Color Black
magnat MR 780 Listino ufficiale €. 1.030,00

---

---
magnat MCD 1050 Listino ufficiale €. 1.740,00


MCD 1050 High-End CD player with tube output stage and digital audio inputs The MCD 1050 is a very cleanly designed high-end CD player with integrated tube pre-amplifier! It delivers both highest precision from cleanly scanned signals and highest resolution for digitally sourced signals. The pure CD drive ensures that optical media are precisely scanned – but the best things about this product are the digital inputs for scanning rates of up to 192 kHz/24 bits. Digital optical, coaxial and USB sources may be connected to the MCD 1050 to utilise its high-quality D/A converter section. This high-end player also possesses a switchable upsampling function to 192 kHz/24 bits for CD and digital inputs. Playable formats CD-DA HDCD CD-R CD-RW Digital output optical and coaxial Frequency response CD: 5 Hz – 20 kHz (+/- 0.5 dB) Impedance 2,0 V / 10 Ohm THD < 0,0012% Channel separation/ > 106 dB (1 kHz) Power consumption Typ 25 W Standby 0,5 W Mains voltage 230 VAC / 50 Hz S/N ratio > 109dB (20Hz – 20kHz, A) Dimensions (WxHxD) 434 x 90 x 330 mm (345 mm incl. controls and connectors) Remote control: 47 x 198 x 23 mm Weight 7.5 kg Color Black
magnat MCD 750 Listino ufficiale €. 410,00

---

---

magnat MT990 Listino ufficiale €. 1.030,00

---

---
magnat MC200 Listino ufficiale €. 690,00

magnat MC100 Listino ufficiale €. 670,00

---

---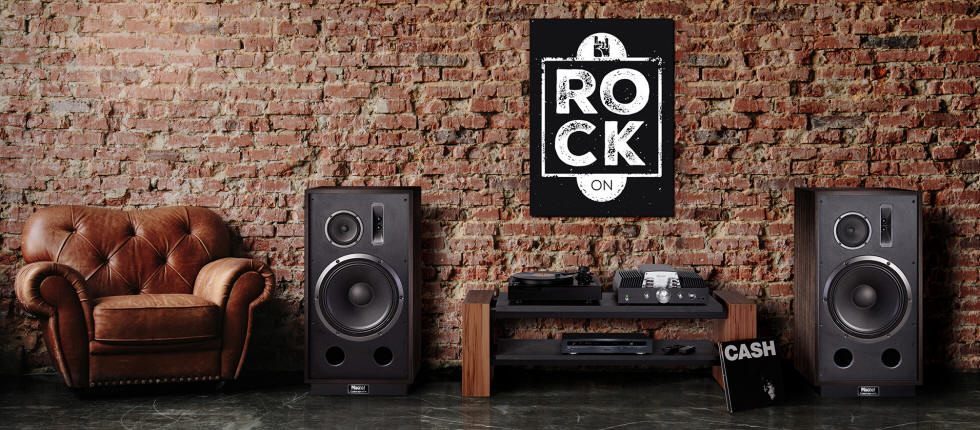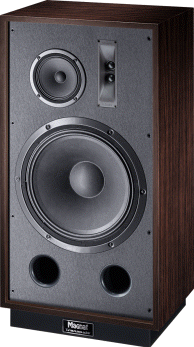 MAGNAT TRANSPLUS 1500 Listino ufficiale €. 599,00 PROMO

Tecnologia "state of the art " per offrire un suono dinamico, vivace e bassi molto potenti Tromba tweeter a doppia compressione con due cupole in tessuto da 1 "per un suono dinamico e naturale eccellente Midrange ottimizzato per le prestazioni per un'alta efficienzaRiproduzione dei bassi profonda e precisa da parte di un woofer da 15 "in un esclusivo cabinet per bassi controllato riflesso Robusto mobile in MDF con decorazioni in legno scuro di alta qualità e rivestimento in tessuto rimovibile dal design retrò Bass Reflex Cra A 3 Vie 1 Woofer Da 380 Mm1 Midrange Da 170 Mm 2 Tweeter A Tromba Da 25 Mm CapacitÀ Di Carico (Rms / Max.) 250/500 Watt Efficienza (2,8 V / 1 M) 95 Db Impedenza 4 - 8 Ohm Gamma Di Frequenza 16 - 35000 Hz Frequenza Di Crossover 920 Hz, 4800 Hz Potenza Dell'Amplificatore Consigliata 30 - 500 Watt Dimensioni (Lxaxp) 514 X 1000 X 385 Mm Peso 37 Kg

Back to the future The Transpuls 1500 - More than just retro The majority of modern loudspeakers nowadays conform , also often for reasons of supposedly being living room-friendly, to the "slim pillar" principle. That has not always been the case. A lot of loudspeakers from the studio range and many legendary speakers of the 60´s, 70's and 80´s were of a considerably wider and more voluminous design, with some of then now fetching very high prices on the international second-hand market. The use of large bass units and big internal volumes makes it possible to produce a very dynamic and powerful sounding music experience. Many rock, soul, jazz and pop music enthusiasts as well as listeners of live music prefer this pulsating, powerful and direct sound. The Magnat Transpuls 1500 is equipped with classic components of this loudspeaker category, but developed using modern development tools such as our Klippe® laser measuring system. "DISPLACEMENT IS IRREPLACEABLE" The premier class calibre of 38 cm/15 inches has been used in the woofer. We did not want to compromise on size at the heart of the Transpuls 1500. But it is not only the diameter of the woofer that determines the bass power and dynamics; for perfect functioning, the internal volume also has to be precisely defined and implemented structurally. The woofer operates in a special bass reflex housing ( CRA = Controlled Reflex Alignment ). The dimensioning of the dampened bass reflex port has been designed in such a way as to combine the advantages of bass reflex and a closed housing. Goal: More precise, deeper bass with high efficiency. In addition to a large, lightweight membrane, the 17 cm midrange driver also has a closed basket. This means it is designed as a pure midrange speaker. Another special feature is the tweeter. Like a lot of studio and historical class speakers, the treble range is taken care of by a horn. The Transpuls 1500 horn tweeter has not only been designed as a slot radiator for a defined dispersion angle, it also has 2 (!) drivers in one horn, which results in higher load capacity and is the reason for the angled position of the tweeter membranes in the neck of the horn. We call this design the Double Compression Horn. Because of the intentionally controlled dispersion characteristics of the overall speaker, a slightly angled position should be chosen when the speakers are placed far apart. This is why the enclosure is not of an exaggeratedly deep design. The crossover uses 12/18db filtering with phase correction. LOOKS WITHOUT ANY INFERIORITY COMPLEX MThe sturdy MDF enclosure in a dark wood grain finish with a black baffle provides optimum acoustic playing conditions for the speakers used. Combined with the sturdy, removable fabric cover and the elegant solid-metal logo plate on the base of the speaker, the Transpuls 1500 exudes the charm of the great classics of loudspeaker design. ONE SPEAKER FOR A LOT OF AMPLIFIERS Its high efficiency and good-natured impedance curve makes the Transpuls suitable for a very wide range of amplifiers. Whether it's a modern digital amp, a classic transistor amplifier or a tube design: Experience the live music character of this exceptional loudspeaker. In order for a tweeter to optimally follow the fine and fast signals in its operating range, it is essential that its drive system is as light as possible. At the same time the tweeter should also be highly resilient so that it can withstand excessive levels unscathed. In "Ferrofluid cooled" tweeters, their delicate voice coil is surrounded by a magnetically conductive special fluid known as ´ferrofluid´. The fluid establishes a thermal connection with the magnet system, allowing effective dissipation of the heat generated during operation. This results in increased resilience and constantly high sound quality of the tweeter. To ensure that it can continue to follow the music signal precisely, Magnat selects only low viscosity ferrofluids with optimum properties.A loudspeaker as a whole works optimally when its individual components harmonise well together and can concentrate completely on their own actual job. To ensure that the woofer and subwoofer can deliver a perfect result in this loudspeaker, we have equipped them with FE Driver Dynamics technology. An optimised ferrite drive system, non-magnetic baskets with voice coil ventilation and large basket perforations minimise electrical and mechanical losses. In this way, the entire drive energy flows into signal reproduction, ensuring maximum precision there.Lots of different things are needed for the development and design of a high-quality loudspeaker: Talent, experience, passion, a profound knowledge of the laws of physics and acoustics as well as a whole range of further qualifications. Our development engineers have all of this. To ensure that they can translate their huge expertise into practice in an optimum way, they work only with the highest quality development tools. One of these is the so-called Klippel system. This laser-assisted measuring and simulation system makes measurements and predictions possible about the final loudspeaker properties with unparalleled precision even during the ongoing development process. The end result of this are loudspeakers that perform with much lower distortion, a greater wealth of detail and more intense dynamics that those measured using conventional systems.Principle 3-way CRA bass reflex Equipment 1 x 15" woofer, 1 x 6.5" midrange 2 x 1" horn-dome tweeters Power Handling (RMS/Max.) 250 / 500 watts Frequency Response 16 – 35.000 Hz Sensitivity (2.8V/1m) 95 dB Dimensions (WxHxD) 514 x 1000 x 385 mm
---

---
Legenda istruzioni

Clicca per qui per vedere : FOTO PRODOTTO

Clicca per qui per vedere : ISTRUZIONI PRODOTTO

Clicca per qui per vedere : CATALOGO,PROVA RIVISTE SPECIALIZZATE PRODOTTO
---
Nota bene *
Per ordinare o avere gli ultimi prezzi aggiornati telefona al 0174 670100 o invia un E-mail a info@newaudio.it
*I prezzi indicati sono di listino ufficiale delle case produttrici ,nel caso di diffusori si riferisce al prezzo del singolo diffusore per offerte ed eventuali promozioni telefonare o inviare e-mail.
*Il presente listino sostituisce ed annulla ogni precedente. Le caratteristiche e i prezzi indicati possono variare senza preavviso telefonare o inviare un e-mail per ulteriori domande e conferme sui prezzi sopra riportati.
*Tutti i marchi citati nel presente listino sono di proprietà e registrati alle rispettive Case Produttrici
*Prezzi franco nostro magazzino
---