---

CREEK
EVOLUTION
50 Listino ufficiale €. 1.099,00

This new amplifier forms part of the next generation EVOLUTION 50 range of products. Housed in a slim case with engraved front panel and solid
control knobs, it's finished in either black or silver brushed aluminium. An ingenious new push button design has been developed for it, offering excellent tactile feel and backlit optical indication of usable functions for optimum user-friendliness. Designed to match the high-end EVOLUTION 50CD DAC/CD/Pre-amp. The 50 series is the first Creek product to feature an OLED (Organic Light Emitting Diode) display. This white on black display provides higher clarity and resolution than a normal display and offers a wide range of customised graphic symbols. Display brightness levels can be changed or turn off when not required via the menu system. At the heart of any good amplifier lies a good power supply; The EVOLUTION 50A uses a massive 200 Watt toroidal mains transformer with separate windings for high and low current analogue and digital circuitry. This produces a good power to weight ratio and low magnetic interference. Creek's policy of paralleling several low impedance capacitors together, to create an ultra-high specification capacitor, to smooth the DC also helps to produce a very powerful and accurate sound from such a relatively small amplifier. Creek's Senior Engineer – David Gamble – who has much experience in the audio industry developed a completely new bi-polar transistor power amplifier circuit especially for the EVOLUTION 50A with very high open-loop gain and low distortion. Featuring a pair of Sanken 15 Amp power transistors, with built-in thermal compensation for rapid bias tracking performance, the Power Amplifier circuit has very low output impedance and can produce high output current. This combination will provide exceptional speed and control with most loudspeakers. David also developed a completely new analogue Pre-amp circuit, providing high levels of flexibility and control, via unbalanced or balanced inputs. It has multiple input options, switched electronically or via gold contact relays, plus electronic Volume, Balance and Tone controls. For Vinyl fans, a Sequel 2 Phono pre-amp can be plugged-in, substituting Line Input 1 for Phono. In addition, Line input 5 is located on a Smart- Slot removable panel. Should the user want to fit a Tuner or DAC module, Line 5 input can be removed and replaced by either the AMBIT tuner or RUBY module. Excellent measured and sonic performance has been achieved with this analogue integrated amp, but when using digital input signals via the matching EVOLUTION 50CD, the analogue pre-amp can be bypassed completely. The EVOLUTION 50CD has a very high-end volume control in the digital domain and 'Class-A' balanced audio outputs. Connecting the output directly to the "Power amp direct" inputs elevates the performance to an even higher level longer makes a separate EVOLUTION Tuner, but die-hard analogue tuner fans can continue to listen using the top quality AMBIT plug-in tuner module, which augments the EVOLUTION 50A's capabilities. The AMBIT and Ruby modules can be mounted to the back panel 'Smart-Slot', replacing Line Input 5. When the AMBIT is fitted, it automatically turns the amp into a Receiver, suitable for use in every region of the world. The OLED shows tuner functions and buttons and knobs have dual functions. Coming soon, the RUBY plug-in DAC module also replaces Line Input 5. When available, it will add 2 x SPDIF, 2 x TOSLINK, USB, Bluetooth and FM radio inputs to the existing 4 line inputs. The EVOLUTION 50A can also be configured for Vinyl Disc input, in place of Line input 1. The SEQUEL 2 module plugs into dedicated connectors on the pre-amp PCB and can run simultaneously with the AMBIT or RUBY. It comes in three versions – 40dB – 48dB and 54dB MM and MC. To simplify the many options a stylish new system remote handset has been developed to control all the functions of the EVOLUTION 50 range. The EVOLUTION 50 range also features an optional IR extender to enable the products to be hidden away, but still operable via remote control. Power Output >55 Watts into 8 Ohms Power Output >85 Watts into 4 Ohms Continuous Current >8.5 Amps (sine wave) Max Current >26 Amps, current burst into 0.5 Ohms Output Impedance <0.1 Ohms @ 1Khz SNR >102dB THD < 0.005% 20Hz – 20Khz Frequency Response 10Hz – 100KHz +/- 2dB Line Gain 33.3dB (x46) via power amp input Input Sensitivity 410mV Crosstalk -80dB at 1Khz DC Offest < ±10mV Slew Rate > 30 V per µS Pre-amp Inputs 5x RCA unbalanced – 1x Balanced XLR Power-amp Inputs Input 3 & 4via RCA or XLR Outputs 1 Pair Headphone output Dedicated low impedance amp (<50 Ohms) IR Bus Powered output for IR repeater Operating Voltages 110V/230V Switchable Consumption (at idle) <20 Watts Consumption (at full power) 350 Watts Weight 7.5Kgs Dimensions 430x60x280mm W/H
CREEK
EVOLUTION
100 Listino ufficiale €. 2.190,00

Amplificatore stereo 110W. Ingresso Bilanciato. Uscita Pre. Display OLED. Uscita Cuffie. Remote.

To maintain a family resemblance with the lower powered amplifier, the EVOLUTION 100A is housed in a similar slim case with engraved front panel and solid metal control knobs as the EVOLUTION 50A. It is available with either a Black or Silver brushed aluminium front panel and uses the same ingenious soft push button design as the EVOLUTION 50 series, offering excellent tactile feel and backlit optical indication of functions, for optimum user-friendliness The front panel features a large OLED (Organic Light Emitting Diode) display. The white on black display provides higher clarity and resolution than a normal display and has a wide range of customised graphic symbols. Display brightness levels can be changed or turned-off, if not required, via the menu system. In addition to greatly increased performance, thanks to ingenious new circuit design, the EVOLUTION 100A has been equipped with 2 sets of high quality loudspeaker binding posts, with local and remote switching for A & B outputs. Optional extras include the ability to plug the Sequel mk2 Phono pre-amp inside and add the AMBIT FM/AM radio or RUBY DAC/Bluetooth/FM radio module to the expansion slot on the rear panel. At the heart of any high-end amplifier there must be a good power supply; The EVOLUTION 100A uses a massive 360 Watt, low profile, toroidal mains transformer, with multiple windings for high and low voltages and current, to separate the power amp, pre-amp and digital circuitry. Creek's long-standing design policy of parallelingseveral small capacitors in the power supply creates an ultra-high specification capacitor, with low inductance and ultra low impedance. This significantly improves filtering and helps produce a very powerful and accurate sound from such a relatively small amplifier. After testing several methods of building a high performance and highefficiency power amplifier, suitable for this new model, David Gamble ­­ – Creek Audio's Senior Engineer – created a unique Class G circuit especially for the EVOLUTION 100A. David chose to use four Sanken STD03 complimentary power Darlington transistors per channel, as used in the EVOLUTION 50A, which feature built-in thermalcompensation. Compared to the EVOLUTION 50A, he improved the performance of the voltage gain circuitry, which, in combination with the output stage, now achieves extremely high open-loop gain and exceptionally low distortion, without sacrificing stability. The result is an exceptional power amplifier circuit with very low output impedance and high output current capability. This combination provides exceptional speed and control suitable for driving most loudspeakers. To increase the power output of the smaller EVOLUTION 50A, yet still retain the same case size, David Gamble developed a cunning Class G circuit which runs normally at a lower voltage for power levels up to 25 Watts into 8 Ohms. When required to produce more than 25 Watts, the amp automatically swings to a higher secondary voltage, to increase the output power capability to over 100 Watts into 8 Ohms. Statistically, average audio signals are mostly below half the maximum voltage swing available, which incidentally is only one quarter of the power. As the dissipation of lossy 'idle current' in a Class A/B amp (in the form of heat) is much lower for a 25 Watt amp than the potential 100 Watts in the EVOLUTION 100A, this solution dramatically improves the amplifier's thermal efficiency and helps to keep it slim and attractive The Pre-amp circuit provides high levels of flexibility and control, via unbalanced or balanced inputs. It has multiple input options, switched either electronically or by gold contact relays. It also has a State-of-the-Art electronic Volume, Balance and Tone controls. Volume control and op-amp circuit outputs are all buffered with constant current sources, to provide improved load tolerance and stable distortion characteristics.Correct grounding is difficult, if not impossible, in an un-balanced amplifier, so Creek has provided the consumer with a balanced line input for both the pre-amp and power amp input. The matching EVOLUTION 50CD also has a balanced output capability. In addition, the optional RUBY DAC module also benefits from having a dedicated balanced audio connection to the EVOLUTION 100A's pre-amp, via its flat foil cable, to avoid potential ground loops inside the amplifier. It is a modern listening trend for headphones to now be fed from low voltage sources, such as smart-phones and portable music storage devices. This required the development of low impedance headphones, to draw the required current to make them loud enough to satisfy the consumer. This trend has also necessitated a re-think of circuitry used in modern Hi-Fi amplifiers, to drive such low impedance headphones, together with the traditional medium to high impedance versions also. Creek Audio has taken the unusual step of driving the headphone output socket of their EVOLUTION amplifiers from a dedicated low impedance source. Instead of the headphone output being sourced from the power amplifier, the headphone output is derived from a dedicated amplifier, with only a few Ohms in series for protection against short circuits. This dedicated HP amp is now located on the pre-amplifier circuit board. Excellent overall measured and sonic performance has been achieved with this analogue integrated amp, but when used together with the matching EVOLUTION 50CD, the analogue pre-amp can be bypassed completely, to allow the volume to be controlled in the digital domain. Connecting the output directly to the "Power amp AV direct" inputs elevates the performance to an even higher level, by reducing noise and distortion associated with active pre-amplification. Creek Audio no longer makes a separate FM Tuner, but die-hard analogue tuner fans can continue to enjoy this valuable format by using the top-quality AMBIT plug-in tuner module, which augments the EVOLUTION 50A and 100A's capabilities. The AMBIT or RUBY modules are mounted on the back panel 'Smart-Slot', replacing Line Input 5. When the AMBIT is fitted, it automatically turns the amp into a Receiver, configurable for use in any region of the world. The OLED display shows all the tuner's functions and it's controlled by the left hand buttons and control knobs, as well as remote control. Coming soon, the RUBY plug-in DAC module also replaces Line Input 5. It features 2 x 24/192 SPDIF, 2 x TOSLINK digital inputs, 24/96 USB, Bluetooth and FM radio inputs, in addition to the existing 4 analogue line inputs. For vinyl fans, the EVOLUTION 100A can also be configured for Vinyl Disc input, using Line input 1. A SEQUEL 2 (40, 48 or 54) module can be plugged into a dedicated connector on the pre-amp PCB. It doesn't restrict the use of either the AMBIT or RUBY modules. Sequel 2 comes in three versions – 40dB MM, 48dB MC and 54dB MC. To simplify the many options a stylish system remote handset controls all the functions of the EVOLUTION 50 and 100 series. An optional IR extender to enable the products to be hidden away, but still operable via remote control. The EVOLUTION 100A is the most sophisticated and reasonably priced amplifier Creek has ever made. It provides stunning audio performance and is capable of out-performing other makes of amplifiers costing many times the price. Power Output >110 Watts into 8 Ohms Power Output >170 Watts into 4 Ohms Continuous Current >8.5 Amps (sine wave) Max Current +/- 26 Amps, current burst into 0.5 Ohms Output Impedance <0.05 Ohms – 20Hz to 20KHz THD < 0.002% SNR >102dB – Line Input Frequency Response10Hz – 100KHz +/- 2dB Line Gain33.3dB (x46) via power amp input Input Sensitivity 410mV Crosstalk-80dB at 1Khz DC Offest < +/-10mV Pre-amp Inputs 5x RCA unbalanced – 1x Balanced XLR Power-amp Inputs Input 3 & 4via RCA or XLR Optional Tuner AMBIT FM/AM plug-in module Optional DAC RUBY DAC – USB,SPDIF,Toslink, Bluetooth & FM Tuner Outputs 2 Pairs Headphone output Dedicated low impedance amp (<50 Ohms) IR Bus Powered output for IR repeater Operating Voltages 110V/230V Switchable Consumption (at idle) <20 Watts (no standby) Consumption (at full power) 500 Watts Weight 9Kgs Dimensions 430x60x280mm W/H/D
---

---
CREEK
50 CD


Listino ufficiale €. 1.499,00

CD-player. Conversione HD 24/192. DAC con 4 Ingressi digitali 24/96. 1 ingresso USB. Display OLED. Remote.

The EVOLUTION 50CD DAC and CD Player is part of a new generation of Creek products, designed for digital connectivity and uncompromised flexibility. Cosmetically the EVOLUTION 50CD is similar to the EVOLUTION 50A integrated amplifier; its slim case and luxurious front panel is finished in either black or silver brushed aluminium and deeply engraved. Also like the matching amp, the EVOLUTION 50CD uses a custom soft push button arrangement that offers excellent tactile feel. Each button is backlit with a white LED to clearly display usable functions, for optimum user-friendliness.This is the second Creek product to feature an Organic Light Emitting Diode (OLED) display. This white on black display provides higher clarity and resolution than a normal display. Display and button brightness levels can be adjusted or blanked, via the remote handset. Demand for Digital to Analogue Converters (DACs) has increased proportionally to the demise of dedicated CD Players. To fully realise the potential sonic benefits of streaming music files from a computer, asynchronous USB support is vital. The USB circuit is modular to allow for future upgrades, as the technology is constantly evolving. The EVOLUTION 50CD is principally a high-end DAC, with built-in CD transport and is not purely a CD Player. It can handle a total of six digital sources, including CD, and it has two digital outputs, plus a Creek RC bus. In keeping with the matching integrated amplifier, both balanced and un-balanced analogue outputs are offered for maximum flexibility. Balanced outputs allow for long interconnects. Creek's Senior Engineer, David Gamble, was responsible for the overall design and development of the EVOLUTION 50CD, together with Dominik Peklo who consulted on the digital architecture and development of the unique new CD transport and software stack. In keeping with earlier Creek products, the EVOLUTION 50CD uses an over-specified toroidal mains transformer, with separate windings for analogue and digital circuitry and low magnetic field for excellent noise rejection. Multiple low-impedance power supply capacitors and voltage regulators are used to optimise the performance. Organic polymer capacitors are used in key analogue and digital circuitry, plus high grade WIMA polypropylene capacitors are used in the output filters.This is the first Creek digital product to feature two top-of-the-range Wolfson 24 Bit 192 kHz DAC ICs, running in double differential mode, to extract the maximum possible performance. The EVOLUTION 50CD uses custom, low jitter, clocks for top performance at all sample rates. A plethora of inputs and outputs make the EVOLUTION 50CD one of the most well equipped and seriously high-end DAC products on the market, despite its competitive price. The EVO system remote handset controls all the functions of the EVOLUTION 50 range, including the Amp, CD/DAC, Ambit Tuner and Ruby DAC. The EVOLUTION 50 range also has an optional IR extender to enable the products to be hidden away, but still operable via remote control Technical Specification detailed technical information Digital Inputs 2 x SPDIF, 24 Bit 192 kHz, transformer isolated 2 x Toslink, 24 Bit 192 kHz, optically isolated 1 x USB, 24 Bit 96 kHz, galvanically isolated No additional software drivers are needed. CD Transport Custom designed, ICE quality, CD slot-loader, externally clocked for bit perfect performance SNR > 110dBA unbalanced Digital output 1 x SPDIF and 1 x Toslink optical output, pass-on all input signals Digital filters Optional digital filters are selectable via the remote Analogue output 2 x RCA un-balanced, 2.0V RMS. 2 x XLR balanced output, 4.0V RMS Audio buffering Op-amp audio buffering and filtering Output impedance 47 Ohms Power supply 25 Watt toroidal mains transformer with 3 separate secondary voltage windings, with multi-cap power supply decoupling and multiple ultra-low noise discrete power supply voltage regulators. RC Bus Input/output connection for external IR remote and serial link to Evolution 50A. DAC type 2 x Wolfson WM8742, 24 Bit 192 kHz, double differential. Input receiver WM8805, multichannel digital input receiver. Operating Voltages 100 – 120V/ 200 – 240V, Switchable Power Consumption20 Watts (at idle) Weight5.5kg Dimensions W/H/D 430 x 60 x 280mm Finishes Silver or black engraved front panels
---

---
---

---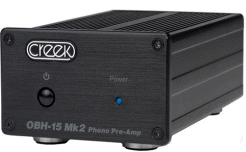 CREEK
OBH 8 MKII Listino ufficiale €. 469,00

Preamplificatore Phono MM/MC 40 - 70dBregolabile.



Leaflet - Instructions - Images With modern amplifiers expected to cater for so many new source devices, the Phono capability, once very common, is one of those built-in features that has disappeared in recent times. The engineering team at Creek Audio has always loved the benefits of vinyl records and continues to work on technical and sonic improvements to its range of Phono amp options, be it the stand-alone OBH or Wyndsor or plug-in Sequel types. Tasked with designing a replacement for the long running OBH-15, the team came up with some valuable improvements and additional features; surprisingly they made them all fit into the original OBH-sized casework.The OBH-15 mk2 has a completely new circuit design, with a discrete transistor MC and integrated circuit MM stage. Unlike its predecessor, the new amp has multiple gain settings and matching capabilities for capacitance and resistance. The signal required by most modern amplifiers is described as being 'LINE' level which is, in technical terms, between 200 and 500 milli-Volts sensitivity with a flat frequency response. Unless your amplifier has a specific 'Phono' or Disc input, the level will be too low to play vinyl and the frequency response will be wrong. OBH Uni Power Supply Adaptor The OBH-Uni is a multi-region, 24V, 0.5A power supply adaptor. Creek originally developed this power adaptor to simplify the requirements for selling OBH products in all countries. However, extensive listening tests and comparisons proved that this high efficiency regulated power adaptor can also extract the best performance from all of Creek's OBH products. This includes the latest OBH-15mk2 Phono Pre-amp, which has high-gain and is therefore more demanding of its power supply's purity. It is supplied with three different snap-on power-plugs suitable for Europe, UK and USA. The snap-on head on the latest version of OBH-Uni uses a 2 pin, figure 8 connector, so it's possible to use a 2 pin figure 8 extension power cord, with alternative mains plugs on the end. It provides a stable output from any input mains voltage range from 100 – 240V. Strict international regulations make it unacceptable to use conventional linear power adapters because, if they are left permanently switched-on, their standby power will definitely exceed the 0.5W limit. The latest OBH-Uni draws less than 0.5W when idle, or plugged-in but not used. It is also silent in operation, from zero to maximum current consumption. THD+noise at 2Vrms output: MM (40dB gain) @ 1kHz = 0.002%MM (40dB gain) @ 10kHz = 0.003%MM (50dB gain) @ 1kHz = 0.007%MM (50dB gain) @ 10kHz = 0.007%MC (60dB gain) @ 1kHz = 0.005% MC (60dB gain) @ 10kHz = 0.005% MC (70dB gain) @ 1kHz = 0.011% MC (70dB gain) @ 10kHz = 0.012% Channel Separation MM (all gains) 1kHz = >70dB MC (all gains) 1kHz = >70dB Frequency Response 0.5Hz – 100kHz (+/-0.5dB) SNR MM (40/50dB gain) = 76/66dB MC (60/70dB gain) = 77/70dB Overload Margin MM (all gains) 21.7dB@50Hz – 21.7dB@1kHz – 21.7dB@20kHz MC (all gains) 20.7dB@50Hz – 20.7dB@1kHz – 20.7dB@20kHz Output level 6.1V rms Maximum Matching MM = 100pF or 200pF plus 47k Ohms MC = 100pF or 1100pF plus 100 Ohms or 510 Ohms Size 95 x 60 x 180mm WxHxD Weight 1.0 kgs inc OBH-Uni power adapter Power consumption 3 Watts Mains voltages 100V to 250V AC 50/60Hz Mains Connection A clip-on plug is supplied for UK, North America and Europe Finish Colours Black or Silver Front Panel
---

---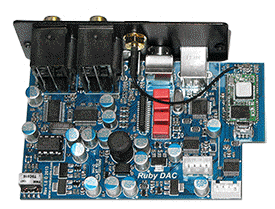 RUBY / Ruby Digital Module / Modulo DAC 24/192 con 4 ingressi SPDIF, USB, ricevitore Bluetooth e radio FM All-In- One. Su Richiesta. € 589,00

SEQUEL 54 / Sequel 54 mk2 / Modulo preamplificatore Phono per testine MC Uscita Medio livello. Su Richiesta. € 259,00
---
---

---
Legenda istruzioni

Clicca per qui per vedere : FOTO PRODOTTO

Clicca per qui per vedere : ISTRUZIONI PRODOTTO

Clicca per qui per vedere : CATALOGO,PROVA RIVISTE SPECIALIZZATE PRODOTTO
---
Nota bene *
Per ordinare o avere gli ultimi prezzi aggiornati telefona al 0174 670100 o invia un E-mail a info@newaudio.it
*I prezzi indicati sono di listino ufficiale delle case produttrici ,nel caso di diffusori si riferisce al prezzo del singolo diffusore per offerte ed eventuali promozioni telefonare o inviare e-mail.
*Il presente listino sostituisce ed annulla ogni precedente. Le caratteristiche e i prezzi indicati possono variare senza preavviso telefonare o inviare un e-mail per ulteriori domande e conferme sui prezzi sopra riportati.
*Tutti i marchi citati nel presente listino sono di proprietà e registrati alle rispettive Case Produttrici
*Prezzi franco nostro magazzino
---