---



Since 1977 Burmester Audiosysteme has been manufacturing high-end audio components of unsurpassed quality. From the very beginning the objective has been to create a perfect blend of highest-quality sound, technological innovation and timeless design. Highly trained technicians assemble all Burmester components by hand in its Berlin factory. Because "Made in Germany" is a label that is taken very seriously by Burmester. Burmester's research and development department constantly strives to not only keep up with the latest advances but to set its own trends and standards. From the first design sketch via a number of prototypes to the final product shipped from the Berlin factory: each component that bears the Burmester name has been developed in its entirety in-house. As an audio pioneer, Burmester has created a number of legendary components that have become icons of the high-end audio universe.
---

---

BURMESTER 101 Listino ufficiale €. 7.990,00


The 101 Integrated Amplifier is the latest integrated amp in Burmester's portfolio. It is a sterling example for the perfect combination of efficient Class D power amplification with an analog power supply. With its available power reserves this compact component provides the warm and well-balanced sound that says unmistakably Burmester. The switchable "Smooth" function guarantees a smooth, yet detailed sound even at low playback levels. The addition of balanced preamp outputs open the door to using the 101 as pure preamplifier by adding separate power amplifiers at a later date.The elegant and simple chromed front panel is augmented by a row of glossy polished buttons for input selection. A striking design element is the solid turn knob for volume control. Sound-wise and stylistically the 101 integrated Amplifier is the ideal partner for the 102c CD player.Handmade Burmester is famous for excellent amplifier technology. That was reason enough for the Burmester development team to accept the challenge of developing its own solution for Class D amplification. This proprietary Class D module is carefully assembled by hand in their Berlin factory and integrated with the other sub-assemblies.Weight 12 kg (26,7 lbs) Width 482 mm (19")Height 93 mm (3,7")Depth (without plugs and circuit points) 350 mm (13,8")Stereo output per channel into 4 Ω 120 WInputs 3 XLR, 2 RCA Input Impedance XLR/RCA 16,4 kΩ / 8,2 kΩInput Sensitivity 1% THD + N, 4 Ω 550 mVFrequency Response -3dB 5 Hz – 60 kHz THD + N 0,015 %Damping Factor 250 Signal-to-noise > 92 dBGain variable Pre-Out balanced Tone controle (can be bypassed) - Headphone jack 6.3 mm Remote controlled yes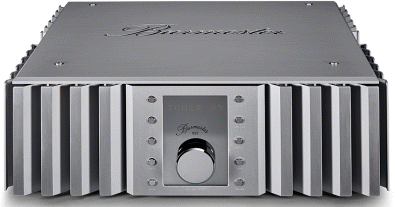 BURMESTER 082 Listino ufficiale €. 13.450,00


The 082 integrated amplifier is a direct descendant of Burmester's larger 032 integrated amplifier. It fits seamlessly into the long line of the internationally acclaimed and award-winning power amplifiers 909, 911, 956 and 036. Despite a slightly smaller power supply in comparison to the 032, the integrated amplifier 082 offers impressive capabilities and almost equals the outstanding sound of the bigger model. The powerful and warm yet detailed sound is the result of a special circuit layout based on balanced, DC-coupled amplification sections. The 082 integrated amplifier combines outstanding sound with easy to understand operation in a convincingly versatile device. The simple operating concept allows easy access to a multitude of different functions.Display and control elements are located on the front panel milled from solid aluminum. Thanks to this expensive use of material sensitive amplification circuitry is hermetically shielded from any digital signal interferences. The system is continuously kept cool by the proven heat sinks with their characteristic cooling fins, which give all power and integrated amplifiers in the Burmester portfolio their distinctive looks.Sophisticated computer technology is used to measure, select and pair critical components before assembling them by hand into hardware modules. These modules are then individually tested and carefully checked against a reference device. This extraordinarily tough testing process stands behind the high reliability of Burmester components.Technical Specificatio ns: Dimensions (WxHxD): 482 mm x 177 mm x 490 mm 19 x 7 x 19.3 inchesWeight: app. 25 kilos / app. 55 lbsRated power output: 2 x 150 W (4Ω) / 2 x 100 W (8Ω) Damping factor: >1000Signal-to-noise ratio: >96 dB Input sensitivity: adjustable (-9 to 0 to +9) Frequency response: 3-100kHz (-3dB, band-limited) Rise time: 23V/μs at 4 Ω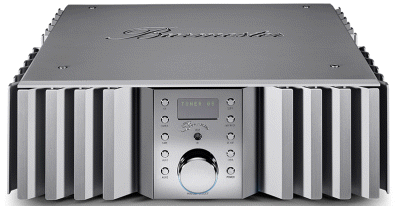 BURMESTER 032 Listino ufficiale €. 17.280,00


The 032 Integrated Amplifier offers a wide variety of connectivity that far exceeds the normal range of integrated amplifiers. A PRE OUT output, for example, allows the connection of a separate power amplifier or the central volume control of different listening zones within a multi-room application. With its mighty 650 VA power supply the 032 Integrated Amplifier effortlessly delivers continuous high current in order to perfectly control even large speakers with low impedance and complex loads. Excellent special resolution and musicality are the hallmarks of the 032.The heat sinks in typical Burmester design keep the 032 cool even under full power. The chromed control element is located on the front in between the attractive heat sinks the front. This mid-section milled from solid brass encompasses the display circuitry and protects it effectively against any unwanted spurious noise radiating on parts of the amplifier processing audio signals. The solid rotary knob switches both channels identically via an incremental encoder.During assembly the transistors are carefully connected to the generously dimensioned heat sinks on both sides via a massive block of copper which takes care of optimal heat distribution and dissipation. The driver stages are installed on a separate internal heat sink. This prevents working point drift of the driver stages due to large thermal fluctuations in the heat sinks of the amplification stages. In the final assembly step the high-chrome control element is gently connected to the complex innards of the integrated amp.SPECIAL FEATURES
Balanced design throughout as in all Burmester components Input stages in proprietary X-Amp technology (Class A) Low overall negative feedback Completely DC-coupled without distorting capacitors in the signal path Oversized power supply delivers high current Effortless control of any speaker due to the high damping factor over the entire range, even at high frequencies Stable at any load over the entire frequency range Massive binding posts for speaker cables (use only spade lugs!) Remote on/off switching in connection with Burmester pre-amps and D/A converters with variable output (remote control current: 10V DC) Integrated protection circuit outside of the signal path monitors the 032 during operation for overheating, DC offset and overloading 5 inputs, three of which are balancedHead phones jack at the rear panel Tone controls (can be switched off) Home theater pass-through Adjustable pre-sets: Input sensitivity, output level, wake-up volume, Includes hand-held metal remote control Pre-amplifier output TECHNICAL SPECIFICATIONSDimensions (WxHxD): 482 mm x 216 mm x 482 mm Weight: app. 36 kg Rated power output: Stereo: 2 x 171 W (4Ω)Continuous peak current: 30 ADampingfactor: >1800Signal-to-noise ratio: >81 dBInput sensitivity: adjustable Frequency response: 0-200kHz (-3dB)4 selected power transistors per channel Rise time (stereo/mono): 1,4 μs an 4/8 Ω load 1,9 μs an 1 Ω load Oversized power supply with 90.000 μF filter capacity and 600 VA toroidal transformer.
---

All of the CD players made by Burmester enthrall the listener on account of their musical warmth, which goes hand in hand with an incredible wealth of detail. Countless benchmark tests conducted by leading trade magazines have vouched for the fact that our CD players generate a kind of sound that is normally produced only by analog LPs. This is the result of innovative circuitry, selected DA converters and upsampling technology with sampling rates of 96 or 192 kHz. We set the international standard with the invention of belt-driven CD drives. As in the case of analog record players, the belt-driven CD player has the advantage that it separates the sound carrier from the drive motor. It ensures that the CD rotates in an absolutely constant manner, with no unevenness or disruptive vibrations. The CD is read with far greater precision, since there is no electrical jitter (frequency variations in the transmission of digital signals). The handmade drives of our Reference Line and Top Line CD players employ this type of drive technology.
---

BURMESTER 61 Listino ufficiale €. 11.590,00


The 061 CD player has been designed as a top loader with direct drive. The drive unit is based on the CD 2 Pro technology, which is considered state-of-the-art with respect to sound and longevity. In combination with top-quality analog output stages this player guarantees a detailed and musical sound reproduction. The D/A converter of the 061 can be accessed via digital inputs to improve the sound of external digital sources. With its MMI slot the 061 is ready for future upgrades, for example adding optional digital inputs.Like its bigger brothers from the Reference and Top Lines the 061 CD player is a top loader. The housing has been manufactured from solid rolled aluminum and the guiding rails for the sliding cover offer creamy-smooth operation of the heavy cover. Thus, even feeding the CD into the top chamber is a high-end experience.Like all Burmester components, the 061 CD player is assembled in a sophisticated manufacturing process in the Berlin factory. The end of this process is always marked by multilayered measuring and listening tests before a unit is given the go-ahead for shipping. Each unit has to pass a set of almost 300 computer-aided measurements before and after a 7-day burn-in phase. The unit advance to the final quality control only if there are no variations between the two sets. It consists of a listening test and a run through all functions.TECHNICAL SPECIFICATIONS Digital inputs 2 x RCA 1 x LWL (TOSLINK) Digital outputs 1 x RCA 1 x LWL (TOSLINK) Analog outputs 1 x XLR (bal.), stereo 2 x RCA (unbal.), stereo Then new standard remote is included in the delivery along with the Burmester Power 1.5 power cable. Weight: 11 kg Dimensions: 482 mm x 112 mm x 340 mm (W x H x D) 19'' x 4.4'' x 13.4'' (W x H x D)

BURMESTER 102 Listino ufficiale €. 6.590,00


The 102 CD player from Burmester's Classic Line combines a purist and elegant appearance with the traditional high standards in manufacturing quality and musicality. Its ideal playing partner within the Burmester portfolio is the 101 integrated Class-D amplifier, especially when combined with a pair of Burmester loudspeakers. The 102 is a direct-drive CD player with a front-loading CD drawer. Thus, it can easily be integrated into an audio system where space is tight. The sophisticated analog output stages receive their signals from a latest-generation conversion unit. It offers different upsampling rates, which may be selected according to personal preferences.Emphasizing the essential is the hallmark of the 102 CD player's design. User-friendliness was the guiding light in developing the control layout. Consequently, chrome buttons on the front panel can quickly and easily activate all important functions.The 102 CD player represents no compromises with respect to sound and manufacturing quality. Like all Burmester devices it is hand-assembled in the Berlin factory and has to pass the same stringent quality controls as the Reference Line components CONNECTIONS: DIGITAL – Inputs 1 x RCA1 x LWL (TOSLINK)DIGITAL – Outputs 1 x RCA1 x LWL (TOSLINK)ANALOG – Outputs 1 x XLR (balanced), stereo 2 x RCA (unbalanced), stereo TECHNICAL SPECIFICATIONS: Dimensions (B x H x T): 482 x 95 x 320mm 19 '' x 3.7'' x 12.6'' Weight: 7.5kg 16.5 lb

BURMESTER 089 Listino ufficiale €. 22.990,00


The main focus of the 089 belt-drive CD player is the perfect blend of sound, innovation and design. In near ideal fashion the top-loading player unites latest developments with proven technology and a timeless, stylish appearance. For many years now the belt-drive system, developed by Burmester, in combination with sample rate conversion and cutting-edge D/A conversion has set the standards worldwide in CD playback. Inspired by analog turntables the belt-drive system for CD players completely decouples the laser pickup from any vibration of the drive motor. The audible result of the high-precision data readout is an astonishing degree of musicality and spaciousness.The Burmester-typical chrome front panel characterizes the visual appearance of the 089 CD player. Feeding a CD into the top loader with its smoothly sliding cover is by itself a high-end experience. The vibration-absorbing feet with carbon fiber damping for optimal mechanical decoupling are another link to the Reference Line. The belt-drive unit is encapsulated in a massive low-resonance chamber. All this contributes to the open, airy and detailed musicality Burmester components are renowned for.Like all Burmester components the 089 CD player is hand-assembled by highly trained technicians in the Berlin factory. Almost all subassemblies are purchased from German suppliers because Burmester takes the quality label "Made in Germany" very seriously. Each unit has to pass a multifaceted testing and adjustment procedure before shipping to ensure that it is in perfect condition.Connectio ns: DIGITAL-Inputs: 1 x optical (TOSLINK) 1 x RCADIGITAL-Outputs: 1 x optical (TOSLINK) 1 x RCAANALOG-Inputs: 1 x XLRANALOG-Outputs: 1 x XLR (balanced), Stereo1 x RCA (unbalanced), Stereo1 x RCA (TAPE) (unbalanced), Stereo with preset volume Remote IN/OUT for remote controlling of other Burmester-devices BurLink for external controlling via RS-323 and USB Dimensions: Weight: 13 kg 28.66 lbs Width / Height / Depth: 483 mm x 114 mm x 335 mm 19" x 4.49" x 13.19"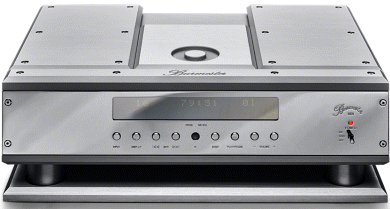 BURMESTER 069


The Reference Line CD player 069 sets the ultimate technical standard for CD playback. Cutting edge technology combined with a proprietary belt-drive system form the technical basis for providing a musical experience of the highest order. Dieter Burmester invented the belt drive for CD players in 1990 and only a year later introduced the first CD player with a belt-driven CD platter to the world market. Like an analog turntable, the belt drive in a CD player provides complete decoupling of the pick-up system, in this case the laser, from any mechanical interference by the motor drive. As a result the data on the CD is read with ultimate precision, translating into the decoding of the smallest musical detail as well as complex acoustic structures. Add to this the latest generation of DA conversion and you know that you will miss nothing on a recording: Spatial resolution, musical timbre, airy highs and deep, controlled bass.The design of the Reference CD player is an expression of Burmester's philosophy: understated elegance combined with cutting-edge technology and highest-quality manufacturing in a rock-solid housing. The massive construction of the Reference Line enclosures completely isolates sensitive electronics from mechanical or acoustical interference. In short, the 069 CD player is visually and sonically a world-class performer offering unlimited musical enjoyment. The only player topping this performance is the 069 with a dedicated external power supply. It sports extremely powerful toroidal-core transformers, which rigorously separate the currents supplied to the digital and analog sections.Like all Burmester components, the belt-drive system is carefully assembled in the Berlin factory. Highly trained technicians connect the platter assembly via belt to the Swiss-made precision motor. The whole unit consists of 708 carefully selected parts, which are assembled into a work of art that has to pass muster in a multifaceted testing and adjustment procedure before shipping.
---

The Burmester success story started with a preamplifier, and in fact the legendary 777 was the first device developed by Dieter Burmester. It was followed by many other successful models. One of these is the 808, which has reached its fifth generation and continues to serve as a yardstick for preamplifiers all over the world. The 30th anniversary of the company was marked by the appearance of a further Burmester high-end device. The 077 continues to uphold the Burmester tradition of producing internationally acclaimed and prizewinning preamplifiers. A common factor of all Burmester preamplifiers is their modular design, which aims to provide long-lasting listening pleasure of the very best kind. Most of them operate in Class A, and, like other Burmester devices, they are all based on DC coupling.
---

BURMESTER 035 Listino ufficiale €. 9.990,00

OPTIONAL (Modulo Phono MM/MC) 990,00 Euro

The 035 preamplifier combines warm and natural sound with simple and user-friendly operation. Its audiophile qualities owe much to its larger siblings in Burmester's Reference and Top Line. The signal paths to the high-quality XLR outputs are balanced and short, which contributes to an excellent sonic signature with great attention to musical and dynamic detail.The housing is made from brushed aluminum and the front panel has been flawlessly chrome-plated, which is a signature Burmester design element to underscore timelessness and longevity of the components. The operating controls are all chrome-plated and impress with smooth performance. The clean and uncluttered lines of the preamp tie in with its easy and intuitive operation. Its sound quality is every bit as pleasing as its looks.The 035 preamplifier offers uncompromising manufacturing and sound quality. Like all Burmester components it is assembled by hand in the Berlin factory. It is subjected to the same rigorous selection and quality control process as the Reference Line components.TECHNICAL SPECIFICATIONS 3 balanced XLR inputs2 unbalanced inputs1 balanced home theater thruput1 balanced XLR output1 unbalanced output1 unbalanced tape outputHeadphones jack (on the back panel)2 x 10V DC output for remote on/off of further Burmester components Burmester link for external control via RS-232 and USB Dimensions (WxHxD) 483mm x 95mm x 340mm (without plugs)Weight approx. 6.7 kg

BURMESTER 099 Listino ufficiale €. 9.990,00


The development of the new Classic Line preamp 099 was driven by the ever-increasing use of digital music sources. It offers users six inputs for the connection of digital signal sources such as satellite receivers, set top boxes, game consoles or computers. With Burmester's award-winning D/A conversion technology all these signal sources are augmented and perfectly integrated into a high-end system. Of course, the 099 also accepts analog signal sources via its three balanced inputs. The sampling rate for digital conversion can be switched between 96kHz/24bit and 192kHz/24bit, depending on personal preferences.While its appearance emphasizes the plain and the essential and even forgoes a display, the performance of the 099 preamplifier is anything but. It combines the top of the digital and analog realm with its versatility and the ability to bring out the best sound from connected signal sources.The exemplary manufacturing quality that is typical for the Burmester brand is undeniable in the 099 preamplifier. It is carefully assembled by hand in the Berlin factory and its design and electronic performance fully meets the expectations associated with Burmester comp.Technical Data : Analogue Inputs: 3 x balancedDigital Inputs: 2 x RCA, 3 x TORX, 1 x USBAnalogue Outputs: 1 x RCA, 1 x XLR, 1 headphone Digital Outputs: 1 x RCA (via SRC 96 kHz/192 kHz)1 x TOTX (Direct Out up to 96 kHz)Dimensions: 482 x 95 x 345 mm (19" x 3.7" x 13.6)Width x Height x Depth Weight: 8.5 kg (18.7 lbs)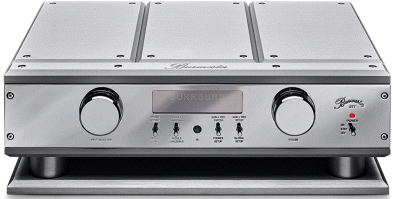 BURMESTER 077 Listino ufficiale €. 32.450,00

Versione alimentazione estera 45.750,00 euro

The corner stone of the worldwide success of Burmester Audiosysteme was set in 1977 with the launch of the legendary 777 preamplifier. To celebrate its 30th anniversary in 2007 the company introduced another extraordinary preamplifier, the 077. Its self-adjusting phono stage can automatically compensate for any channel imbalances of pickup systems. The result is a more precise and extended soundstage. Additional attractions of this anniversary model are its X-Amp2 amplification stages and its control via the innovative BurLink technology. Its exquisite sound and versatile functionality are an homage to the world-renowned high-end icon 808. Operating the 077 is intuitive and does not distract from a relaxed listening experience. Its visual appearance bespeaks the typical Burmester design language.The Reference Line housing of the 077 preamplifier impresses immediately with the outstanding manufacturing quality of its solid aluminum enclosure. The 077 rests on a special base with carbon fiber damping. This insulates it mechanically from any distorting interference on its outstanding signal processing capabilities. As the ultimate upgrade Burmester offers an external power supply for the 077.n the Berlin factory the cutting-edge electronics of the 077 preamplifier are carefully married to the high-quality aluminum housing. The hand-assembled printed boards, the powerful X-Amp2 amplification stages, the XLR terminals and other hand-selected electronic components are expertly crafted into an audiophile work of art. The process of careful selection and assembly and thorough quality control also apply, of course, to the available optional output modules. Connections: ANALOGUE-Inputs: 6 x sym (INPUT 6 can be used as Surround) 1 x asym (Module – Standard: Line)ANALOGUE-Outputs: 1 x sym (MAIN) 1 x sym (RECORD) REMOTE IN/OUT for remote switching of other BURMESTER componentsBURLINK for remote control via RS-232 and USBSpecificatio ns Preamp incl . base plateDimensions Width/Height/Depth (in mm) Weight 450x160x345 (without plugs) app. 28 kg17.7x6.3x13.6 inches app. 61.7 lbsPower Supply incl . base plate Dimensions Width/Height/Depth (in mm) Weight 450x160x345 (without plugs) app. 28 kg 17.7x6.3x13.6 inches app. 61.7 lbs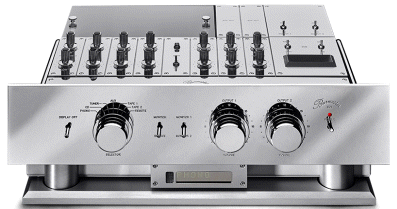 BURMESTER 088 Listino ufficiale €. 41.250,00


Since its introduction in August of 1980 the 808 preamplifier has garnered international acclaim. Now in its fifth generation, it has successfully defended its position as reference component in highly regarded audio magazines all over the world. This extraordinary preamplifier has now been in production for over 30 years and it has still no equal with respect to sound quality and the scope of its features. The modular design of the 808 MK5 was revolutionary at its introduction and it has lost none of its appeal more than 25 years later. On the basis of its original design later generations have incorporated the latest in technological innovation. This has not only kept this audiophile instrument on the cutting edge of development but it has helped to define new trends in musical reproduction.When fully equipped the top of the preamp shows an impressive array of up to 20 special potentiometers and a number of toggle switches on top of chromed, engraved cover plates. This immediately points to the almost unlimited usability of the 808 as the control center of an audio system, whether at home or in a professional setting. Three large rotary dials for input selection and volume settings dominate the high-gloss chrome front. These stepped attenuators dial into every setting with a positive and pleasing click. With its latest-generation external power supply the 808 MK5 cements its status as an international icon in high-end audio.Burmester originally developed the 808 not only to play music but as a top-notch instrument to directly compare the sound of different pickup systems. Thus, from the beginning new thinking, innovative engineering and hand-selected highest quality components went into this preamplifier. That has never changed. Each 808 MK5 is carefully assembled in the Berlin factory. Each single input and output module is built with the same precision and has to pass muster in a final multi-tiered quality control.4 balanced XLR inputs, of which Tape 2 is a balanced tape loop, all with XLR 3-pin terminals 6 unbalanced AUX inputs (Aux module necessary)1 unbalanced TAPE 2 input (cinch/RCA)2 balanced XLR outputs (3-pin plug)2 unbalanced outputs (cinch/RCA)1 balanced Tape1 output (3-pin plug)1 unbalanced Tape2 output (cinch/RCA) 4 10V outputs for remote on/off of other Burmester components Minimum order with an 808 basic unit is 1 input and 1 output module of your choice (modules not included in the price of the basic component). Surcharge for gold-plated or custom versions. Width/Height/Depth (mm) Weight 808 MK 5: 483x170x385 (without plugs) 23 kg Power supply: 483x95x385 (without plugs) 9 kg OPTIONAL MODULI AGGIUNTIVI INPUT Prezzo: 1.450 Euro
OPTIONAL MODULO PHONO (MM/MC) Prezzo: 3.000 Euro
OPTIONAL MODULI AGGIUNTIVI OUTPUT Prezzo: 3.450 Euro
OPTIONAL (Alimentatore ESTERNO REFERENCE CASE) Prezzo: 6.950 Euro
---

---

BURMESTER 100



Listino ufficiale €. 18.990,00

Versione (2 input, 1 A/D) 18.990 Euro
Versione (1 input MM/MC) 13.990 Euro

With his latest phono preamplifier 100 Dieter Burmester picks up where he left off with his highly regarded and successful phono stage 838 from the Eighties. The 100 is pure catnip for analog fans. By harking back to a component that had been state-of-the-art for so long and bringing it with all available innovations into the 21. Century, Burmester not only gave LP lovers a new playback reference but also the technology to digitize their LP collection on the highest musical level. With a lot of top-notch engineering and design plus highest-quality parts the phono preamp 100 combines innovative technology and world-class analog playback in a practical tool for the digital music era.The classic chrome front panel immediately shows the versatility of this phono preamp. The array of toggle switches actuates a multitude of functions for playback, control and adjustment. The prominent VU meter is not a nostalgic design gesture but a necessary instrument to show the amplitude of the left and right channel as well as their mono sum. At the same time it displays any imbalances between left and right channel at a quick glance.Whether in a basic configuration or fully equipped, each 100 phono preamplifier is assembled by hand in the Berlin factory by highly qualified technicians. A final multi-stepped quality and listening test checks not only each switch and every functionality but also makes sure that the sound is up to reference standard.
---

Amplifier technology has always been one of the core competences of Burmester Audiosysteme. Like all our high-end amplifiers, power amplifiers are constructed in a symmetrical way and are entirely DC-coupled. A typical feature of Burmester power amplifiers is their extremely high damping factor. In combination with a wide class-A range this allows every connected loudspeaker to perform at its very best. In the power amplifier segment, the Burmester produces a balanced variety that ranges from its monumental flagship to its "tiniest" unit. On account of their gigantic volume, Burmester power amplifiers are absolutely top of the line in the field of amplifier construction.
---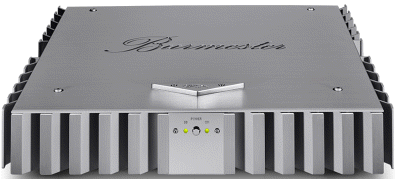 BURMESTER 036 Listino ufficiale €. 9.990,00

The smaller stereo power amplifier 036 offers many of the same sonic features of Burmester's bigger and more imposing power amps, only in an elegantly compact size. Its high damping factor and high-performance power supply are expressions of Burmester's design philosophy. Fast signal processing and the ability to deliver high currents were foremost design criteria for this amp. They are responsible for its remarkably detailed and homogeneous sound. Agility in the upper registers and a deep bass with loads of power reserves characterize this newest member of the Burmester power amp family.Though it is Burmester's smallest amp, the 036 still sports the classic silver-anodized aluminum cooling fins. While its overall visual appearance may be more modest its sound and power reserves leave no doubt that the 036 is a genuine Burmester amp that can deliver spectacular sound.As the smallest member of the Burmester power amp family, the 036 is also assembled by hand in the Berlin factory with the same attention to detail and the use of carefully selected parts as its larger siblings. The solid aluminum lid hides the fact that this amp, too, is build with highest-quality parts and its clean and tidy circuit layout bespeak the care and thoroughness of the design and manufacturing proces.TECHNICAL SPECIFICATIONS Dimensions (WxHxD): 482 mm x 95 mm x 482 mmWeight: app. 25 kg (55lbs.)Rated power output: Stereo: 2x171 W at 4ΩMono: 1x300 W at 4ΩContinuous peak current: 30 A Damping factor: >1800Signal-to-noise ratio: >81 dB Input impedance 1.5 kΩ (bal.), 15 kΩ (unbal.)Input sensitivity: 730 mV for full gain320 mV for 100W at 4 Ω load Frequency response: 0-200kHz (-3dB) Rise time (stereo/mono): 1,4 μs at 4/8 Ω load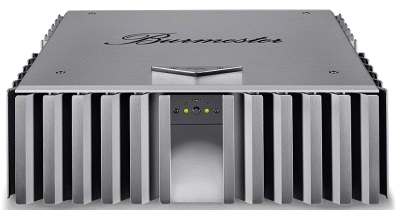 BURMESTER 956 Listino ufficiale €. 12.990,00


The stereo power amplifier 956 MK2 extends Burmester's power amp portfolio consisting of the legendary 911 and 909, which have garnered international renown. The 956 MK2 offers an unusually high damping factor with an extremely short rise time to deliver large currents. Thus it combines loads of power with great dynamics and excellent musical timing. Its sound is marked by impressive spatial resolution and warmth. Internal wiring to supply power to the output stages and transfer signals to the speaker binding posts consists of 10 mm high-purity copper wire. This ensures that the high currents of the power amp are transferred without loss to the speakers. This amp coaxes airy sound images and bone-rattling dynamics even from loudspeakers with lowest impedances and complex loads.Of course, like all Burmester products for high-end home audio the 956 MK2 power amplifier is also hand-assembled in the Berlin factory and is subject to the same strict quality control procedures. Up to 300 computer-aided measurements are taken before and after a one-week burn-in period. The protocols of these tests are saved and may later be used, if necessary, to return a damaged unit to its original state. They also serve as reference for future upgrades to incorporate technological advances.The 956 MK2 sports heat sinks in the unmistakable Burmester design that has by now become a classic. Visually as well as technically this power amp incorporates the same design and construction principles that mark its bigger siblings. Just like the 909 and 911, its DC-coupled signal paths are free from distorting capacitors. This guarantees detailed and convincing musicality at any volume and even at difficult orchestral passages. The layout of the circuitry is balanced throughout and together with the Class-A amplification stages provides precise and honest reproduction of any kind of musicTECHNICAL DATA Dimensions (WxHxD): 482 mm x 191 mm x 482 mm Weight: app. 30 kg (66lbs.) Rated power output: Stereo: 2x240 W at 4Ω Mono: 1x500 W at 4ΩContinuous peak current: 34 A Damping factor: >2000 Signal-to-noise ratio: >81 dB Input sensitivity: 730 mV for full volume 320 mV for 100W at 4 Ω load Frequency response: 0-200kHz (-3dB) 4 selected power transistors per channel Rise time (stereo/mono): 1,4 μs at 4/8 Ω load 1,9 μs at 1 Ω load Oversized power supply with 188.000 μF filter capacity and 600 VA toroidal transformer. Additional local filtering close to the output stages of 12.000 μF per channel.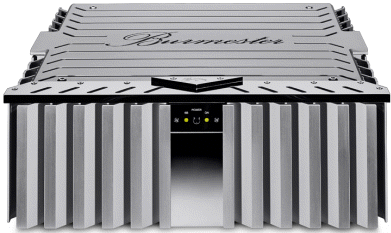 BURMESTER 911 MK3 Listino ufficiale €. 24.990,00


The 911 MK3 power amplifier is a close derivative of the reference power amp 909 and is regarded as one of the quickest and most powerful amps in the audio world. Its strong performance is the result of the knowledge and experience gained during the design and manufacture of the much-acclaimed 909 power amp. The MK3 moniker indicates that Burmester's second largest power amp has reached its third generation of refinement. With the distinctive appearance of the silver anodized fins of its heat sinks the 911 MK3 exudes power and elegance. It tightly controls any bass driver and proves that there is a lot of musicality in the bass line. Excellent spatial resolution, detail and musical warmth characterize the sonic signature of the 911 MK3.The design of the 911 MK3 power amplifier represents the perfect blend of form and function. The silver anodized housing elements and aluminum cooling fins in typical Burmester design are recognized for their stylishness and timeless beauty. The fins work as perfect heat sinks and make certain that the power amp is able to pump out maximum performance on command without strain. The chrome plated triangle with the curved manufacturer's signature on top of the chrome plated front trim leave no doubt that this is a genuine member of the Burmester power amp family. The lid with the large milled Burmester signature has proven so popular that it is now offered as an option for Like all Burmester components the 911 MK3 power amplifier is hand-assembled in the Berlin factory. All parts and components that are used for Burmester power amps are measured and selected to very tight tolerances. This is considered necessary to ensure the best-quality build, reliable operation and value-retention over many years. The aluminum fins of the heat sinks, which give Burmester power amps their distinctive appearance, are manufactured by a Berlin supplier on especially developed tools. Most of the other components are also bought from local top-tier suppliers. This is the basis for Burmester to ensure uncompromising manufacturing quality and long-lasting reliability for which the brand is well known.Technical data :· Dimensions (WxHxD): 482mm x 216mm x 482mm· Weight: appr. 31kg· Rated output power at 4W: S tereo: 2 x 350W / Mono: 1 x 770W· Damping factor: 2750· Signal-to-noise ratio: >103dB· Input sensitivity: 770mV for full volume· Frequency response (-3dB): <10Hz - 220kHz· 8 selected power transistors per channel· Power supply with 130.000mF filter capacity and 750VA toroidal transformer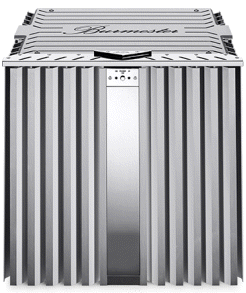 BURMESTER 909 MK5 Listino ufficiale €. 52.000,00


The 909 MK5 is the largest power amplifier in Burmester's portfolio and one of the most powerful audio amps in the world. Its impressive size and the ability to not only play loud but also to convey the most intricate musical details have made the 909 a reference component all over the world. Audio journals have celebrated it for years as "the ultimate power amp". This power amplifier represents the best in engineering ingenuity and available electronic components. With an extremely high damping factor and the ability to deliver huge currents the 909 effortlessly controls any speaker. Even speakers with very low impedance are no match for the unflappable power supply of the 909. Pulse transmission is practically load-independent. The warm and at the same time detailed sound signature of the 909 impresses even the most demanding audiophiles. Its ability to communicate even the smallest musical detail at any volume level with any speaker is unequalled on the world market today. Many awards bestowed on the 909 by international audio magazines have impressively confirmed this unique position.DesignThe imposing appearance of the 909 MK5 power amplifier gives form to the underlying total commitment to the highest level of audio reproduction. The massive heat sinks with their silver anodized fins are an easily recognizable feature of Burmester power amps. The same is true for their ability to project the finest sound at any volume level without strain or distortion. Form and function of the 909 meld to a commanding entity, which serves as reference point for all other power amps in Burmester's portfolio, not to mention the rest of the industry.HandmadeTo complete a 909 power amplifier requires a whole range of assembly and quality control stages in the Berlin factory. From hand-assembled circuit boards, where each soldered connection is carefully checked, and top-quality transformers to computer-aided measuring stations it takes about 100 hours to produce a 909. This is not counting the seven-day burn-in period and the final quality control and listening tests under real-world conditions. All this is necessary to ensure that the customer receives an audio component that is outstanding in every respect.TECHNICAL DATA
Dimensions (WxHxD) 485 mm x 515 mm x 485 mm (19 inch x 20.3 inch x 19 inch) Weight app. 80kg (170 lbs.)Power output Stereo: 2 x 600 W (4 Ω), 2 x 1.250 W (1 Ω)(at appropriate AC input) Mono: >1x 1.930 W (4 Ω), >1x 3.200 W (1 Ω)Continous peak current 65 ADamping factor >1000Noise suppression >81 dBInput sensitivity 730 mV for full gain 320 mV for 100 W into 4 Ω load Frequency response 0-200 kHz (-3dB) 20 selected power transistors per channelRise time (stereo/mono) 1,4 μs into 4/8 Ω load 1,9 μs into 1 Ω load Over-dimensioned power supply with 160.000 μF filtering and a 3,5 kW torodial transformer
---

---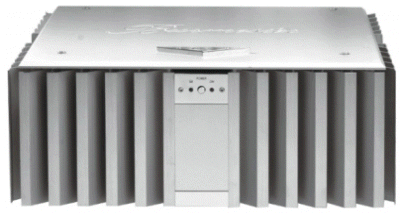 BURMESTER 039 Listino ufficiale €. 21.630,00

Power output: 150 watts per channel into 4Ω (stereo), 124W (5 channel), 400W into 4Ω (mono) Frequency response: 10Hz to 220kHz Total harmonic distortion: 0.005% Damping factor: 1600 Gain: 31 dB Input sensitivity: 1.1V Signal to noise ratio: 103dB Speaker load impedance: 4Ω (minimum) Dimensions: 482 x 216 x 482mm Weight: 37kg
---

The Burmester network products are exemplary for the perfect synergy of convenience and sound quality. Beside the uncompromising sound, the intuitive operation of the complex devices via the Burmester iPad® app is of paramount importance. The Burmester network products represent the modern age of highend music reproduction. All Burmester network products are equipped with a user interface for the streaming provider TIDAL® and the streaming and download service Qobuz®. In addition to that, all Burmester music servers offer direct access to the HIGHRESAUDIO® webshop via Burmester App.
---

BURMESTER 150 Listino ufficiale €. 12.990,00


The new Burmester 150 Network Player is the perfect addition to a Burmester MusicCenter or a music server from a different brand. Besides streaming music from a UPnP Player the elegant-looking 150 can also play music from a USB stick, offers access to a wide variety of internet radio stations or play music from a commercial streaming service. Burmester's network products achieve the perfect combination of convenience and high-quality sound. They represent the best the new era of digital music has to offer. However, they shine not only with their outstanding musicality but also with their ease of use thanks to the Burmester iPad® App. This app, which has been developed by Burmester offers intuitive, relaxed operation of all functions of these complex network products. The seamless integration of the music streaming service TIDAL into the Burmester app opens easy access to more than 25 million music titles.The design of these new digital products leans heavily on the well-known elements of Burmester components such as clear lines and the characteristic chrome front panel. Only three LEDs are visible on the front panel besides the Burmester name and the type designation. They indicate the operating mode. However, the simple exterior hides a most complex cutting-edge product with a multitude of functions. With respect to visual appearance as well as top-notch sound quality the 150 Network Player fits perfectly into the Burmester product portfolio.The mirrored chrome front panels of Burmester components are legendary. They are carefully manufactured by a German supplier and then checked at Burmester under a special lamp to ensure that they are flawless. The same exacting quality standards are applied to every stage of the manufacturing process in the Berlin factory .• DLNA/UPnP-player • SSD drive for system storage • Burmester reference converter technology with balanced conversion • Sampling rate for D/A conversion can be selected from either 96 kHz/24 bit or 192 kHz/24 bit • Play-functions: Internet services/ - radio* Music-Player USB-stick • Audioformats: FLAC/wav/mp3/AIFF/OGG/AAC/ALAC (m4a); Stereo 16 and 24 Bit, up to 192 KHz • Analogue compensation of level jumps between individual tracks (in combination with a Burmester server) • Gapless-Play • Web-Browser Interface on HTML5 • Integration of a Tidal® account* • Integration of a Qobuz® account* • Can be integrated in a network via LAN or WLAN • Support for continuously maintained list of internet radio stations* • Full featured control app for the iPad® (iPad® not included in delivery) • Secure and easy update of system software • Excellent network performance • Apple AirPlay* - hardware-option, upgradable by Burmester (appr. from 08/2015) TECHNICAL SPECIFICATIONS Weight Dimensions (W x H x D) ca. 8,5 kg (18 lbs) 482 x 95 x 345 mm (19" x 3.75" x 13.5")

BURMESTER 151 Listino ufficiale €. 18.990,00


Like the reference server 111, the smaller 151 Musiccenter from Burmester's Top Line impresses listeners with outstanding musical quality and lightening-fast processing of huge amounts of data. With a maximum of user-friendliness this high-end multi talent administers your music library, connects you to Internet radio or plays music directly from a USB stick. The internal CD drive of the 151 MusicCenter lets you rip CDs and serves up any track you like to listen to within seconds and without rummaging through stacks of jewel boxes. However you like your perfect sound: using its fixed output the 151 can be hooked up to a preamp in an existing music system or you can use its variable output to directly drive power amplifiers or active loudspeakers. Operation is easy and intuitive using an app that was developed by Burmester.Inside the solid housing with classical Burmester chrome front panel operates a specially programmed Linux computer within a complex but tidy array of electronic parts. In direct comparison with the Reference MusicCenter 111 it is apparent that the 151 is not only considerably smaller but that it sports a small display on its chrome front, which is well known from other Burmester products. Since all functions can be conveniently controlled by the iPad app it was decided to forgo a larger display in order to achieve a compact visual appearance.Moving into the era of digital music reproduction Burmester still relies heavily on the care and quality of hand assembly in the production of the new music servers 111 and 151. Because Burmester believes that only with the combination of cutting-edge technology, carefully selected top-quality parts and the traditional values of craftsmanship can the goal of absolute sound be achieved.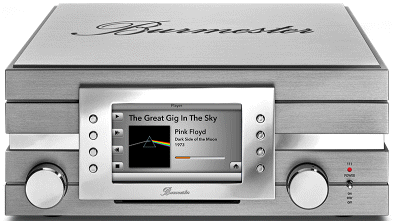 BURMESTER 111 Listino ufficiale €. 36.990,00


With its 111 Musiccenter Burmester clearly sets a new world standard for the era of digital music reproduction. This audiophile masterpiece offers music server, CD player and CD ripper as well as a DAC and an analog preamplifier in one groundbreaking unit. In an unique way it combines reference-quality music reproduction with a never before seen variety of functions. At the same time, operating it is intuitive and user-friendly, thus subtracting nothing from a relaxed musical enjoyment. Behind the absolute musical fidelity and outstanding sound of the new Reference Line Musiccenter stand cutting-edge technical capabilities. The digital engine of the 111 is able to handle massive amounts of data in the blink of an eye. It takes only fractions of a second for any selected track to start playing. As a multi-talent the Musiccenter can do much more than operating as a music server. Its full-function analog preamp section can serve as the central control unit of any music system. With three analog and six digital inputs it offers music lovers great connectivity for a multitude of external sound sources.The design and visual appearance of this new highlight in the Burmester portfolio combines avant-garde touches with well-known and proven aspects of Burmester products, particularly their clean and uncluttered lines. Inside, the two-chamber construction metallically separates the preamp from the server section to rigorously insulate the analog section with its sensitive DAC from potential interference from the server section. Even though its imposing appearance marks a new trend for the visual design of Burmester products it still shows popular classical elements like chrome and high-quality brushed aluminum.The eye-catching rotary knobs on the front panel have been developed especially for the 111 Musiccenter. They are mounted last at the end of a long and complex manufacturing process. Burmester's highly trained technicians carefully measure, assemble and polish more than 60 pounds of aluminum, transformers, circuit boards and other electronic parts to form this remarkable work of audiophile art.
---

---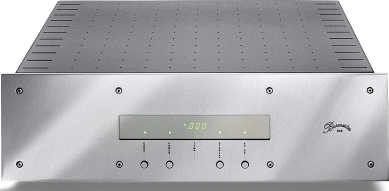 BURMESTER 948 Listino ufficiale €. 7.990,00


The quality of the power supply has become one of the most important components of a high-end music system. Because of the switchable power supplies of computers, TV sets, microwave ovens or light dimmers high-frequency noise and DC components are super- imposed on the mains supply. At times the standing DC component is big enough to cause hum in normally quiet transformers. Also, the sound coming from a music system may change depending on the time of day or day of the week, suddenly becoming colorless and weaker. For the dynamic suppression of superimposed DC components Burmester has developed a patented switching circuitry. Additionally, the 948 contains top-quality filters against high-frequency noise.The appearance of the Power Conditioner with its chrome front panel follows the classical design of Burmester components. However, its larger dimensions point to the special place that the 948 occupies within the Burmester lineup. The display, which may be switched off, shows alternately current voltage or DC component. Four green LEDs signal the operating status.The complex monitoring and protection circuitry is brought to life by hand assembly in the Berlin factory. It protects valuable high-end audio systems from turbulences on the power grid. The back panel offers eight high-class AC outlets in a multipoint star configuration, making the 948 conditioner the ideal power hub for any valuable high-end system.
---

---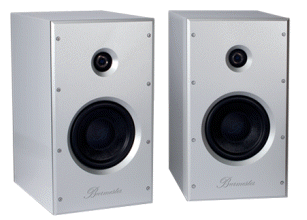 BURMESTER B10 Listino ufficiale €. 4.990,00

(Makassar,Walnut light,dark,Black,White)
The original purpose of the B10 loudspeaker was to serve as a near-field monitor in Dieter Burmester's private recording studio. Its outstanding performance, however, moved Burmester to integrate the B10 into his portfolio as a compact shelf speaker with small space demand and big sound that can be placed almost anywhere. The development of the B10 profited from the experience gained in designing sound systems for Porsche in the automotive field and from cooperation with an automotive supplier. The result is an extremely precise driver for bass and mid-range with a resin-coated glass fiber cone, which showed the best transient response. In addition, a unique tweeter with ring-shaped diaphragm for high-frequency reproduction has been developed, which is now also used in automotive applications.Its solid aluminum front panel defines the visual appearance of the speaker. It not only conveys the impression of top-flight manufacturing quality but it also determines the sound field dissipation of the tweeter. The cabinet is available in walnut or makassar laminate or in high-gloss white enamel.In the factory the baffle, which up to 48 mm thick, is joined to the solid aluminum front plate. With experience and finesse a layer of felt is placed between the two sections to insulate the cabinet from vibrations that may be introduced to the baffle by the driver.Technical Specifications: Dimensions (W x H x D): 220 x 390 x 280mm8.7" x 15.4" x 11"Weight per speaker: 11.5 kg25.4 lbsFrequency response: 50 Hz-24 kHzRated power: 80 wattsEfficiency. 2.83V/1m 8 7 d BNominal impedance: 4 ohmsCrossover frequencies: 2,300HzBass units: 170mm Æ in bass reflex housing High-frequency: units Ringtweeter Finish: French Walnut, Makassar, high-gloss whiteBurmeste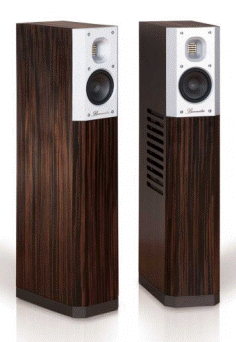 BURMESTER B25 Listino ufficiale €. 9.490,00

(Elsberry,Makassar)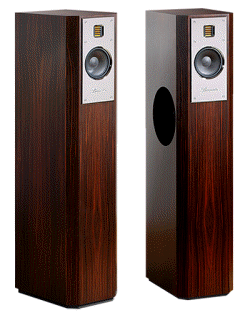 BURMESTER 961MKIII Listino ufficiale €. 14.990,00

(Elsberry,Makassar)

Despite its moderate size the 961 MK3 loudspeaker surprises with a huge sound stage and impressive power level stability. The almost perfect spatial imaging puts voices floating in the middle and fills the listening room with music of the highest audiophile quality. Precision in the lowest registers is the strength of the woofers, equipped with glass fiber cones. The lightweight Kevlar cone of the mid-range driver offers convincing detail, openness and musical transparency. An Air Motion Transformer (AMT) provides quick and precise highs.With its timeless, elegant design and a quality of finish that attracts not only eyes but also fingertips, the 961 MK3 loudspeaker sports as a special accent a chrome front plate that bears the same engraved Burmester signature as the electronics. The speaker cabinet is available in Makassar, Elsberry or silver metallic aluminum laminate.The 961 MK3 loudspeaker is assembled by hand in the Berlin factory. Before being mounted drivers undergo a careful burn-in procedure and are then computer-matched to perfect pairs. This ensures identical pairs of speakers with no more than 0.5 dB difference between each other over the full frequency range. This costly process is necessary to create the highest-quality speakers, which have established Burmester worldwide in the top tier of loudspeaker manufacturer TECHNICAL SPECIFICATIONS Dimensions: (WxHxD) 225 x 1070 x 340 mmWeight: app. 65-70 kg/pair (depending on style)Power rating: 120 wattsSensitivity (2,83V): 89 dBImpedance: 4 ohmsFrequency range (-3dB): 35Hz-25kHzFrequency range (-8dB): 28Hz-28kHzCrossover frequencies: 180 Hz, 4kHz Acoustic filter characteristics: Bass/midrange 12dB/ octave with Linkwitz characteristic Midrange/tweeter 24dB/ octave with Linkwitz characteristic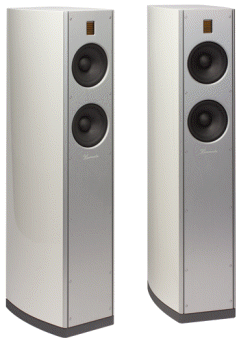 BURMESTER BA31 Listino ufficiale €. 36.990,00

(Makassar,Walnut light,dark,Black,White)
(Frontale: Silver,Black, Mid Bronze Eloxal)

The Burmester Ambience BA31 loudspeaker is a derivative of the larger BA71, which has excited audiophiles with its outstanding musicality and its ability to project almost unlimited sonic power. Of course, the BA31 profits all around from advances and innovations in the development of its larger sibling. Its well-balanced 2 1/2-way design shines with the reproduction of deep bass, excellent speech resolution and great clarity in musical details. The BA31, too, offers a rear-firing ambience tweeter, which can be used to adjust the sound to individual tastes or to the requirements of the listening room. It can also be switched off. It opens up the width and depth of the soundstage in a way that heretofore seemed possible only with omni-directional or dipole speakers. However, with Burmester's Ambience loudspeakers this phenomenon is not only achievable but also adjustable.The cabinet front is made from solid, acoustically decoupled aluminum finished in silver, medium bronzed or black. The speaker housing, elaborately braced on the inside for stiffness, is available in high-gloss finished makassar or walnut light and walnut dark. Alternatively, the speaker is also available in white or black high-gloss enamel. Of course, a combination of finishes for fronts and cabinets may be custom selected. In Burmester's specialized Berlin speaker factory the hand-assembled frequency crossovers are carefully connected to the drivers, with individual crossovers dedicated to different frequency ranges to ensure optimal performance. They are expertly mounted as close as possible to the respective drivers.TECHNICAL SPECIFICATIONS Structural principle 2 ½ way, bassreflexNominal power handling 200 WSensitivity at 2,83V/1m 87 dBNominal impedance 4 ΩFrequency range ±3 dB 38-45.000 HzTweetwer 2 x Air Motion TransformerMidrange driver 170 mm fibreglass paper coneLow-midrange driver 170 mm fibreglass paper coneCrossover frequencies 400 Hz/ 3000 Hz Weight per piece 40,5 kg (89.4 lbs.) Dimensions (W x H x D) 253 x 1.050 x 375 mm (10" x 41.3" x 14.8")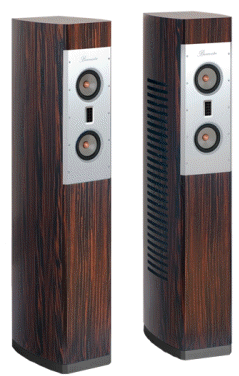 BURMESTER B80 MKII Listino ufficiale €. 37.990,00

(Elsberry,Makassar)

The B80 loudspeaker is in its second stage of development. It is visually and acoustically closely related to Burmester's flagship B100. Our goals in developing the B80 have been to create a sonically outstanding speaker in a beautiful shape that easily fits into any home ambience despite its considerable size. A magneto static ribbon tweeter with upgraded sound radiation control provides the B80 MK2 loudspeaker with extended, finely delineated highs. Two side-mounted woofers with stable glass fiber diaphragms, extended throw and powerful magnets endow the speaker with deep yet tightly controlled bass reproduction. The mid-range drivers have been modified to Burmester's specifications to convey every musical nuance in the all-important middle of the musical spectrum.The whole appearance of the B80 MK2 loudspeaker represents luxury. Three standard cabinet finishes in makassar, elsberry or deglazed silver enamel offer attractive options for individual tastes. Tweeters and mid-range drivers are solidly housed in the massive aluminum front. To top off the overall clean esthetics the terminals for the speaker cables are hidden away in the base of the speaker.Housing, drivers, crossovers and low-loss internal wiring are carefully assembled in our Berlin speaker factory to a 140-pound audiophile masterpiece. The drivers have been measured to exacting standards and selected in pairs. Before being mounted in the speaker they have been burned in around the clock for seven days and measured again to ensure identical pairing.Technical Specifications: Dimensions (W x H x D): 290 x 1,400 x 450mm11.4" x 55.1" x 17.7"Weight per speaker: Approx. 65kgApprox. 143.3 lbsFrequency response: 30Hz-25kHzRated power: 300 wattsEfficiency : 2.83V/1m 9 0 dBNominal impedance: 4 ohmsCrossover frequencies: 200Hz, 2,400HzBass units: 2 x 210mm Æ in bass reflex housingMid-range units: 2 x 130mm Æ in sealed sub-enclosuresHigh-frequency units: Isodynamic ribbon with kaladex membrane Finish: Elsberry, Makassar, silver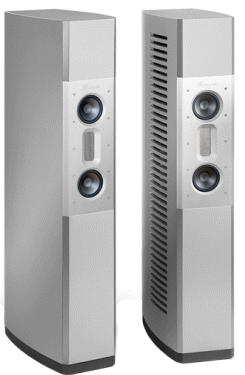 BURMESTER B100 Listino ufficiale €. 54.990,00

(Elsberry,Makassar)

The B100 loudspeaker is an impressive audiophile statement in every respect. As the largest speaker in the Burmester portfolio it is the magic door into the realm of unfettered musical enjoyment. Whether you listen to intimate chamber music, a live jazz performance or explosive hard rock – the B100 speaker never lets you miss a note, a nuance or a beat. Particularly impressive are its homogeneous and powerful sound reproduction over the full audio spectrum while at the same time conveying the finest detail and airiness of live music.Design With an imposing size and elegant looks the B100 is an esthetic design object that is a visual focal point in any room. Its clean lines, however, make it easy to integrate the speaker into any home ambience. The use of very expensive materials underscores the value of this exclusive design object. The shape of the B100 suggests the wings of modern-day airplanes, which gives the largest and heaviest floor-standing speaker in the Burmester portfolio a surprising visual lightness. Mid-range drivers and tweeters in a so-called d'Appolito configuration ensure balanced sound radiation, high impulse stability and relaxed long-term listening pleasure. Even a forte fortissimo with 115 dB never fazes this 280 pounds heavyweight champ with the ability to also communicate small musical details with utmost fidelity.Handmade The B100 loudspeaker is manufactured with greatest care by hand in our Berlin speaker factory. All drivers are measured to exacting standards and selected in perfect pairs. They are then burned in around the clock for seven days and measured again. These extraordinary measures are designed to avoid any changes in sound characteristics after delivery.
---

---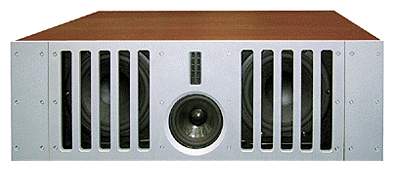 BURMESTER C8 Listino ufficiale €. 7.990,00

(Elsberry,Makassar)
---

---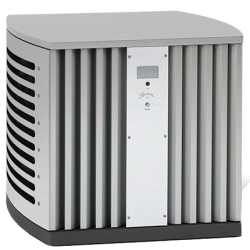 BURMESTER S8 Listino ufficiale €. 7.990,00

(Elsberry,Makassar)

reproduction, it lays the unshakable foundation for the three-dimensional sound impression.The cabinet is made from ultra rigid MDF boards of 28 mm (1.1") thickness. Internal bracings, the metal heatsinks and the 5 mm (0.2") rear panel holding the electronics and finally the separate chamber which offers an acoustically sealed compartment for both the amplifier and the control circuitry, provide extra stiffening for the cabinet. Felt-like mats of varying thickness on the inside of the cabinet walls serve to dampen vibrations. This Burmester typical feature renders the bass of the S8 incredibly fast and contoured and very transparent even with low volume levels.The S8 is driven by two high-performance power amplifiers with an overall output of up to 2,000 watts. The two side-firing woofers can do super long strokes and thus reproduce even ultra low frequencies at very high levels. Its compact, aesthetically appealing design makes it the ideal partner for all loudspeakers of the Burmester portfolio.TECHNICAL SPECIFICATIONS OF THE S8 Dimensions (WxHxD): 523 mm x 460 mm x 500 mm Weight: app. 60 Kg Power rating: 2000 WattSensitivity (2,83V): adjustable Output range (+/-3dB): 5Hz-400Hz Crossover frequencies: adjustable Slew rate: 24 dB with Butterworth characteristic
---



RACK
V1 – 778x700x450 (Elsberry,Makassar) Prezzo: 2.990 Euro
V3 – 778x1200x450 (Elsberry,Makassar) Prezzo: 3.490 Euro
V5 – 550x700x450 (Elsberry,Makassar) Prezzo: 2.990 Euro
V6 – 550x1200x450 (Elsberry,Makassar) Prezzo: 3.190 Euro
VBase – 50x520x558 (Elsberry/Makassar) Prezzo: 990 Euro
---

---
Legenda istruzioni

Clicca per qui per vedere : FOTO PRODOTTO

Clicca per qui per vedere : ISTRUZIONI PRODOTTO

Clicca per qui per vedere : CATALOGO,PROVA RIVISTE SPECIALIZZATE PRODOTTO
---
Nota bene *
Per ordinare o avere gli ultimi prezzi aggiornati telefona al 0174 670100 o invia un E-mail a info@newaudio.it
*I prezzi indicati sono di listino ufficiale delle case produttrici ,nel caso di diffusori si riferisce al prezzo del singolo diffusore per offerte ed eventuali promozioni telefonare o inviare e-mail.
*Il presente listino sostituisce ed annulla ogni precedente. Le caratteristiche e i prezzi indicati possono variare senza preavviso telefonare o inviare un e-mail per ulteriori domande e conferme sui prezzi sopra riportati.
*Tutti i marchi citati nel presente listino sono di proprietà e registrati alle rispettive Case Produttrici
*Prezzi franco nostro magazzino
---